Boss Betty✊ newsletter: Can we all be like Venus? + Top news of the week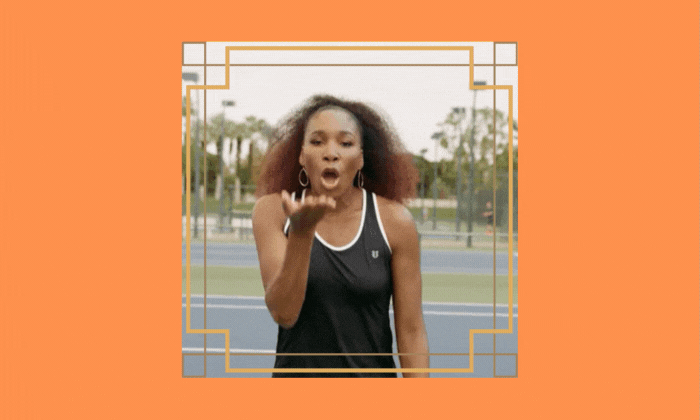 'No matter what you say or what you write, you'll never light a candle to me.' 🔥🔥🔥
More of that Venus Williams energy, please! When asked how she handles intense media pressure, the tennis superstar answered bluntly, accurately and awesomely: "I know every single person asking me a question can't play as well as I can and never will. So, no matter what you say or what you write, you'll never light a candle to me."
The athlete's mic-drop response came in the wake of Naomi Osaka's much publicized exit from the French Open after she was fined for declining media interviews that she said triggered anxiety
and depression. Fans, fellow athletes (including Williams and her sister Serena) and sponsors supported Osaka's decision to prioritize her mental health and said it was a persistent issue in the sports industry. The uproar also serves as a reminder of the unequal playing field female athletes are forced to compete on, as adroitly argued in the piece titled, "At news conferences, male athletes get to be athletes. Female athletes like Naomi Osaka get pestered."
In order to channel more of that Venus energy — for those of us non-Grand Slam winners who might for various reasons have somewhat lower reserves of self-confidence — we recommend this short and sweet piece on how to be less hard on yourself from the Harvard Business Review. We like the idea of building psychological distance from your inner critic by giving it a name (not your own!) and time-boxing your negative feelings.
---
News to note 📝
Don't want no scrub(s) — except if they're from FIGS, the first company led by two female founders to IPO. (Yes, we're cringing with you at the forced TLC reference but truly we just could not help ourselves; please accept our profuse apologies 🙏.) Heather Hasson, 39, and Trina Spear, 37, founded the direct-to-consumer medical clothing company in 2013. [Fortune]
The remote work option could negatively impact women down the line. "My fear is the biggest cost in the long run is all the single young men come in five days a week, and college-educated women with a 6-year-old and an 8-year-old come in two days a week, and six to seven years down the road there's a huge difference in promotion rates," said economist Nicholas Bloom. [Bloomberg]
Women tend to say 'yes' to job offers more quickly than men, which could be another factor in the gender pay gap. Researchers said this pattern can be partly explained by the higher levels of risk aversion displayed by women and the higher levels of overoptimism displayed by men. [National Bureau of Economic Research]
Three children? No thanks, say Chinese women who are wary of pregnancy discrimination. China's recent policy shift allowing families to have three babies was met with skepticism from women who have inadequate child care, no paid leave and have experienced bias in the workplace. [NYT]
50 over 50: The 'new golden age'? A mix of women entrepreneurs, leaders and creators including Vice President Kamala Harris, The RealReal's Julie Wainwright and producer Shonda Rhimes are on Forbes'  inaugural list of women over 50 who are changing the world across venture capital, education, politics, major league sports and more. [Forbes]
---
Numbers to know 🔢
🎉 41  🎉 Record-breaking number of women CEOs in the Fortune 500. The new list also includes two Black female chiefs for the first time, Roz Brewer of Walgreens Boots Alliance and Thasunda Brown Duckett of TIAA.
 4   Films out of a total of 24 in the Cannes Film Festival competition that are directed by women. While that number is the same as in 2019, the percentage — 17 percent — is lower due to the total number of titles selected.
 1.1   Hours of physical child care (bathing, feeding, etc.) moms do daily versus the 27 minutes dads undertake. Read this piece for tips on balancing out household labor.
---
And, in closing, a quote to think on
"I cannot give up this platform to promote complacency and peace when there is a war on my body and a war on my rights. A war on the rights of your mothers, a war on the rights of your sisters, a war on the rights of your daughters."