It's Equal Pay Day, the 'holiday' we cannot wait to get rid of!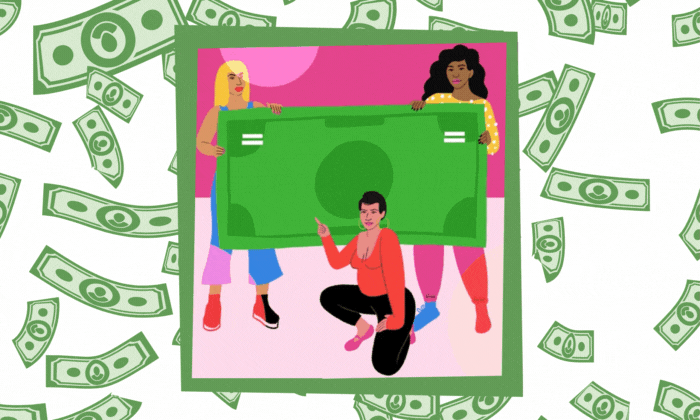 Hahaha, so cute that a year ago we asked, "What will post-pandemic, Equal Pay Day 2021 look like?" and here we are a year later, still very much in the pandemic, and yes, still very much unequal. Also, here we are, 25 years after the first official Equal Pay Day — the date women have to work into the current year to make what men did the previous year — and the gap has narrowed only 8 cents.
What's the opposite of "celebrate"? Whatever it is, that's what we're doing to mark today's Equal Pay Day.
Here's a quick by-the-numbers overview of where we're at with the pay gap in 2021:
•Women overall earned 82-cents for every dollar earned by men, which translates into about $10,000 less in median earnings annually.
•Asian American and Pacific Islander women — who have the narrowest pay gap of any group of women — earn 85-cents for every dollar paid to white men, but, as this piece points out, that number is misleading.
•Black women are paid just 63-cents on the dollar.
•Native American women earn just 60-cents.
•The pay gap is the widest for Latinx women, who earn just 55-cents for every dollar paid to white males.
"Equal Pay makes all of us stronger," President Joe Biden said at an event Wednesday afternoon marking Equal Pay Day, where he was joined by U.S. soccer star and equal pay advocate Megan Rapinoe. "To come out of this crisis and build back better, we need to erase the gender pay gap."
Earlier in the day, Rapinoe — who along with the world champion U.S. women's soccer team launched an equal pay lawsuit against U.S. Soccer — testified before Congress about gender discrimination. "There is no level of status, and there's no accomplishment or power, that will protect you from the clutches of inequity," the World Cup and Olympic Gold winner said during a House Oversight Committee hearing on the issue. "One cannot simply outperform inequality or be excellent enough to escape discrimination of any kind." Hear, hear!
Because sharing is caring ❤️❤️❤️ — we believe that we can all learn from our collective experiences — we would love to hear your pay gap stories and possibly "print" them in our weekly newsletter and on the website. We're happy to keep your stories anonymous — let us know if that's your preference. Email us at info@bossbetty.com. Unhappy Equal Pay Day!