Does equal pay get play at convention speeches?
Democratic presidential hopefuls have raised the pay equity issue in speeches while Republicans have been silent on the problem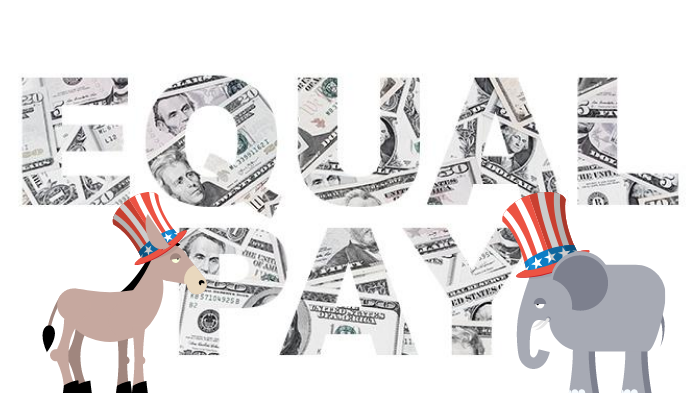 Updated Aug. 28 | Originally published Aug. 21
The "jobs, dignity, respect, and community" line from Joe Biden's speech last week accepting the Democratic presidential nomination got a decent amount of play — it's a good solid sentiment, credit where credit's due — but our ears perked up particularly when the former veep mentioned that his economic plan included "equal pay for women."
That got us wondering about when — if ever — the issue of equal pay for women started popping up in these convention speeches. So we took a spin through the past 50 years of presidential nomination acceptances at both the Democratic National Conventions and Republican National Conventions — starting way back in '72, with Richard Nixon on one side of the aisle and George McGovern on the other — to find out. (Of course, employment discrimination on the basis of sex was not outlawed until the Civil Rights Act of 1964, but we were curious as to whether the older speeches made any mention of women in the workplace.)
While four Democratic presidential nominees (including Biden) have explicitly mentioned the gender pay gap in acceptance speeches at their party's conventions, zero Republican candidates have done so, according to our analysis of speech transcripts.
President Donald Trump did not raise the issue in his acceptance speech at the RNC on Thursday — in fact, his administration has actively worked against efforts to enforce equal pay.
The economic gender gap has risen in prominence in recent months as the disproportionately negative impact the pandemic is having on women — especially women of color — continues to be documented and threatens to erase what little progress has been made. And, of course, the historic nomination of Sen. Kamala Harris, the first woman of color to be nominated for VP on a major party ticket, has helped to keep the focus on gender inequities, as has the centennial of women's suffrage.
Former Vice President Al Gore was the first to bring up the gender pay gap in a nomination acceptance speech, saying at the 2000 DNC that, "we will fight for an equal day's pay for an equal day's work."
In 2016, Hillary Clinton — the first woman presidential nominee of a major party — said to the convention crowd, "if you believe that your working mother, wife, sister or daughter deserves equal pay, join us!"
Barack Obama gave the pay gap issue a miss in his 2012 DNC speech but in 2008 told convention viewers that "now is the time to keep the promise of equal pay for an equal day's work, because I want my daughters to have exactly the same opportunities as your sons."
Bill Clinton seemed to make an oblique reference to gender pay inequity at the '92 DNC in New York, saying that "tens of millions more work harder for lower pay."
Other previous Democratic candidates made some general overtures to gender equality at the conventions but did not mention pay equality. Walter Mondale, whose running mate Geraldine Ferraro was the first female VP nominee on a major party's presidential ticket, said in '84 that he wanted "a Constitution that includes the Equal Rights Amendment." Jimmy Carter in 1980 said, "the problems of working women are simply ignored," while back in '72, McGovern acknowledged the historic candidacy of Shirley Chisholm, but used pretty cringey language in doing so, referring to her as "a brave and spirited woman" (hard to imagine a man, let alone one who is a presidential candidate, being called "spirited").
While so far no Republican presidential nominee has spoken about the gender pay gap during their convention speeches, Mitt "binders full of women" Romney mentioned that, as governor, much of his top staff were women and acknowledged that "women are more likely than men to start a business." He added that "they need a president who respects and understands what they do."
George W. Bush said to applause in his 2000 nomination acceptance speech that "women are now treated more equally" and that's all he wrote on that, while his dad George H. W. Bush did him one (or several) better at the 1988 RNC, saying, "to the women of America, I say, 'You know better than anyone that equality begins with economic empowerment. You're gaining economic power, and I'm not going to let them take it away from you.'"
Back in '80, when Ronald Reagan won the Republican nomination the first time, he said that "as president, I will establish a liaison with the 50 governors to encourage them to eliminate, where it exists, discrimination against women. I will monitor federal laws to insure their implementation and to add statutes if they are needed."
Neither Gerald Ford in '76 nor Richard Nixon in '72 had boo to say on women.
On the final night of the DNC, Biden relayed the story of his father telling him, "Joey, a job is about a lot more than a paycheck. It's about your dignity. It's about respect. It's about your place in your community." We'll see what next week's RNC and the debates to follow bring and whether the nominees on both sides of the aisle take that nonpartisan position to heart and push the issue of equal pay to the fore.