Successful team building ≠ forcing everyone to play games and be besties (thank freaking goodness)
5 ways to create inclusive events that foster collaboration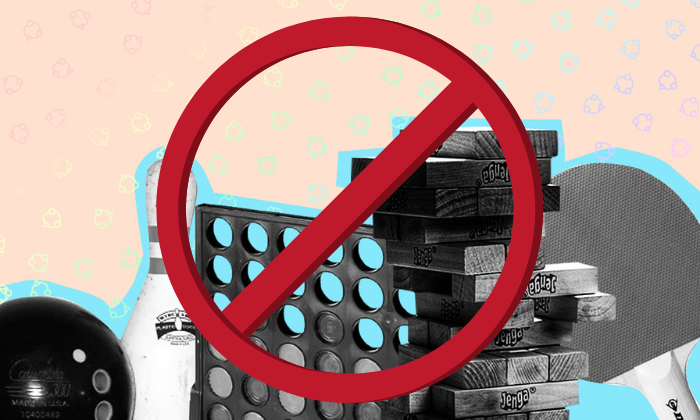 Managers often assume that employees must actively like each other and be buddy-buddy to perform effectively as a team, but a recent study — thankfully! — showed that building a mutual admiration society is not necessary for creating a successful working group.
Anita Williams Woolley, an associate professor of organizational behavior and theory at Carnegie Mellon's Tepper School of Business, has repeatedly found that a team's performance isn't dependent on how members feel about each but instead on how well they know each other. "What you're trying to do at an offsite is not make people buddies but help them gain information about each other," she said.
The more employees know about one another — what they like to do, what they're good at, what challenges them most at work — the more successful the team will be. Gaining that type of understanding and empathy for each other goes a long way, Woolley said, and creates stronger bonds than, say, the temporary camaraderie of playing on the same laser tag team or sharing a tipsy karaoke duet.
It's also important to note the difference between being friends versus being friendly, said Tammy Perkins, chief people officer at Pacific Market International, a Seattle-based housewares manufacturer. "The goal of the offsite is not to make everyone be friends outside the office but to connect employees through an experience that engages different styles, capabilities, genders and nationalities," Perkins said.
Rather than asking employees to spend a day at the ballpark or racing Go Karts, have them share a story about the accomplishment they are most proud of, or the funniest thing that ever happened to them or the biggest lesson they've ever learned, Perkins suggested. Most employees are more willing to participate in something that feels authentic than in an event that feels like mandatory fun, she added.
Here are five ways to help employees create a shared experience that will help them recognize and appreciate the characteristics they have in common as well as the ways in which they differ.
Brag on someone else
Pair up two people who don't know each other and have them spend time talking about their work, their hobbies and interests and then ask them to introduce each other to the group, bragging about all the value their partner brings to the team. This exercise accomplishes two goals: It helps the pair of employees get to know each other better and it allows the entire group to learn more about each individual. "It gets more information about each employee on the table because we're more likely to brag about other people than about ourselves because of social norms," Woolley said.
Take a privilege walk
Recognizing the ways in which society privileges some individuals over others can be difficult. One way to help employees see their privilege is to line them up on one side of the room and have a facilitator ask a series of questions related to privilege; participants step back or forward based on their personal experiences. For instance, if your primary ethnic identity is North American, take one step forward. If you were ever called names because of your race, class, ethnicity, gender or sexual orientation, take one step back. If one or both of your parents are/were white-collar professionals, take one step forward. If you were ever ashamed or embarrassed by your clothes, house or car, take one step back. While this exercise is powerful, company facilitators should be aware that it can bring up powerful emotions, said Jennifer Brown, author of "How To Be An Inclusive Leader." "The people in the front of the room might feel guilty but really they should wonder, 'What can I do with my privilege in terms of leadership?'" Brown said. "They can use this knowledge to be really great allies for others."
Make room for all voices
At most offsite events, the leadership team facilitates the discussion, which in many cases means straight white men are doing the majority of the talking. "The diversity of voices we hear from the front of the stage means a lot in terms of whether people feel included," Brown said. Rather than relying on only the leadership team to speak at an offsite, Brown suggested intentionally planning who will be at the front of the room and making sure that diverse voices are leading the discussions.
Help people meet each other
It's human nature to want to spend time with the people we already know, but chatting with colleagues already familiar to us defeats the purpose of a team-building event. To help employees get out of their comfort zones, make sure there are a handful of people available whose sole purpose is to help facilitate and foster conversation among employees, said Kathie Patterson, chief human resources officer at Ally Financial, a bank holding company. These designated facilitators should move from group to group looking for common denominators between people and reasons to introduce coworkers to each other, Patterson said. They should also keep an eye out for anyone standing alone and bring them into a group discussion.
Don't make the offsite team-building a one-hit wonder
Too often companies spend an entire day at an offsite event and then forget about it, never reinforcing or discussing what was learned. "You're pulling your team out of work for a day to build muscle and skills to make your company better and to make your team operate in a more productive way," Perkins said; without any follow-up those lessons will be lost, she warned. At your next team meeting following the offsite, ask employees to describe one or two things they learned during the event. Encourage employees who were paired for a team-building exercise to get together back in the office. If employees were grouped together to solve a problem at the offsite, get them to continue working on that issue back in the office and ask them to report back quarterly at a staff meeting.