Janet Yellen becomes the first woman to serve as Treasury secretary
A well-respected economist, Yellen has previously served as chair of the Federal Reserve and chair of the White House Council of Economic Advisors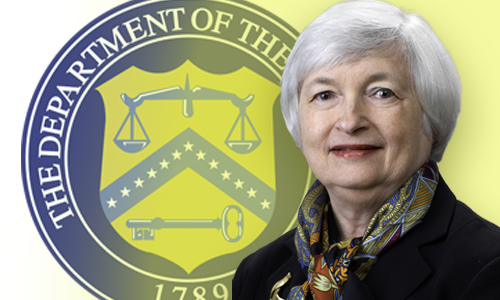 Originally published by The 19th, by Chabeli Carrazana — Janet Yellen, the first woman to serve as a Treasury secretary, was confirmed to the role Monday, a move that will help to kick-start the nation's economic response to the coronavirus pandemic.
Considered by many economists to be one of the most qualified people to ever hold the position, Yellen was confirmed in an 84-15 Senate vote.
"Chair Yellen is an exceptional economist who has a rare gift: She can take complicated economic theories and put them into understandable language, all while showing a real heart for the millions of Americans who are hurting through no fault of their own." Sen. Ron Wyden, the Democrat from Oregon, said Monday. "It is long past time to have a woman lead the U.S. Treasury Department."
Yellen's confirmation to President Joe Biden's Cabinet was partially expedited in light of the significant economic nosedive created by the pandemic (the only other secretary-level confirmation thus far has been Gen. Lloyd Austin, the first Black secretary of defense). Yellen has previously been confirmed by the Senate on four occasions for other positions.
Her nomination got unanimous bipartisan approval from members of the Senate Finance Committee Friday before the vote moved to the Senate floor.
"I will vote yes on Dr. Yellen's nomination given her qualifications and belief that the president is entitled to pick his own Cabinet members as long as they're qualified and reasonable. And there is no doubt about the qualifications of Dr. Yellen," said Sen. Chuck Grassley, the Republican chair of the committee, during the Friday vote.
Yellen, 74, is now the first person in U.S. history to have held the top three economic positions in the country: Treasury secretary; chair of the Federal Reserve, a position she held from 2014 to 2018; and chair of the White House Council of Economic Advisers, on which she served under President Bill Clinton.
It's also another "first" for her. Yellen was the first woman to chair the Fed and the first woman to serve as the president and CEO of the Federal Reserve Bank of San Francisco, from 2004 to 2010. When she graduated from Yale University in 1971, she was the only woman in her doctoral class.
As Treasury secretary, Yellen will be deeply involved in the execution of Biden's "Rescue" economic plan that, if passed, will have an outsized impact on women. Women are most affected by the pandemic recession, and stand to gain the most from many of the policies Biden has laid out, including raising the federal minimum wage, extending emergency paid leave, expanding the child care tax credit, alleviating the hunger crisis, providing additional rental aid and pausing student loan payments.
In her confirmation hearing with the Senate Finance Committee, Yellen returned to her focus on workers, people of color and women again and again.
"[The pandemic has] been particularly brutal in its impact on minorities and on women. I will be focused from day one on providing support to American workers and to small businesses, putting into effect as quickly and efficiently as I can the relief in the bill that was recently passed, and then, over time, working for a second package that I think we need to get through these dark times, before a vaccination program enables us to go back to life as we knew it," Yellen said.
Economist Kate Bahn, the director of labor market policy at the Washington Center for Equitable Growth, said Yellen will likely bring her lived experiences to the work, making her uniquely positioned to address the most pressing economic challenges for women.
"Research has demonstrated that the inclusion of previously underrepresented perspectives can deepen economics research and influence the conclusions drawn, with women economists in particular being more likely to find government and policy solutions to market failures compared to their men colleagues," Bahn said. "Treasury Secretary Yellen's own research and expertise will bring a much-needed perspective to economic policymaking that centers inequality and policy solutions for broadly-shared growth."
Likewise, her ascension to the country's top economic post has been heralded by women economists, many of whom have seen Yellen as a trailblazer in a field that has long been dominated by men.
Heidi Shierholz, a senior economist and director of policy at the Economic Policy Institute, called Yellen a "brilliant economist and a preeminent expert in macroeconomic policy."
"She will play an invaluable role guiding our country through a difficult economic recovery," Shierholz said. "Women, people of color, and other historically marginalized people have been underrepresented in the economics field for too long and hopefully her appointment makes space for others in the field to ascend to positions of power."
Yellen will be inheriting a severe economic downturn, one that saw the economy lose 140,000 net jobs in December after months of a slowing recovery. Women accounted for the entirety of that loss. And women of color continue to suffer most. The national unemployment rate was 6.7 percent in December, but for Black women the rate was 8.4 percent and for Latinas it was 9.1 percent.
Biden has put a price tag of $1.9 trillion on his economic recovery plan, and Yellen has supported the move, saying it's critical to "act big" in this moment.
"In the long run, I believe the benefits will far outweigh the costs, especially if we care about helping people who've been struggling for a very long time," Yellen said.
But several Republican senators have disagreed with Yellen, worrying that the proposed plans could increase the national deficit. They differ with her on raising taxes for the wealthiest individuals, and rolling back some of the 2017 tax law that eased burdens on corporations.
Still, Republican senators on the Senate Finance Committee chose to support her nomination on the basis of her qualifications for the role, saying they hope their votes in favor of her nomination will mark "a new era" of bipartisan cooperation.
"I have very strong disagreements with Dr. Yellen on a number of her positions, particularly in the tax policy arena, but she has committed to us that she will work with us on these issues and the concerns that we have," said Sen. Mike Crapo, a Republican from Idaho, during the finance committee hearing. "The strong vote on our side to support her today is an indication that we want to engage."