Forbes' dumpster fire of an 'innovators' list: A tale in tweets by truly innovative women #BuildaBetterList
Everyone from Arlan Hamilton to Reshma Saujani and Valerie Jarrett joined the Twitterstorm swirling around the 99%-male list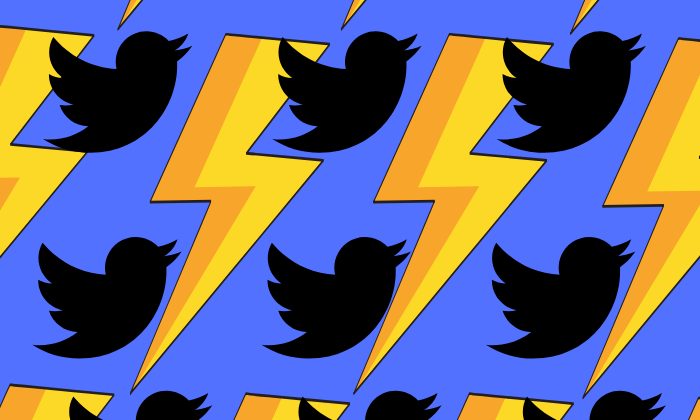 Originally published Sept. 10 | Updated Sept. 13
A wrathful and righteous Twitterstorm continues to unfold in response to the astounding (repugnant and abominable and all other adjectives meaning "terrible in the extreme") absence of women on the "America's Most Innovative Leaders" list published by Forbes last week. And we are so very here for it. Let's begin our story.
On Sept. 3, the list is pushed out on Twitter. Yes, there are three men in that photo

. Yes, three men put together the methodology the list was based on. But surely that doesn't mean the whole list is (99-percent) male, right?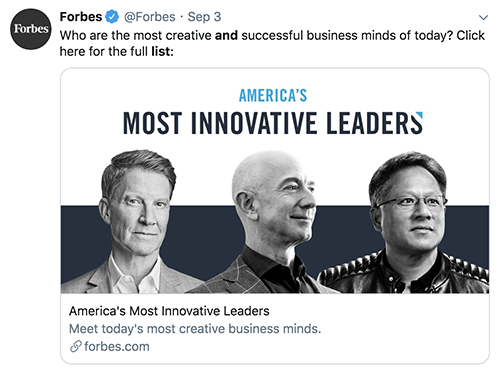 Oh but yes, that's exactly what it means. Replies from angry readers start to roll in immediately asking WHERE THE F the women are. Ross Stores CEO Barbara Rentler (#75, no photo) was the only female on the list of 100 executives. Yup, a 99-percent male list in 2019, as we approach the two-year anniversary of the epic rise of the #MeToo and #TimesUp movements. Just when we thought we were gaining traction across hallowed corporate corridors and sparkly Silicon Valley startups…
Soon, the heavyweights — otherwise known as female innovators not on the list — start to weigh in. Let's hear from Sarah Friar, CEO of Nextdoor.

And a word from a top Salesforce's exec, Sarah Joyce Franklin, who is clearly making lemonade from this

of a list and feeding off the burn of the patriarchy.

Speaking of Salesforce, Marc Benioff (#4) thanked Forbes for his inclusion in the list in a tweet and said, "We need much more female representation on this list— especially in the top 10!" While that may be a Salesforce-tower sized understatement, it's more than any other top 10 guy on the list has done, so kudos to him. Why aren't more men on this list crying foul, anyway? No. 1-ranked @ElonMusk is a prolific tweeter, how about some support from him? And how about Apple's @timcook, who tweeted on Labor Day that the "country is strongest when everyone has the opportunity to succeed," which would assumedly mean not promoting institutionalized patriarchy?
Moving on. Pipeline Angels founder and CEO Natalia Oberti Noguera notes some additional deplorable traits of the list.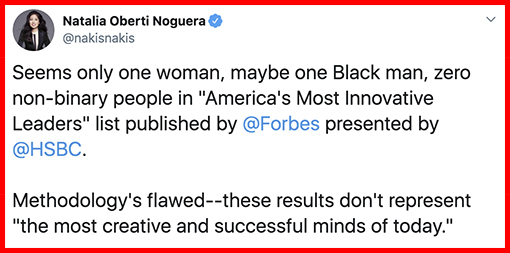 Backstage Capital's founder and managing partner, Arlan Hamilton — who, ironically, Boss Betty saw speak at this year's Forbes Women's Summit — tweets a telling detail, and does a remarkably even-handed bonus podcast about the List-That-Must-Not-Be-Named, aptly titled, "My thoughts on Forbes' innovators list, aka you gotta be kidding me."

Katie Jacobs Stanton, founding partner of #Angels and former VP of Global Media at Twitter, whips up a list that puts the original to shame.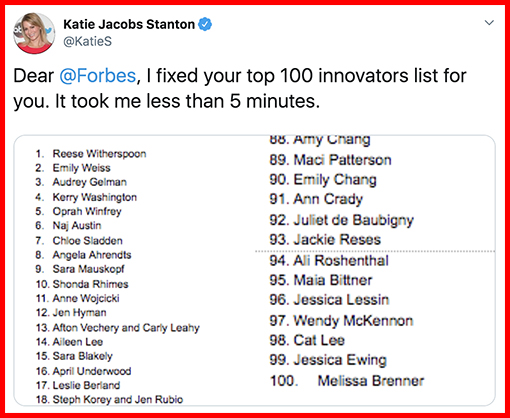 Attorney Carrie Goldberg, who specializes in sexual violence cases and is representing Lucia Evans and Paz de la Huerta in the Weinstein case, is really not having it, and we ❤ it.

About the same time, the glorious Cindy Gallop — her Twitter bio reads "I like to blow shit up. I am the Michael Bay of business" (can you even?! swoon) — gets in her 2-cents.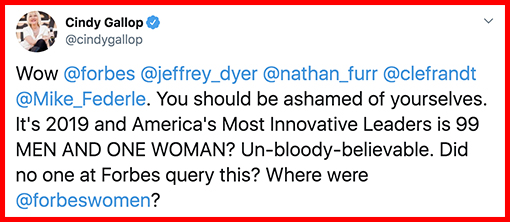 Time editor-at-large Anand Giridharadas (a dude, btw) notes that on the list, "there are twice as many men named Stanley as there are women of any name. And there are only two Stanleys." And how many Stanleys do we even know, period?
Moving on, again. PepTalkHer founder Meggie Palmer, who works with Fortune 500 companies to empower female and minority leaders, managed to get an actual response from one of the list's creators, Mike Hendron. He says that the List-That-Must-Not-Be-Named was not subjective and that they used a "quantitative data-driven ranking methodology" (ahem, a methodology decided on by…three men in a room? That's not subjective?) and "let the numbers decide." To which writer and editor Elisa Doucette wisely responds: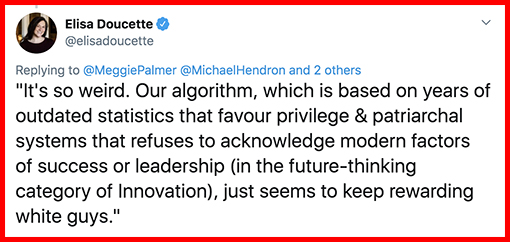 Now things are really heating up. Valerie Jarrett, author and former senior advisor to President Obama, jumps into the fray and absolutely hits the nail on the head.

Unperturbed by that rational line of thought, Forbes' editor Randall Lane pens a response headlined, "Opportunity Missed: Reflecting On The Lack Of Women On Our Most Innovative Leaders List." But that piece certainly doesn't kick off with a whole lot of reflection on the so-called "missed opportunity," which in itself is a fatally flawed characterization of the situation. Instead, Lane immediately proceeds to say it was the list's methodology that drove the outcome and Forbes "let the chips fall where they may," so, 🤷‍♂️. In the penultimate paragraph, the editor does concede that perhaps said methodology was flawed and needs to be made more expansive, so there is that.
Meanwhile, the chief communications officer at Raytheon, Pam Wickham, is less than pleased. And she's kind of a literal force to be reckoned with given that she works for a national defense contractor. 

And Girls Who Code's Reshma Saujani jumps in and begins to collect names for a new list.

So now it's Monday and editor Lane realizes his initial response was insufficient and tweets that they "blew it," an admission that we appreciate, we do, and says that he's asked Caroline Howard, director of editorial operations at Forbes, to put together a task force to "ensure our lists and projects are designed fairly" (KP duty?).
The responses to Lane's mealy-mouthed concession range from "tear it up and re-publish it" to "others will disagree w me, but frankly @RandallLane I think your post shows #leadership."
And then, they send the big guns in: the estimable Moira Forbes.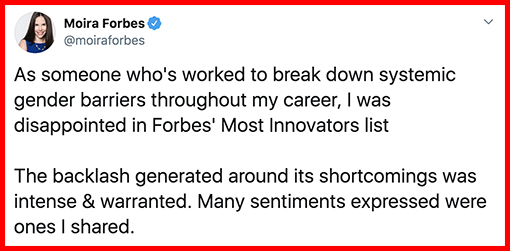 Moria Forbes was the first woman in the publishing family to join the company. She's an EVP and the publisher of ForbesWomen. We like her. On Tuesday morning, she tweeted her piece, "Where Were The Women On Forbes' Most Innovative Leaders List? We Can Do Better And We Will." In it, Forbes says that "rather than spotlighting the most dynamic minds in business," the list "perpetuated damaging and misleading stereotypes." Amen x a billion. Now, of course the piece is softer than is warranted and quotes too freely from Lane's lame excuses, but it's better than anything we've gotten from inside Forbes so far.
So, where to from here? We need to #BuildaBetterList. And how we do that? With innovation! That's one of the many ironies of this whole charade of a list — it was built using staid old thinking and entrenched biases and not a spark of innovation or inspiration.
There are several proposed revised lists floating around, but one of our favorites so far is by VC and creator/host of The Valley Girl Show, Jesse Draper.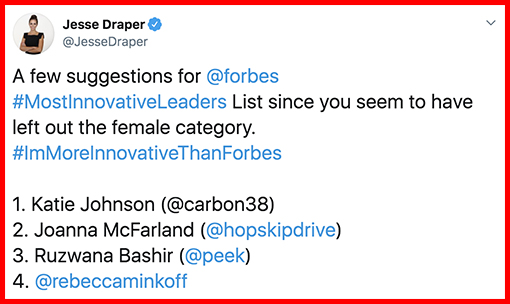 Her list of 10 goes on to include Carly Zakin and Danielle Weisberg (@theskimm); Amy Shecter (@glamsquad); Cindy Eckert (@sproutpharma); Mariah Chase (@eloquii); Talia Frenkel (@lovebeginswithl); and Umaimah Mendhro (@shopvida).
But wait, there's more! Diana Kapp, journalist and author of "Girls Who Run the World," pens a powerful open letter to Forbes saying that overhauling the criteria of lists like these "is about economic imperative. Growth in the global marketplace happens only by big business and start-ups opening the doors to women. We cannot compete on half our brain power." The letter is endorsed by 46 female CEOs including (among other GOATs) Anne Wojcicki of 23andMe; Ellen Pao of Project Include; and Julia Hertz of Eventbrite.
Keep these lists coming! #BuildaBetterList