Insider interview: Sleeping Giants co-founder Nandini Jammi goes deep on her departure, the 'apology' & what's next
The activist entrepreneur left the organization because her 'white male co-founder gaslighted me out of the movement'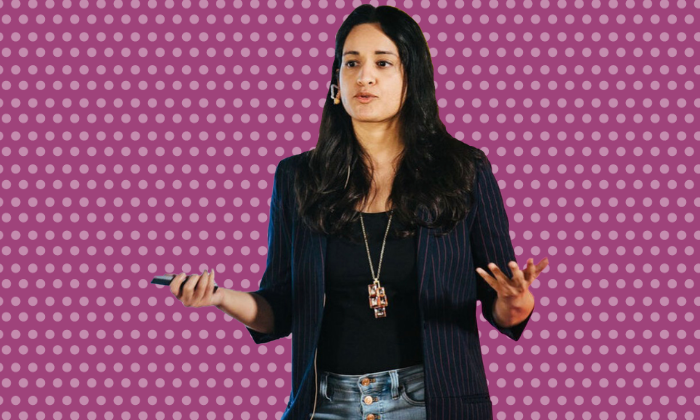 When Nandini Jammi and Matt Rivitz first met in 2016, the connection was kismet — both had big ideas about influencing the way big brands spend their marketing budgets. Their collaborative efforts led to the growth of Sleeping Giants, an organization leveraging social media to pressure advertisers to pull their dollars from platforms that promote sexism, bigotry and hate speech. 
But, as their campaigns became more successful — helping to drive Bill O'Reilly from Fox News and forcing a 90-percent decrease in advertising on Breitbart — cracks appeared in the relationship between Jammi and Rivitz. The once harmonious collaboration disintegrated amid disagreements about titles — namely, whether Jammi was a co-founder — and recognition of her contributions.
"I want to share with you my journey with Sleeping Giants, why taking credit matters and why you must fight for yourself as hard as you do for your cause. I want to show you how a woman of color almost disappeared from the movement she built," Jammi wrote in a Medium post published July 9, the day after the publication of a BuzzFeed article about her departure from the organization. She said that her "white male co-founder gaslighted me out of the movement we built together."
Now, Jammi's launched a new organization, Check My Ads — with co-founder Claire Atkin, she's quick to add. Boss Betty spoke with Jammi at the very end of July about what went down at Sleeping Giants and how it's shaping her work now. 
So let's dive right in! What was your relationship with Matt like in the beginning? Honestly, we had a really good, constructive positive relationship. I don't exaggerate when I say we never had a disagreement, because we were always on the same wavelength. We're both from Maryland. We just really hit it off when we met. It was truly incredible. We both had a similar persistence and drive. He invited me to his parents for a Thanksgiving event so I met his parents, I met his wife, I met his kids, I met everybody and they're all super nice and really welcoming people … So, I just never imagined that we would ever have any kind of conflict.
When did it start to feel like there was a divergence and that this movement was being built without recognition of your  contributions and future? When we were still anonymous [nobody knew who was behind Sleeping Giants until mid-2018], someone from the U.N. wanted us to come speak at an event. I wanted to do it, and I asked Matt. He's like, "Yeah, that seems like a really cool opportunity … But I don't know. It just seems like I don't want too many of us going out at once to speak, otherwise, we might muddle the message." I respected that, but I was really upset because that was the kind of work that I wanted to do. I wanted to be involved in the discourse. I also remember that he didn't do it — if he didn't want me to do it, then he should have done it. But nobody did it. 
Another time, a UMass Amherst professor got in touch to do a study [on our work]. I sent the request over to Matt and they connected. I didn't hear about the study again until it was published. In one paragraph, they mentioned me and one thing that I had done. In the back of my head, I was like, "I've done so much more than that." The professor actually reached out to me privately and said, "I'm just realizing now you're the only person involved in this campaign that we didn't interview." Things like that were happening the whole time.
Was there a clearly stated expectation on your part that you wanted to be included in these opportunities? I told him, "I want to be kept up to date with whatever you're working on because I'm not getting access to those things. I would like to be aware of when you go to conferences and events, because sometimes, I would like to attend with you, like with South by Southwest. You could bring me as your plus one, and I could also have a chance to meet people. I'm a freelance copywriter, who has spent most of my career in Europe, so I don't know anybody — this would be my way of breaking in and starting to make contacts."
Winning the ad industry's biggest award last year, a Cannes Gold Lion, was a monumental accomplishment for Sleeping Giants and one you didn't know about until after the fact. How did being excluded from that experience change things for you? When I saw that picture [Rivitz DMed her a photo of himself accepting the award], my stomach just dropped. I had to sit down. And I was asking myself the question, am I really as involved in this campaign as I think I am? Or am I missing something? What did I just spend the past two and a half years doing and what have I been working on every day? No one's even gonna think I'm involved in this campaign if I wasn't at the awards show. I was devastated because this has become my world.
On top of being confused and surprised about winning this award, I also had to lie to people [about what was happening] because if I didn't, then people would learn that we have problems. So that's additional emotional labor for me.
Do you believe that any of this treatment was a result of your gender or ethnicity? I can't say Matt is sexist or bigoted. I don't know what his motivations are but I know that the way that I'm viewed by others in public and in the media is different than how I view myself. I'm an immigrant and I moved here when I was 4 and lived in a small town in South Carolina for the first formative years of my life. As far as I remember, I was American. I'm sure people were racist towards me, I just didn't know it.  
What made you finally decide to go public with your experience at Sleeping Giants? Matt told me last month, when we were still speaking, that he had gotten off a call with the Anti Defamation League [about what became a massive Facebook ad boycott]. Once again, he was keeping me out of the room — these were everyday indignities. But when it came to this, that call with the ADL… Sleeping Giants was a platform that I helped you create! Yes, I should have been in the room for that. I realized it meant that I was going to deal with another Cannes-like situation.  
When there's no money involved and when we put so much of ourselves into this, we need to be generous with the way that we deal with each other. I gave him space to handle my concerns and articulated my needs over and over again. At some point, you take a step back and you look at this mountain of evidence that he might be the nicest guy in the world but he is leaving you behind. I allowed myself to be in that situation with Cannes because I had no power and I had no leverage. Now, one year later, I had both of those things. And I didn't have to sit there and take it.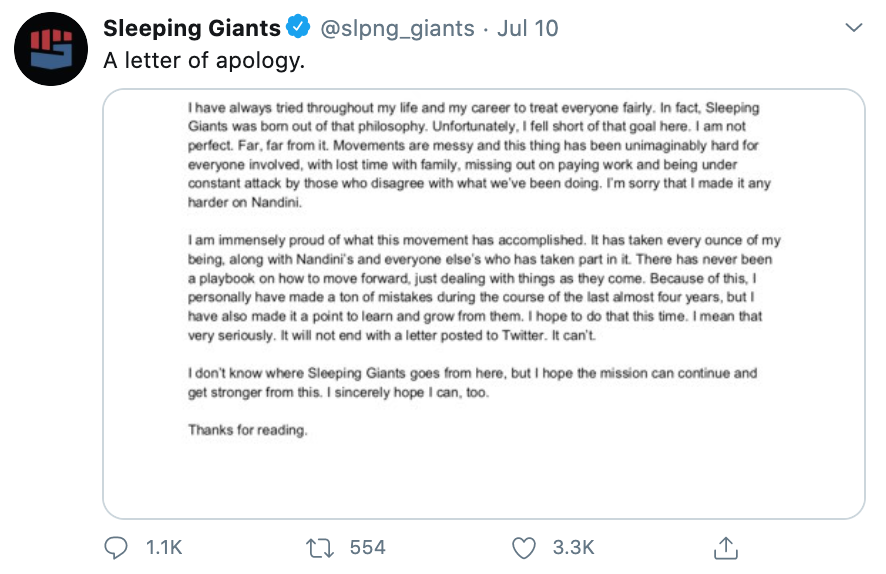 Matt tweeted a "letter of apology" to you the day after your Medium post came out, saying, "Nandini clearly deserves a lot more credit than she has gotten for her groundbreaking work with Sleeping Giants" and finally acknowledging you as a co-founder. What was your reaction?  That wasn't really an apology, was it? I don't derive any joy out of what I did. It was a very difficult decision to leave this campaign, because it feels like leaving my baby. I felt like I was disappointing a lot of people I know that are followers. But the community really rallied around me — that was a complete surprise. I thought I was going to get criticized for being selfish by leaving. But I had to do it.
In what ways has your new venture, Check My Ads, emerged or departed from your work on Sleeping Giants? The purpose of Check My Ads is to empower voices that would otherwise not be heard. We want to help brands realize that they're inadvertently funding disinformation and hate speech and we want them to reallocate those funds to independent voices, media and creators. We want to support brands in supporting diversity, inclusion and movements like Black Lives Matter. 
Sleeping Giants has been so successful and technically, it's free. But I have paid for it with my labor and by giving up paid work, my time, and my ability to take vacations. Check My Ads is a for-profit organization. We recognized that we need first and foremost money to succeed. We're not shy about asking for money, but at the same time, we're not taking VC money. We get our money from clients who we serve.
How did your experience with Matt at Sleeping Giant influence the way you work with your new co-founder, Claire? We model how to give credit freely and generously. It made such a difference when I grabbed my title as Sleeping Giants co-founder, not just for my career prospects but also for me psychologically. When I went on stage at the [European tech conference] Turing Fest as co-founder, I held Sleeping Giants on my shoulders like it was my baby. Knowing what that recognition did for me, I [bring Claire] into interviews and call her my co-founder. She did her first panel as an ad tech expert a couple of weeks ago. Because of our collaboration, she was able to go head-to-head with other tech experts who have been in the industry for a lot longer. There aren't women at the table in ad tech so to have two of us not just be part of the industry, but actually push back on what the industry says, is unheard of. 
I suspect what you've been through professionally resonates with a lot of people — it's not uncommon for people occupying marginalized identities to disappear from the institutional history of an organization or movement. How would you advise other women — and women of color, in particular — to ensure that what happened to you doesn't happen to them? You have to assert yourself. If you can't do it in person, do it by email and then you also have a paper trail. Second, show the world that you know what you're talking about. Writing is the most powerful tool you have available to you. Communicate your perspective and do it every day to gain a readership. You'll be on the top of people's minds for opportunities and events that come up. Third, find your allies. When I was upset over Cannes, I reached out to a handful of activists and we developed a small support group of women activists who had experienced very similar things. It's our safe space where we talk about what we're going through, let ourselves vent and hype each other up.
What are other ways to be supportive of other people's careers and build sustainable collaborations that are nourishing rather than extractive? Once you meet someone who's good to you, a potential champion, ask them for an introduction to others and build out a network with people who can vouch for you. Of course, you want to have genuine, authentic relationships with people and want to help them out as well. This is not about taking; it's about developing a relationship.
This interview has been lightly edited for length and clarity.