The casual and systematic dismissal of the traumatic experiences of girls and young women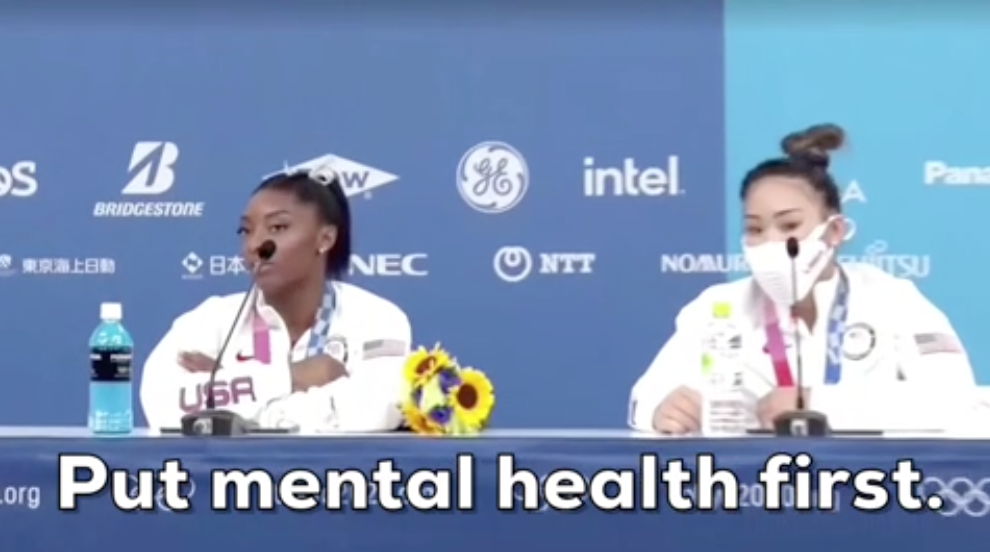 The system is rigged! But you already knew that…
Two of the bigger stories that caught our eye this week dealt with how casually and systematically the traumatic experiences of girls and young women are disregarded. There was the gut-wrenching testimony of elite gymnasts Simone Biles, Aly Raisman, McKayla Maroney and Maggie Nichols about the systemic failures that enabled Larry Nassar to abuse hundreds, with Biles telling a Senate committee, "To be clear, I blame Larry Nassar, but I also blame an entire system that enabled and perpetrated his abuse."
And then the cruelty of Facebook prioritizing profits (yes, that part is not a shocker) way above the mental health of teen girls, as evidenced by a leak showing that the social network is well aware of the deleterious effects its apps have on young minds.
The endless examples of institutions, and the people that populate them, failing to protect young women and girls are heartbreaking, and their ill effects can last a lifetime. "Survivors can spend years losing out on work and family time, jeopardizing their mental health and career, trying to get justice, and too often are left with nothing," women's rights attorney Dr. Ann Olivarius told Boss Betty via email. "The inexcusable mishandling of the Larry Nassar case shows just how deeply young women are distrusted and ignored, to protect a powerful man and a money-making institution."
---
Other news to note 📝
Salesforce says, 'not on my watch' to abortion ban. Salesforce joined Uber and Lyft in taking a stand for its employees on Texas's new law curtailing reproductive rights. In a Slack message, the company said it would help employees and their families relocate for access to reproductive care. Although the Slack message did not reference any particular state, Salesforce CEO Marc Benioff tweeted, "if you want to move we'll help you exit TX." Looks like the Lone Star state might be losing its more progressive workforce, though there's no word yet on what this help will look like in practice. This move of corporate solidarity comes after the Justice Department announced it is suing Texas over the abortion ban. [Verge]
A baby or a medical career? Female physicians face heightened fertility woes. One in four: That's the startling number of women doctors facing fertility issues when they try to conceive (almost twice the normal rate). Blame it on the 24-hour shifts, lack of sleep, work stress and years of training required to become a doctor. Women often wait until they've finished their training to have a baby, which leaves them vulnerable to fertility problems and difficulties carrying a baby to term. Female physicians are starting to speak up about this often stigmatized issue. [NYT]
Women U.N. nuclear inspectors harassed for just trying to do their jobs. In what is presumably already an extremely difficult role, female United Nations atomic agency inspectors were harassed (some might say physically assaulted) by guards at Natanz, a nuclear site in Iran. In what was apparently not an isolated incident, inspectors were humiliated, inappropriately touched and asked to remove clothing. Also on the U.N. beat, The Cut recently published an in-depth look at sexual assault and harassment within U.N. agencies, highlighting the challenges victims face in getting justice. The U.N. has reportedly failed to hold abusers accountable and has no clear standards for investigating such claims from its employees, running counter to its humanitarian ideals. What's the saying? Oh, right: Physician, heal thyself. [WSJ, The Cut]
HEY GURL!!!! 😍😍😍🙌🙌🙌❤️❤️❤️ I want to tell you about an AMAZING opportunity! Amazon Prime released its four-part docu-series LuLaRich last Friday, and wow, what a ride. The series explores how LuLaRoe — a multi-level marketing business, which involves person-to-person sales (think Tupperware parties and "Avon ladies") — sold women the American dream but left them holding the (moldy) bag. Come for the buttery soft leggings, unintentionally risqué patterns and $70K bonus checks, stay for the incisive commentary on the intersection of gender roles and MLMs. [Culture Study]
Best — and worst — o' the rest: Boston has elected white male mayors for 200 years — that's about to change. U.S. Soccer is offering identical contracts to the men's and women's teams, but some are saying it's just a PR stunt. Despite being a "reluctant feminist," outgoing German Chancellor Angela Merkel has served as an inspiration to many women. U.S. Rep. Carolyn Maloney wore a suffragist-themed gown to the Met Gala promoting the proposed Equal Rights Amendment. Should women seek career advice from Machiavelli?
---
Numbers to know 🔢
 $40B  How much Australian startup Canva is now worth, making it the most valuable female-led startup in the world (and ranked fifth overall). Founder Melanie Perkins wanted to create an online design platform for everyone and is making history in the process.  
 60%  Percentage of college students who are women, the highest rate yet. Men represent a whopping 71% of the decline in overall college enrollment over the past five years.
 23%  Percentage of female equity partners at law firms. Nearly 38% of attorneys are women.
---
And, in closing, a tweet to think on