Why this near-ban on abortion is much bigger than a Texas-sized problem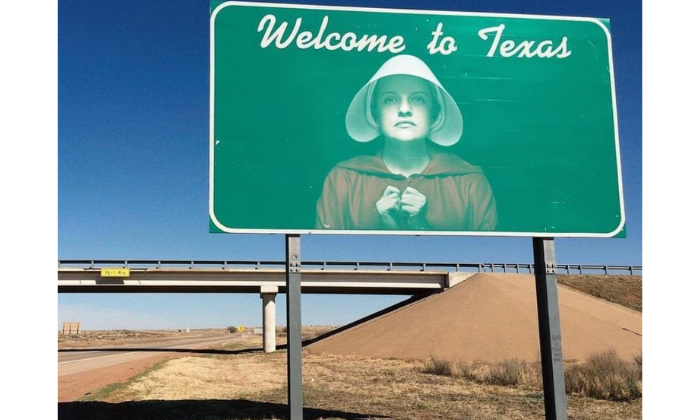 So we wanted to send you off into your last summer weekend with blissful dreams of sugar plums dancing in your heads. We were planning to offer up some lighthearted fare, like this piece about how female octopuses throw stuff at males harassing them 🐙 and how female hummingbirds deal with the same issue by disguising themselves as males. (Yes, we're now grading "lighthearted" on a heavy curve.)
But, because Texas, we can't.
We know all of you Boss Betty readers have already read about the state's extremely restrictive abortion law. It's not lost on any of us that the Supreme Court's decision to allow the law to go into effect is a frightening harbinger of the fate of women's reproductive rights in this country. Aside from fears that Roe v. Wade will be overturned, we're all worried that the states that have unsuccessfully attempted to pass near-bans on abortions in the past will rush to try and do so again, with different outcomes. And we're very cognizant of the fact that this new law represents an assault on the core tenets of our teetering democracy. "The attacks on reproductive rights seek to make women unfree and unequal," the journalist and author Rebecca Solnit wrote in her latest column.
Since we primarily focus on the intersection of gender and the workplace, we're curious as to whether employees will begin to lobby the companies they work for to take a stand on this issue, as happened amid a spate of anti-abortion legislation two years ago. We hope so. If you're looking for other actions you can take to support the reproductive rights of women (crazy that a world in which we would have to ask for support for men's repro rights is so unimaginable, right?), check this piece out.
Also, we're sending our love and support to those affected by Ida — if you have any $ to spare, here are some relief efforts you can donate to.
Alright, that's enough earnestness to last us a lifetime. We're taking next week off but will see you the following Thursday. Have a terrific long weekend 👋.
---
Other news to note 📝
"If this happened to someone on my team, I would have burned the place down." So said "Good Morning America" co-host Robin Roberts in the wake of the sexual assault lawsuit filed last week against former top GMA exec Michael Corn. The suit has reportedly led to tension between Roberts and her co-host, George Stephanopoulos, over the way the claims were initially handled by the network. Who needs to watch "The Morning Show" when you can just read the news? Elsewhere in the world of television men (allegedly) behaving reprehensibly, Michael Richards is finally officially out at "Jeopardy" (for real this time) for previous comments made about women and other marginalized groups. And, some of the less savory details of the disgraced producer's stint at "The Price is Right" have come to light, too. [Daily Beast, THR]
Siri, remove Apple's internal Slack channel on pay equity. HR reps at Apple shut down an employee-created Slack channel used to discuss the issue of pay equity between women and men. Apple cited company rules prohibiting chat channels that don't advance business goals. But, as The Verge astutely points out, a #dad-jokes channel and a #fun-dogs channel were left untouched by the company's policies. Although Apple claims to support pay equity, one survey showed a 6 percent gender wage gap. Knock knock. Who's there? #PayMe. [The Verge]
Reports of the death of the #girlboss have been greatly exaggerated. Is there any figure quite as polarizing as the girlboss? A new think piece (yes, there have been many) argues that there's more to her bombast and boldness (and overall bright pinkness) than meets the eye. Female leaders and CEOs (the term "She-E-Os" definitely deserves to die) are held to impossible standards and often punished for the same behavior that is rewarded in men. But maybe we don't give the girlboss enough credit for paving a way forward for girls and other marginalized genders. In a world lacking in sufficiently diverse blueprints for success, the girlboss may be more than just a sarcastic punchline after all. That said, we personally don't like the "girl" aspect, preferring the more accurate term, "woman," but #WeOld, and each to their own. [The Cut]
A surprising defense in the trial of Elizabeth Holmes: Strategy, or a very sad and twisted reality? Speaking of so-called girlbosses, Holmes — who was the subject of last week's newsletter — plans to allege intimate partner abuse by her ex-boyfriend and former Theranos CEO, Ramesh "Sunny" Balwani. Her defense will claim that Balwani's controlling, manipulative and abusive behavior — including throwing sharp objects at her and controlling her diet — affected her mental capacity. In other words, she is not responsible for the accusations against her. Will it work? Hard to say. Claiming "mental disease or defect" is a rarity in the realm of white-collar crime, so there's not a ton of precedent. However, it looks like she will need to take the stand in her own defense. For someone accused of lying to investors in cold blood, that seems like a risky strategy indeed. Balwani will stand trial next year for his role in the Theranos debacle. [Slate]
Paid leave: If not for the parents, do it for the babies. An NYU study comparing the brain development of babies whose mothers had three months of paid leave to babies whose mothers had only unpaid leave showed that the former had more complex brain wave patterns. Why? Stress affects mom and mom affects baby. If you're counting, this is approximately reason No.185 billion we need to stop being the only developed nation without mandatory paid leave. Oh, and BTW, the Biden administration's push to actually finally federally mandate paid leave is in mortal danger, again, thanks to Democratic Sen. Joe Manchin. [The 19th, NPR]
---
And, in closing, a quote to think on
"The court's order is stunning. Presented with an application to enjoin a flagrantly unconstitutional law engineered to prohibit women from exercising their constitutional rights and evade judicial scrutiny, a majority of justices have opted to bury their heads in the sand … 
In effect, the Texas legislature has deputized the state's citizens as bounty hunters, offering them cash prizes for civilly prosecuting their neighbors' medical procedures."