📈IPO filings📉: 2020's first batch reveals pathetic male-to-female ratio of board directors & top execs
All of the companies had male CEOs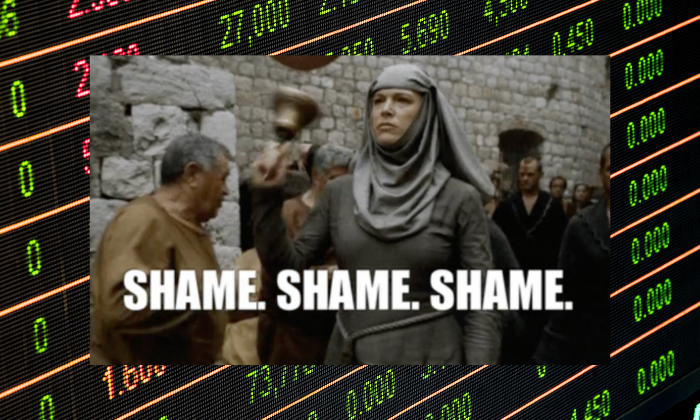 To be filed under #WillWeNeverLearn? and also #ThisIsTotalGarbage🗑: The first batch of the new decade's IPO filings revealed that a paltry average of about 11 percent of board directors and 17 percent of top executives were women, according to Boss Betty's exclusive analysis. All of the companies that filed between Jan. 1 and Jan. 10, 2020 had male CEOs.
In the U.S. overall, around 20 percent of board seats at the largest public companies are held by women, while at top venture-backed private companies, just 7 percent of directors are female. This, in a world where the workforce is now more than 50 percent female.
With two female directors out of a total of seven — 29 percent — pharmaceutical company Schrodinger, Inc. had the most female board representation of the companies that have filed so far this year; three of the company's seven named execs were women.  Boss Betty's analysis included only U.S.-based companies with three or more directors seeking to raise at least $5 million.
Buzzy mattress purveyor Casper, beloved by millennials the U.S. over, took second place with a board that is 25 percent female. Just one of the six named executives in Casper's SEC registration was a woman.
Next on the list is primary care startup One Medical, which, like Casper, has unicorn status with a valuation of about $1 billion. The Alphabet-backed company had just two female board directors out of nine and only one director appears to be a person of color. For the moment, the tech-y concierge medical services company — ubiquitous on corners in San Francisco, New York City and other major metros — is in compliance with California's law mandating that public companies headquartered in the state have at least one female board member. But by the end of next year, One Medical will need to have at least three female directors since its board consists of more than six members. On the bravo side, two of the five named execs in the filing are female: CTO Kimber Lockhart, formerly of the file-sharing services company Box; and General Counsel Lisa Mango, who was previously senior corporate counsel at Autodesk.
Four of the nine companies that have filed so far this year had zero women on their boards. For the shame record, we'll call them out here in addition to their inclusion in the chart below: Black Diamond Therapeutics, an oncology medicine company; Arcutis Biotherapeutics, a pharmaceutical company focusing on dermatological diseases (since the firm is California-based it is legally obligated to have a female director before it goes public); Professional Holding Corp., the financial holding company of a Florida community bank; and Clip Interactive, a marketing tech firm. Because what could possibly go wrong when just men are running medicine, finance and tech?
It's certainly worth noting that the investors in these companies bear some (in some cases a lot) of the responsibility for the lack of gender and racial diversity on the boards since they usually get a director seat with their investments — another reason the notoriously male (and white) venture capital world needs to fix its broken recruitment and retainment systems. Requests for comment from the companies included in Boss Betty's analysis were not immediately returned.
We're not even two weeks into 2020 so let's hope🤞the abysmal lack of parity displayed so far doesn't portend more of the same as the year unfolds — and, more importantly, let's keep yelling, and reporting, and pushing in every way we know how to make sure change is coming 💪. We'll be keeping a close eye on the major IPOs expected this year including Airbnb (the company appointed two women to their board last year for a total of at least three), Postmates and Palantir.
Editor's note: An earlier version of this story included two companies — DermTech and Salarius Pharmaceuticals — that had filed S-1s during the period analyzed but were already publicly trading on either the NASDAQ or NYSE; both have been removed from the chart and the related stats have been updated.