Boss Betty Brief: 64 law firms get Mansfield certified, Fox News' Jeanine Pirro is worried about getting fired & more
A roundup of the biggest female-powered news across major industries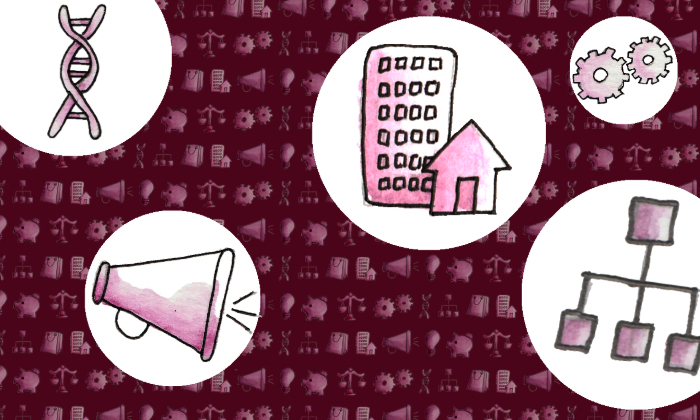 GENERAL ASSEMBLY: Discrimination on the basis of sex is illegal in Mexico, as it is in the U.S., but more than 800 of just over 10,000 employment ads posted by multinational companies over one week on a popular Mexican job site specified what gender the applicants should be, according to a Bloomberg analysis. Men were targeted for more senior positions while women were sought out for secretarial and customer service positions, the data showed. No puedo [Bloomberg].
Here's the BB breakdown of the biggest female-focused news by industry. Have news to share? Email us at tips@bossbetty.com.
ADVERTISING & MEDIA: The BBC's China editor, Carrie Gracie, wrote about her — eventually successful — fight for equal pay at the broadcaster in the new book, "Equal" [Guardian]. Director and writer Lorene Scafaria discussed her long struggle to get a female crime drama made. Her movie "Hustlers" will be released later this month after premiering at the Toronto Film Festival [THR]. SAG-AFTRA is working with SeeHer — the Association of National Advertisers' campaign for gender equality in advertising and media — to push for better portrayals of women on screen. As part of the partnership, there will be a social media outreach effort called #IWasWrittenRight, which actors can use to highlight female characters they've played who they feel accurately represent real women [Variety]. Work & Co., which said it had a "record year of growth," named five new associate partners including Dever Thomas — who's worked on the Apple, Ikea and Virgin America accounts, among others — and Rupal Parekh, who was once an editor at Ad Age and works on content strategy and communications at the agency [Ad Age]. Director and actor Olivia Wilde opened up about the lessons she learned from her directorial debut, "Booksmart," which got a great critical reception but only did $8.7 million at the box office its opening weekend [THR]. L.A.-based creative marketing agency Pongo promoted Hartley Powers to president and creative director. She's been with the agency for a decade [Ad Age]. Edelman's EMEA chief, Carol Potter, is moving into the newly created role of global vice chair of brand and will be succeeded by UK and Ireland CEO Ed Williams [PR Week]. Ex-Condé Nast Chief Brand Officer Kim Kelleher will be AMC's new president of advertising sales and partnerships. Kelleher left Condé last November amid a sales restructuring [Ad Age]. Hill+Knowlton Strategies hired DeVries Global's Laura Morgan to head up its U.S. consumer practice [PR Week]. Fox News host Jeanine Pirro, who confirmed that she was briefly suspended from the network in March, said she is worried about getting fired. No comment [THR]. Time added four women to its leadership team under new president Keith Grossman: Viktoria Degtar, who has worked at Bloomberg and HuffPo, was hired as CRO; Susanna Schrobsdorff, who's been at the organization for eight years, will be SVP of partnerships as well as executive editor; BlackRock's Radhika Prakash was hired as SVP of brand and content marketing; and Maya Draisin will be SVP of progress marketing [AdWeek].
FINANCE: Guy Carpenter & Co., a top Lloyd's of London insurance brokerage, dismissed a senior vice president for sending a sexually explicit email about a female co-worker to several team members. Two other people involved in the incident were disciplined in the incident [Insurance Journal]. American Express's senior vice president of global fraud, Tina Eide, discusses how the credit card company is trying to step up its anti-fraud efforts using machine learning [American Banker]. The American Economic Association is banning employers from interviewing aspiring professional economists in hotel rooms during their annual conference, a practice that has been the standard for years. "It was not unusual when I was a job-market candidate to walk into a hotel room and see a roomful of men, and be invited to sit on the bed for a job interview," Jessica Holmes, an economics professor at Middlebury College, told the Wall Street Journal. The move is intended to help put an end to what the association's current president, former Federal Reserve Chairman Ben Bernanke, characterized as the profession's "reputation for hostility toward women and minorities" [WSJ].
LAW: Sixty-four law firms are now "Mansfield 2.0 Certified," indicating that they've updated their recruiting and promotion practices to ensure that at least 30 percent of candidates for leadership roles (including compensation committee partner, equity partner, lateral partner and other relatively high-ranking positions) are diverse. The certification, created by the legal diversity organization Diversity Lab, is named after Arabella Mansfield, the first female admitted to a U.S. bar association [American Lawyer]. The allocation of origination credit at law firms is still an impediment to the ability of in-house counsel to promote diversity and inclusion in firms [Corporate Counsel]. Kirkland & Ellis, the world's wealthiest law firm, poached diversity executive Joi Bourgeois from Orrick, Herrington & Sutcliffe [American Lawyer]. Former DOJ veteran Alicia O'Brien joined King & Spalding in D.C. as a partner in its government matters practice group [Big Law Business].
MANUFACTURING & RETAIL: Uniqlo's billionaire founder, Tadashi Yanai, wants a woman to succeed him as CEO. He said that women are "persevering, detailed oriented and have an aesthetic sense," making them a better fit for the job — sweeping generalizations, to be sure, but at least the end result works (not that that's our general standard, mind you). Yanai also plans to increase the percentage of female senior executives to more than half. In Japan, where Uniqlo parent Fast Retailing is based, women hold only 4.1 percent of  CEO roles at publicly traded firms [Bloomberg]. The United Auto Workers is gearing up for new contract negotiations with Mary Barra's GM, aiming to walk away with a deal it can use as a baseline in talks with Ford and Fiat Chrysler. The union's choice to target GM first indicates that they've already made some progress in their discussions with them over an agreement regarding hourly factory workers [WSJ]. Katrina Lake's Stitch Fix bought the tech and intellectual property of wardrobe tech company Finery, which was co-founded by model and actor Brooklyn Decker. A spokesperson for Stich Fix said that the company's mission "closely aligns with the mission of Finery's digital wardrobe platform, which saved users time getting dressed and was a source of style inspiration" [Retail Dive].
SCIENCE & HEALTHCARE: Twitter hired Healthline Media veteran Lisa Bookwalter to oversee its rapidly growing health and wellness vertical, which likely means pharma will soon see more online ad options  [FiercePharma]. While big pharma continues to largely ignore women, small pharmaceutical and bioscience companies are picking up the slack and trying to develop treatments with fewer side effects for the most persistent issues women face [Fast Company]. Researchers looking for an explanation for why females don't perform as well on math and science tests as their male counterparts found that if the exams lasted longer, the gender gap was "completely offset or even reversed." The study showed that females are better able to sustain performance over a long period and researchers said that this should be regarded as a skill. "Gender differences in test performance in math and science have generally been perceived as a female weakness," said one of the researchers. "The findings in this study could serve as a counterbalance to the gender stereotypes shaped by this perception" [Newsweek].
If there's no relevant news of note to share in a given sector, we skip it for the day. Did we miss something? Let us know at tips@bossbetty.com.