Boss Betty Brief: Forbes fails women in "100 Most Innovative leaders" list, Facebook steps to Mandy Ginsberg's Match & more
A roundup of the biggest female-powered news across major industries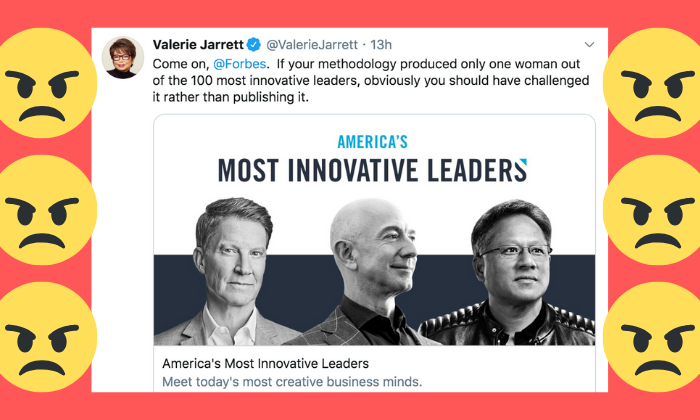 GENERAL ASSEMBLY: So one woman and 99 men were named on Forbes' "100 Most Innovative leaders" list. A Twitterstorm unfolded following its publication — if mighty winds, ruthless hail and sheets of icy snow could have been unleashed, they would have been, but we're confined to storms of the social variety (for the moment). In response, the publication's editor, Randall Lane, wrote a piece headlined, "Opportunity Missed: Reflecting On The Lack Of Women On Our Most Innovative Leaders List." But that piece certainly didn't kick off with a whole lot of reflection on the so-called "missed opportunity," in of itself an interesting take on publishing a list of business leaders that's 99-percent male. Instead, Lane immediately proceeded to say it was the list's methodology that drove the outcome and Forbes "let the chips fall where they may," so, 🤷‍♂️. In the penultimate paragraph, the editor does concede that the methodology was flawed and needs to be made more expansive, so there's that. As Valerie Jarrett tweeted, "Come on, @Forbes. If your methodology produced only one woman out of the 100 most innovative leaders, obviously you should have challenged it rather than publishing it" 👏👏👏.
Here's the BB breakdown of the biggest female-focused news by industry. Have news to share? Email us at tips@bossbetty.com.
ADVERTISING & MEDIA: "She Said," the book reporters Jodi Kantor and Megan Twohey wrote about breaking the story of Harvey Weinstein's alleged sexual abuse and harassment, reveals new details and names several well-known key sources who helped the reporters unearth the story. The book is out Tuesday [NYT]. In more news regarding media men who have allegedly done terrible things to women in the industry, disgraced political reporter Mark Halperin reportedly put in an angry call to MSNBC president Phil Griffin when the network nixed his plans to revamp his TV career via "Morning Joe." Halperin was accused by several former colleagues at ABC News of unwanted sexual advances during his time at the network [Daily Beast]. Gabrielle Union is set to executive produce a one-hour dramedy with Spectrum Originals. We're fangirls when it comes to Union but admit to some skepticism about the story line, which centers around a woman who, post big break-up, leaves her terrible corporate job to be a pole dancer, where she allegedly finds real freedom. Nobody should have the right to deprive anyone access to their own self-fulfillment (um, provided its legal and doesn't hurt anyone else and all other necessary caveats) — and having never been pole dancers ourselves, we can't presume to know what that world is like — but on the face of it, pole dancing certainly does seem to be geared towards pleasing men while objectifying women, so the show's premise does not seem terribly promising, but we'll reserve total judgement for the moment [Variety]. CBS News promoted Tanya Rivero to full-time anchor at CBSN, the network's streaming news platform [TVNewser]. WPP's Finsbury hired Elizabeth Micci as partner. Previously she was a managing director at the Glover Park Group [PR Week].
ENERGY: San Francisco Mayor London Breed offered to buy the local assets of bankrupt utility PG&E, led until mid-January by Geisha Williams, for $2.5 billion. The company declined Sunday [Bloomberg].
FINANCE: Elaine La Roche, a Wall Street power broker who flourished in the '90s investment banking world among a sea of men, died Aug. 25 at 70 years old. During her 22-year career at Morgan Stanley, La Roche ascended from administrative associate to managing director at a time when less than 10 percent of partners and managing directors among leading securities firms were female, the New York Times reported. "Trading-room culture and intensity is not gender specific," La Roche told the Times in a 1996 profile that touched on her well-known penchant for profanity. "It's O.K. for a guy to slam the phone down on the trading floor…Since I left the trading floor I have tempered my colorful language" [NYT]. A Bloomberg analysis revealed that more than 60 percent of U.K. sex discrimination cases over the past 2.5 years never made it to court, thus avoiding the public eye. In the finance sector, that percentage is above 75 percent, with suits against the likes of Barclays, HSBC and JPMorgan Chase & Co. vanishing before hitting the courts as money is exchanged for silence [Bloomberg].
MANUFACTURING & RETAIL: Glossier, helmed by CEO Emily Weiss, poached Amazon's Melissa Eamer as COO [CNBC]. It appears that the chorus of threats to quit SoulCycle, run by CEO Melanie Whelan, in protest of a Trump fundraiser hosted by one of the fitness company's owners was more than words, as is so often not the case [The Atlantic]. The Equal Employment Opportunity Commission (EEOC) is suing Tennessee packaging company, Bryce Corporation, for allegedly paying one of its women executives $18,000 less than her male counterpart. When the female exec asked for a raise to close the gap, the company said no [HR Dive]. Dylan's Candy Store founder, Dylan Lauren, talks about building her company from just a sweet tooth into a 27-store confectionary force to be reckoned with [Fortune]. Woke-washing has stripped down to its skivvies, with underwear brands going all-in on marketing that eschews binary gender norms. "There are male brands and women brands," marketing consultant Katie Martell told the New York Times. "But progressive brands see that the future is on the spectrum" [NYT].
TECH & ENGINEERING: How much of a threat to Mandy Ginsberg's Match Group is Facebook Dating? Match's shares dropped following the announcement, but some are skeptical of the long-term impact [Fast Company]. The States vs. Big Tech is so ON. A bipartisan coalition of attorneys general, led by New York's Letitia James, will investigate Facebook for alleged anti-competition practices. Meanwhile, more than 40 state attorneys general are expected to announce their plans to investigate Google for potential violations of antitrust laws and privacy issues, among other alleged malpractices [Recode & WaPo]. Former MIT Media Lab development associate Signe Swenson was one of the key players to bring to light Jeffrey Epstein's secret donations to the institution, which just resulted in the resignation of its director, Joi Ito [New Yorker]. Nominations are open for the "Women in PropTech Global Awards," the first award of its kind to recognize women in the PropTech industry. Don't be shy, toot your own horn! Enter here.
If there's no relevant news of note to share in a given sector, we skip it for the day. Did we miss something? Let us know at tips@bossbetty.com.