It's cool that unions are 'cool' again, but are they doing enough to benefit women?  
Experts say collective bargaining is a boon to female workers, but there's much work to be done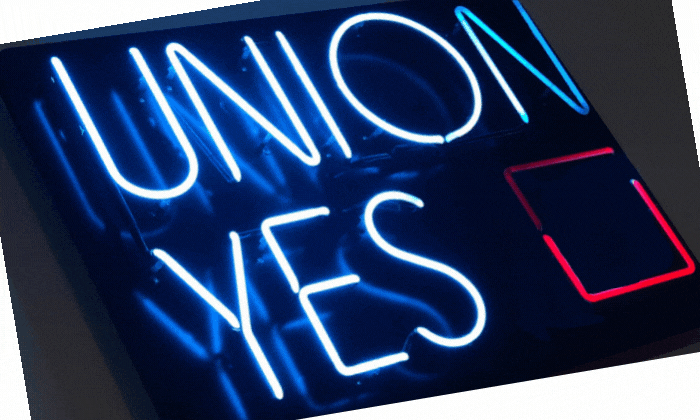 Sweaty, angry white guys straining through their shirtsleeves are no longer what come to mind when conjuring images of today's union leaders. Some of the loudest voices — the most amplified, anyway — in the rapidly proliferating labor movement run the gamut from Google data engineers with limitless supplies of free espressos to Amazon hourly warehouse workers mercilessly managed by chatbots, with all of the myriad issues that lay in between.
During the pandemic, long-ignored truths about poor protections for workers and inequitable pay scales across a multitude of industries resurfaced. As calls to address these issues reverberate across both corporate corridors and the ever-growing class of gig workers, unions have become an increasingly popular solution for employees.
Writ large, the current union heyday seems like very good news for workers. But given the pandemic's outsized economic impact on women, and particularly women of color, are unions doing enough when it comes to gender and racial equity in the workplace?
"For workers who are vulnerable to exploitation and discrimination, and that are more susceptible to pay inequality, there's nothing better to really level the playing field than a union contract," said Kimberly Freeman Brown, a consultant who works with labor unions and other organizations on issues of racial and gender equity. She noted that the "labor movement has been instrumental in many of the social movements that we know of — the civil rights movement, the women's movement, you name it."
However, "Black women are still woefully underrepresented in the leadership within unions," said Freeman Brown, a former executive director of American Rights at Work, a worker advocacy organization affiliated with the AFL-CIO. She pointed to a survey of Black women in the labor movement that showed that, while 65 percent of them wanted to be a union leader, less than a quarter of them served in any appointed or elected positions. About half of the survey respondents agreed with the statement, "There is a 'glass ceiling' preventing me and other Black women's growth and promotion in the labor movement."
There is a 'glass ceiling' preventing me and other Black women's growth and promotion in the labor movement.
Still, Freeman Brown is optimistic about where the labor movement is headed. "I'm working with a number of labor unions right now around racial equity and inclusion work and I'm very encouraged," she said, predicting that "we will see the rise of Black women and other women of color who have just been members and been on the staff… Their leadership has always been there, but for them to have more visible leadership roles, I believe that is coming."
Raksha Muthukumar, a former Google software engineer who was one of over 800 employees in the Alphabet Workers Union (named for Google's parent company), said that she feels confident the union is prioritizing women. 
"I think the union made me feel genuinely more included in my workplace," she said, explaining that it gave her and other employees a space to talk about important issues without fear of retaliation, which she does not feel is the current case at Google. "How much can you talk about stuff if you're worried that somebody's going to get fired for speaking out against sexual harassment or discrimination?" 
The Google union differs from other organized labor groups in that it is a "minority union" so it does not have the power to force the company to collectively bargain when it comes to pay or other benefits. However, it is supported by Communications Workers of America, which represents 700,000 members in both the private and public sectors, and Google organizers say their main priority is to reshape the culture at the search behemoth.
Muthukumar, who just left her engineering position at Google to become a full-time organizer, noted that "some of the most high-profile employees targeted by Google in the past year" were women. That group includes the artificial intelligence ethics expert Timnit Gebru, who said she was fired in retaliation for both speaking up about discrimination at the company and questioning its approach to A.I.; Margaret Mitchell, another ethical A.I. expert who was fired; and Shannon Wait, a contractor whose suspension was successfully overturned by the union. "I think that incidents like these highlight that those of us who are not straight white men take the brunt of retaliation," Muthukumar said. (Google did not respond to numerous requests for comment for this article.) 
Annie Shields, a journalist with The Nation who serves on the executive committee of the NewsGuild — a labor union for journalists — said many unions are able to take on issues of elevated importance to women. "At New York magazine, they secured a petition in their contract that says that no one will ever be required to sign an NDA [non-disclosure agreement] that is about a situation where there is a harassment allegation," Shields said. "The argument that the NewsGuild made is that it is a workplace safety issue — you can't make people be quiet about harassment that they've experienced."
She explained that such clauses have the potential to change workers' experiences quite a bit and also change the expectations for the whole industry. "Once you get something in one contract, that kind of raises the standards for everybody else," Shields said. "Maybe within five years, this might be the norm. That's the hope." Indeed, thanks to union work, the news site the Daily Beast recently eliminated NDAs, and, last year, the publisher of the New Yorker and Vanity Fair agreed to limit their use.
"Historically, one thinks of unions as representing blue collar, mostly male, industrial or construction workers," said Dr. Elaine Bernard, former executive director of the Labor and Worklife Program at Harvard Law. "Increasingly, these workers are female and they are becoming more active in unions and starting to bring some of their demands, as women, to the bargaining table."
It's imperative to build 'unions that focus on solidarity across class lines and that center our most marginalized. Women, queer folks, immigrants, young people.'
Muthukumar said that she believes that it's imperative to build "unions that focus on solidarity across class lines and that center our most marginalized. Women, queer folks, immigrants, young people." She said one key to that is the union-friendly Protecting the Right to Organize Act (PRO Act), which was passed by the House last year but, despite having the support of the majority of voters, seems destined to fail in the Senate.
Freeman Brown, too, believes that legislating for unions is the right way to go. "Any worker that can should fight to change public policy to ensure that they have access to forming a union — the more of us that are in labor unions, the better," she said. "And for those of us who are in labor unions, [we need] to fight like hell to make them even better."