Boss Betty Brief: Ms. Monopoly's misstep, % of women directors at public companies ticks up & more
A roundup of the biggest female-powered news across major industries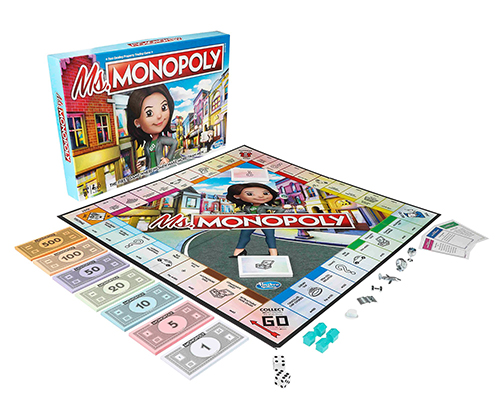 GENERAL ASSEMBLY: We're very on board with this: 20-percent of board seats at public companies are now held by women, according to a report from Equilar, a governance-data firm. That's up from 15 percent in 2016 when Equilar began tracking the number of women on the boards of Russell 3000 companies. The increase is thanks in part to a California law requiring that any public companies headquartered in the state have at least one woman on their boards by the end of this year. By the end of 2021, companies must have two women serving if their boards are made up of five directors and three if they have seven or more directors. See, legislating change helps! [WSJ]
Here's the BB breakdown of the biggest female-focused news by industry. Have news to share? Email us at tips@bossbetty.com.
ADVERTISING & MEDIA: Brand safety guidelines are keeping precious advertising dollars from queer-centric news sites. Like the media business isn't challenging enough without this BS. Nearly 75 percent of articles from LGBTQI sites are flagged as unsafe and potentially pornographic, according to a study from ad-verification firm Cheq [AdWeek]. Vice News' award-winning correspondent Elle Reeve is heading to CNN [TVNewser]. BET Networks hired Amy DuBois Barnett, formerly of TheGrio, as SVP and general manager of BET Digital [Deadline]. GoldieBlox, which characterizes itself as a "disruptive children's media company challenging gender stereotypes with the world's first girl engineer character," hired Beth Greve as chief commercial officer and appointed Chopra Global's Tonia O'Connor and Waze's Suzie Reider to its board [Broadsheet]. Sneaker marketplace StockX, which just did a big advertising deal with the Bleacher Report, hired Helix's Deena Bahri as its first CMO [WWD].
ENERGY: Listen to Una Song, a senior adviser at the Energy Department's Office of Environment, Health, Safety and Security, discuss her role's focus on sustainability and environmental compliance [Federal News Network].
FINANCE: Banker Stacey Macken won a gender bias suit against her employer, BNP Paribas. She sued the bank's London office on the basis of unequal pay, seeking about $5 million. She alleged she was paid significantly less than a male counterpart because of her gender and said she faced sexual harassment. While the harassment claims were dismissed, a judge upheld her discrimination claims. It's not clear how much she will get in compensation [Guardian].
LAW: If you're an attorney in North Carolina, you are not obligated to appear in court for up to 12 weeks after the birth or adoption of a child, the North Carolina Supreme Court announced [Law360]. Walmart hired former Amazon lawyer Nuala O'Connor as its first chief counsel of Digital Citizenship, a role focused on cybersecurity and leveraging data while also keeping an eye on privacy issues [Corporate Counsel]. The chief executive of Baker McKenzie's EMEA operations, Fiona Carlin, is one of the three partners in the running to become global chair [American Lawyer]. Former Illinois AG Lisa Madigan will be a litigation partner at Kirkland & Ellis in their Chicago and Washington, D.C. offices [Reuters]. The Canadian Bar Association named Bank of America Merrill Lynch's Vivene Salmon its next president. She will be the first person of color in the role. "It is a challenge when the system is not reflecting the people that make up the system…Women are 50-51% of graduates but there is high attrition at the law firms and we are not quite where we need to be with women and racialized people in the legal profession," she said in an interview this week [Corporate Counsel].
MANUFACTURING & RETAIL: Hasbro is launching Ms. Monopoly, which it touts as the "first-ever game where women make more than men." But while it promotes the game as empowering women, the company has erased the original board game's female inventor, a fierce feminist named Lizzie Magie, from its history [New Yorker]. Hudson's Bay, led by CEO Helena Foulkes, announced net losses of $1.91 per share in Q2 on Thursday, up from $0.44 per share from the year-ago quarter. Revenue was basically flat, at about $1.4 billion [Globe & Mail]. GM, helmed by Mary Barra, recalled almost 3.5 million trucks because of break issues [Fortune]. The world of watches has been known as a man's world for centuries, but women have always been integral to watchmaking. Read about six women changing the face of time, including Piaget CEO Chabi Nouri and Jacqueline Dimier, former designer at Rolex and Audemars Piguet [NYT]. Former PepsiCo chair and CEO and current Amazon board member Indra Nooyi mulls what it means to be a corporation today, and the "increasingly blurry" line between business and society [Directors & Boards]. Rent the Runway CEO Jennifer Hyman still has to justify herself and her unicorn-status company to VCs, 90 percent of whom are men [Recode].
TECH & ENGINEERING: Safra Catz's co-CEO at Oracle, Mark Hurd, is taking a leave of absence to focus on his health. No specifics nor a timeline for his return were revealed [WSJ]. The feds told Google they must assure employees that they can speak freely about issues in the workplace and politics as part of a settlement concerning workers who were allegedly punished for doing so [WSJ]. Cloudflare, co-founded by Michelle Zatlyn who serves as COO, may be going public this week. The other big news about the cybersecurity company? Buried in its IPO registration is the disclosure that the company may have broken several laws, including by providing its services to terrorists and drug traffickers [BI]. We'll let this headline speak for itself: "Silicon Valley sucks at diverse hiring. Lesbians Who Tech wants to change that" [Fast Company]. The Wing is expanding its networking concept from just the physical to the digital with an online hiring marketplace, according to its CEO and co-founder, Audrey Gelman [Recode]. Andreessen Horowitz led a $15 million Series A round for Incredible Health, a hiring platform for nurses run by co-founder and CEO Iman Abuzeid. Her company has raised a total of $17 million to date. "At the end of the day, a hospital recruiter or hiring executive does not want to see 200 candidates in their app, they want to see 12 that are the right fit," Abuzeid said of the platform [TechCrunch].
If there's no relevant news of note to share in a given sector, we skip it for the day. Did we miss something? Let us know at tips@bossbetty.com.