Boss Betty Brief: Vice's Nancy Dubuc looks to save the company (and herself), news on the Jones Day sex discrimination lawsuit & more
A roundup of the biggest female-focused news across industries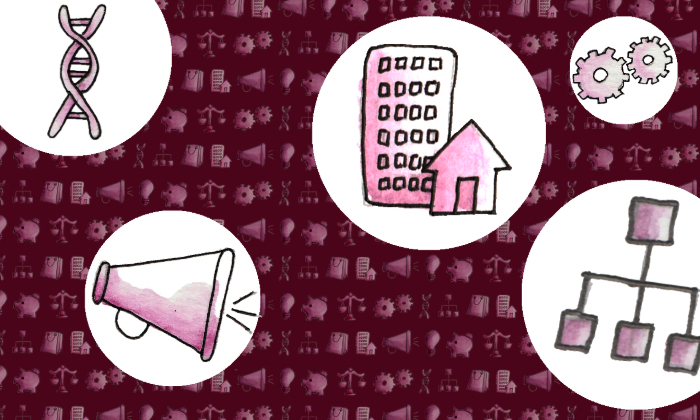 It's earnings day for Uber — the firm formerly known for its biased, toxic workplace. If you haven't read our deep dive into whether things have truly changed at the now public ride-hail company, time to take a gander at our piece, Has Uber really left its brotastic culture behind? Speaking of bias (and aren't we always, because — sadly — don't we always need to be?), a whopping 39 percent of women surveyed by Fairygodboss, a career site for women, reported that they had experienced ageism at work before their 45th birthday. To that we say: Pssh, 50 and fabulous [Quartz]. If all this bias bias bias has got you boiling (boiling boiling), check out Melinda Gate's edgy new project, Equality Can't Wait, which uses comedy to confront the gender gap. Zingers from comedians including Maya Rudolph, Margaret Cho, Sarah Silverman and Fred Armisen will make you laugh until you cry, because 208 years 'til gender equality means — in the words of Carol Burnett — our "great great great great great great great great grandchild" might get to experience it. To that, Silverman says, "Over my dead vagina." And ours, too, Sarah, ours too.
Now, here's the BB breakdown of the biggest female-focused news by industry. Have news to share? Email us at tips@bossbetty.com.
ADVERTISING & MEDIA: Vice Media CEO Nancy Dubuc is shopping her struggling company around in the hopes of getting in on an expected summer deal between CBS and Viacom. A couple years back, when Vice was "at the white-hot epicenter of angsty millennial programming," investors were scrambling to open their wallets. But the company's value is said to be down from 2017's high of $5.7 billion to about $1.5 billion, following a string of programming disappointments and staff exits. Also heading down? Dubuc's rep for being an uber-successful media exec [Vanity Fair]. A slate of Hearst Magazine titles, including Elle and other pubs for women, are experimenting with targeting print ads to readers based on what they read online [AdWeek]. A tough day for women in independent film — Annapurna Pictures, led by film producer Megan Ellison, whose credits include the box office successes "American Hustle" and "Zero Dark Thirty" — is in talks with banks to restructure the company's debt. This comes after Olivia Wilde's "Booksmart" didn't measure up financially during a tough Memorial Day weekend release [LA Times]. Amy Carney, formerly Sony Pictures' head of ad sales, will be Fox Entertainment's new COO [AdWeek].
ENERGY: National nonprofit Women's Energy Network wants more women to consider careers in the male-dominated oil and gas industry, and to that end is expanding its operations in Texas. "There is definitely tremendous growth for female engineers, in particular," said guest speaker Barbara Canales, a county judge who is also an engineer, speaking at a meeting of the organization's Corpus Christi chapter. "There's been an empty seat at the table and I think when you bring in a different perspective to any type of homogeneous group you're going to benefit" [KRIS 6 News].
FINANCE: Thinking about opening your own financial services firm? Tiffany Aliche — known as "The Budgetnista" — hit rock bottom and clawed her way back to security by opening a personal financial consulting business. "I started to do the math," said Aliche of the one-on-one sessions she first offered. "If I could teach in a class setting vs. one-on-one, I could make more while working less." Now hundreds of thousands of women across the globe are part of Aliche's financial education community [Forbes].
LAW: More news in the proposed class lawsuit against Jones Day for sex discrimination: An attorney — one of the six women who filed against the firm in April — lost her bid to stay anonymous throughout the proceedings. The U.S. District Court for the District of Columbia said the complaint must be amended with her name by Aug. 12. Attempts by some of the other women involved to shield their identities had previously been denied [Bloomberg Law]. The U.S. Soccer Federation is going the lobbying route in the pay gap lawsuit the women's team filed in March — the org hired two D.C. lobbying firms to represent them. "Stunned and disappointed" was the reaction from U.S. women's soccer spokesperson, Molly Levinson [Politico].
MANUFACTURING & RETAIL: Linda Kozlowski, chief executive of Blue Apron, said the company is shaking up its partnerships. It will cut ties with Walmart's e-commerce site Jet.com, but retain its relationship with Weight Watchers. Kozlowski said the meal-kit service will look to team up with companies that have "large, highly engaged communities whose interests and values overlap with those of our best customers" [MarketWatch]. Boosting the beauty-tubers: Arianna Huffington is appearing at Beautycon's Los Angeles festival this weekend. Described by the New York Times as the "Super Bowl of the beauty industry," the event convenes cosmetics companies like L'Oréal and Revlon and thousands of young makeup aficionados. Huffington's message? "For centuries, women have lived on the assumption that our only asset is our beauty. Now we realize that we have a portfolio of assets and how we look and what we wear is just one small part of it. We need to address our whole portfolio" [Forbes]. Also on the makeup tip, Rihanna is a now an institution in the beauty and fashion industries. How'd she manage it? Targeting an overlooked female demographic, for one. For two, Riri is simply fabulous [AdWeek].
TECH & ENGINEERING: Sen. Elizabeth Warren has a plan for better broadband. The Democratic presidential candidate rolled out a proposal for "investing in rural America" on Medium Wednesday. One big highlight: She wants to give states and localities more power to control their broadband infrastructure [Vice]. More on the issues at Julie Hartz's Eventbrite: The company is really struggling with the integration of Ticketfly, which it acquired so it could hawk more concert tickets. Ticketfly's concert organizers were all supposed to be live on Eventbrite by the end of 2018, but that still hasn't happened. Hartz said on Wednesday that there are "fewer than 100" clients left to be moved over to her platform [The Information].
If there's no relevant news of note to share in a given sector, we skip it for the day. Did we miss something? Let us know at tips@bossbetty.com.
Heather Grossmann contributed to this piece.