Boss Betty Brief: Mary Barra on Lee Iacocca, Christine Lagarde's next act, a podcast network for women & more
A roundup of the biggest female-focused news across industries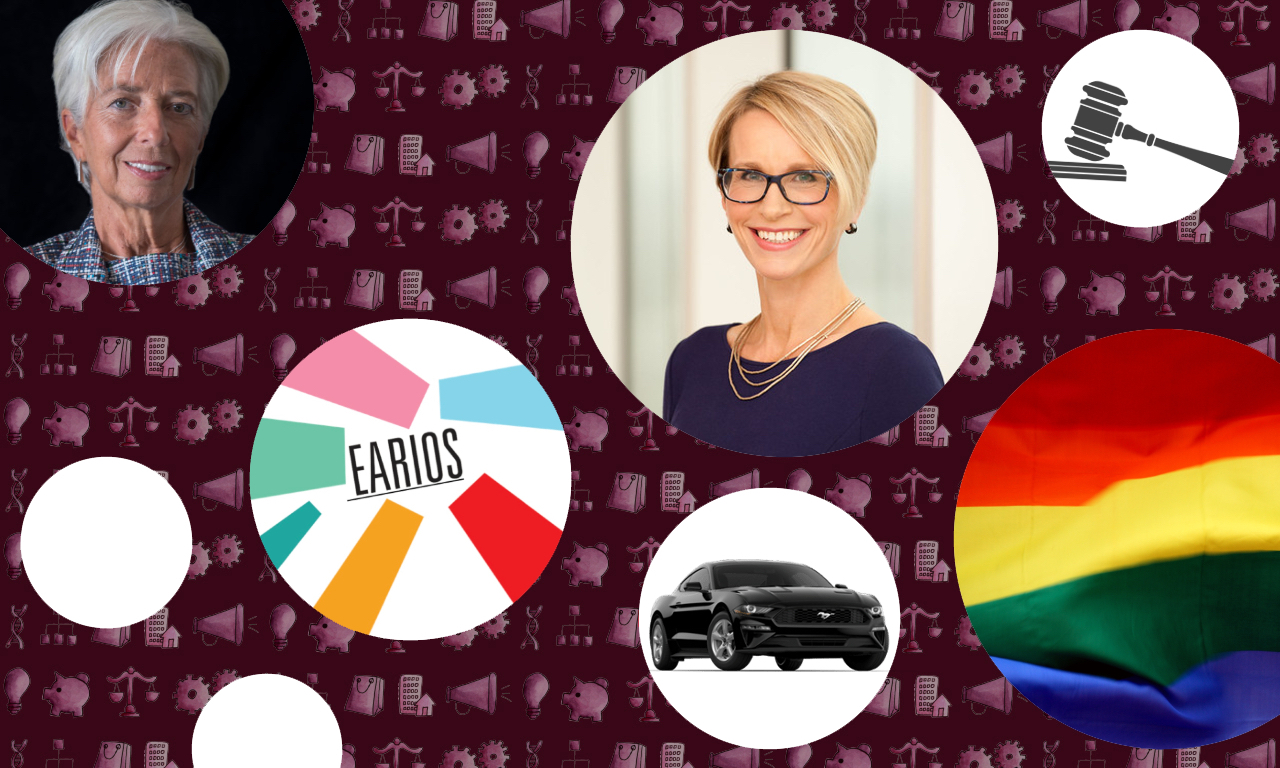 GENERAL ASSEMBLY: Google, Accenture, General Motors and Citigroup were among the 200-plus companies that filed a petition with the Supreme Court this week saying that gay and transgender workers should be protected under existing federal civil rights laws. The Forbes 2019 list of the best employers for women in the U.S. is out — Estee Lauder and Ulta Beauty (helmed by Mary Dillon) took the No. 1 and 2 spots, respectively.
Now here's the BB daily breakdown of the biggest female-focused news by industry. Got a tip about women in big business? Email us at tips@bossbetty.com.
ADVERTISING AND MEDIA: Unsurprisingly, while half of podcast listeners are women, only 22 to 30 percent of the shows they listen to are hosted by a female, Fast Company reported. So give a listen to the programming on Earios, an all-women podcast network founded by Amanda Lund, Maria Blasucci and Priyanka Mattoo — read all about it here. Three LGBTQ execs talked to AdWeek about the authenticity of the advertising surrounding Pride month. WarnerMedia ad sales chief Donna Speciale must be feeling good after a very strong upfront season — the unit's first since being acquired (and renamed) by AT&T. SnapDragon, a new female-owned agency led by Elle Morris, announced its launch on Tuesday. Beware personalization campaigns using AI?: An Adidas social media initiative promoting its new Arsenal shirt backfired big time when automated tweets from the brand began featuring racist and abusive Twitter handles. In the wake of the mess, Arsenal "reaffirmed their commitment to diversity and inclusion" and the sportswear brand halted the campaign and blamed Twitter, according to Forbes. MSL named Nicole Scull global head of its P&G business, per PRWeek. Emma Walmsley's GlaxoSmithKline tapped NASCAR driver Dale Earnhardt Jr. to market its new Nicorette product with a campaign created by Weber Shandwick.
ENERGY: Is Lynn Good's Duke Energy doing good with renewables? Seems so as the company just passed the 1 gigawatt threshold for owned solar energy capacity, but in Indiana, environmental advocates say Duke isn't doing good enough. Vicki Hollub's Occidental has rejected setting a date for shareholders to vote on Carl Icahn's proposal to replace a handful of its directors, among other actions. Sunnova filed for its IPO on the NYSE and its board is all men.
FINANCE: The IMF's Christine Lagarde will likely be the next head of the European Central Bank. Check out this recent Quartz video of Lagarde featuring the telling quote, "When it's bad, you call women to the rescue." A new report reveals that female CFOs are much less likely to misreport financials. Margaret Keane's Synchrony Financial got an analytical take from SeekingAlpha, which highlighted the impact of last year's PayPal and Walmart deals. Get insight into Suze Orman's portfolio, including why she's bullish on cannabis, though she certainly was not pleased with Elon Musk's pot-smoking shenanigans and subsequently dropped her Tesla stock. Bias in facial recognition is a much-discussed issue — is it safe for financial institutions? Following $30 million Series B funding round, digital retirement adviser Vestwell added two female fintech experts to its board: Lori Hardwick, at original partner at Envestnet and former COO at BNY Mellon Pershing; and Goldman Sachs partner and managing director Rana Yared. Wells Fargo alum Theresa LaPlaca joined the board of Maryland's Eagle Bancorp.
LAW: Clifford Chance, dubbed one of London's five "magic circle" law firms for its elite global status, is benefitting from the work the #MeToo movement has yielded, Bloomberg's Big Law Business reported. Profits are up 2 percent and a managing director at the firm told the pub it saw a "significant increase" in business from clients dealing with harassment allegations and looking to avoid such instances in the future. A nine-month check in on how Susman Godfrey's unlimited paid parental leave program is faring reveals a happy and healthy program. Because everybody loves/hates Aunt Becky, read this piece about Latham & Watkins fight to keep her case. Here's what went down at the Association of the Bar of the City of New York's Diversity and Inclusion Celebration Dinner. Lily Yan Hughes, who was Public Storage's chief legal officer, is moving on to the same role at Fortune-500 company Arrow Electronics.
MANUFACTURING & RETAIL: GM's Mary Barra on Lee Iacocca's passing, via Twitter: "Paying tribute to Lee Iacocca. He loved America, the auto industry and the people who make it run – from the shop floor to the showroom. He will be missed." Also re GM, read the notes on their Q2 sales numbers, which come amid mixed sales reports overall for autos in June. Marillyn Hewson's Lockheed Martin will announce its Q2 results July 23; here are the dial-in details. Kim Kardashian is dropping the controversial name of her shapewear line, Kimono, after the backlash over cultural appropriation. Macy's is contending with a class-action discrimination lawsuit. Bed Bath & Beyond, helmed by Mary Winston, is headed for a bumpy annual meeting on July 25 after a tumultuous year. Home decor retailer Kirkland officially named Nicole Strain CFO. Apparel retailer Francesca's CFO Kelly Dilts is leaving and will be replaced by Chief Accounting Officer Cindy Thomassee.
REAL ESTATE: The lack of women in proptech has gotten some attention in recent months — just 10 percent of founders in the exploding industry are female, according to Forbes. Part of the problem is the persistent issue that women get less financial backing than men; in both 2018 and 2017, they only got 2.2 percent of total VC funding, according to Fortune. This week, WSJ reported that startups in proptech are raising more than ever as the real estate industry goes increasingly digital, and that new sources of funding — including big banks — are taking notice. Let's hope that women in the space are able to cash in, too. CBRE hired former J.P. Morgan executive Benji Baer as their new CMO. Law firm Eversheds Sutherland expanded its real estate practice in New York with the appointment of Nicole Fenton as partner. LRES, a national residential and commercial real estate services firm, announced the promotion of Molly Merchant to senior director of REO Asset Management.
SCIENCE & HEALTHCARE: Embattled Purdue Pharma announced Julie Ducharme will be joining the company as VP and chief scientific officer. "She will also support the company's ongoing efforts to help address the opioid addiction crisis," the press release said.  Emma Walmsley's GlaxoSmithKline has a new Nicorette product and Dale Earnhardt Jr. is the spokesperson for its icy minty coolness. Presidential candidate Sen. Elizabeth Warren wrote a letter demanding that former FDA head Dr. Scott Gottlieb relinquish his new board position at Pfizer, saying it "smacks of corruption." Gottlieb's election in June made him the 10th male on Pfizer's board; there are only two female board members, according to the company's site. Lori Ryerkerk's Celanese will host its Q2 earning calls on July 23 — here are the deets.