Career anatomy: The resumé of Wall Street's first woman CEO, Jane Fraser
As CEO of Citi, Fraser will be the first woman to lead a major U.S. bank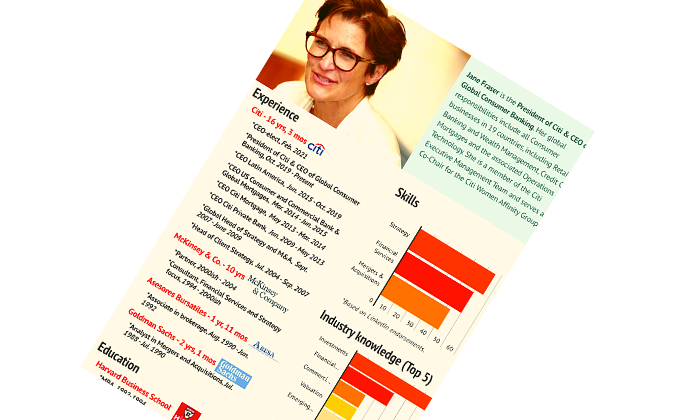 Wall Street's big bank big-wigs will soon have a new executive among them and, unlike the rest of them, she is, well, a she. (Yes, that is lamentably still very remarkable in 2020.) Citigroup's Jane Fraser, who has been with the bank for 16 years, will be promoted to CEO in February following the retirement of Michael Corbat.
Fraser will be the first woman to lead a major U.S. bank and will be joining an ultra-rarified rank of executives that includes JPMorgan Chase's Jamie Dimon, Goldman Sachs' David Solomon, Wells Fargo's Charles Scharf and Bank of America's Brian Moynihan, among others. She will be the only female CEO among the 10 largest U.S. banks. Sachs' Solomon welcomed her to the club, posting his congratulations on LinkedIn and calling her a "pioneer." Bank of America's Cathy Bessant, who was rumored to be in the running for the CEO spot at Wells Fargo last year (the post went to Scharf), tweeted that Fraser's appointment was "Great news for the company and for women everywhere!"
Fraser, who was born in Scotland, currently serves as Citi's president and CEO of Global Consumer Banking.
So, how did this glass-ceiling smasher get to the very highest echelon of finance? We figured that for all of us aspiring ceiling-breakers it would be helpful to trace the path of her career, so we took a stab at recreating Fraser's resumé using her LinkedIn profile, additional research and perhaps a wee bit of creative license (with the design, never the facts, and no, we won't be giving up our day jobs for resume design any time soon😳).
What's not noted among her staggering accomplishments is the constant challenge of being a working mom: "Being a mother of young children and having a career is the toughest thing I have ever had to do," she said in an internal interview at McKinsey, according to Axios.
Alright, without further ado, Boss Betty's re-creation of the resumé of Wall Street's first female big bank CEO, Jane Fraser: