Manufacturing & Retail Brief: Deal news, the haps on Victoria's Secret, beauty-tubers & more
The biggest female-focused news in the industry over the past week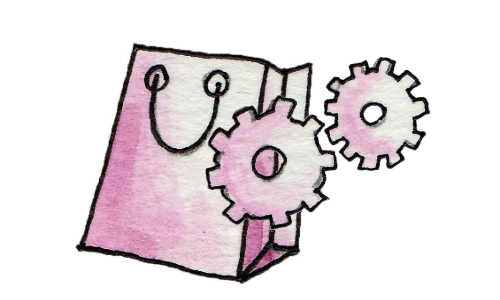 WHAT'$ THE DEALIO? Sustain, a female-first sexual wellness brand with products ranging from lube to tampons, was just acquired by newish e-commerce brand Grove Collaborative. The deal terms were not made public. Sustain was founded by Jeffrey Hollander, founder of Seventh Generation, along with his daughter, Meika Hollender, who is the company's CEO [Fast Company]. Jill Soltau's JCPenney could be delisted from the NYSE. The company has about six months to get back in compliance [CNBC]. Linda Kozlowski, chief executive of Blue Apron, said the company is shaking up its partnerships. It will cut ties with Walmart's e-commerce site Jet.com, but retain its relationship with Weight Watchers [MarketWatch]. Michelle Gass's Kohl's is partnering with Facebook in a quest to find new brands that will lure shoppers to its stores and website. This is not the stalwart brand's first foray into digital territory — it previously teamed up with Amazon and has been forward thinking in its point-of-sale processes [AdAge]. GM CEO Mary Barra is steering the company away from hybrid vehicles, opting instead to concentrate investments in fully electric cars. The auto titan plans to launch 20 electric vehicles worldwide in the next four years [WSJ].
THE REAL DEAL? Julie Wainwright's The RealReal, which went public in June, is facing some realreal headwinds. While secondhand is cool, it's apparently not cool enough to insulate the online reseller of luxe goods from the woes of its more traditional retail competitors. As department stores continue to discount prices, shoppers are picking up fewer used goods. However, total revenue shot up 51 percent from a year earlier to $71 million [WSJ].
CLAPS! Seattle-based luxury retailer Nordstrom said it reached "100 percent pay equity and almost 100 percent pay parity" for employees of all genders and races [WWD].
SHE'S GOT MOVES. The rite stuff? Rite Aid's new top executive is Heyward Donigan, a healthcare industry exec most recently with Sapphire Digital, a health plan analytics company. Donigan joins the company at a tumultuous time; Rite Aid has downsized substantially over the last year, selling about 50 percent of its stores to Walgreens Boots Alliance amid increased competition and slowing sales. What's that you say about a glass cliff…[WSJ]? Taco Bell's Global Chief Brand Officer, Marisa Thalberg, resigned after four years at the fast food chain. Two marketing SVPs — Melissa Friebe and Tracee Larocca — will take over her duties, but the brand has no plans to hire a replacement [Ad Age].
CULTURE CLUB. The world's top cocktail festival featured a panel on diversity and inclusion, with liquor brand owners, restaurateurs and others weighing in on how bias affects the hospitality industry and what steps can be taken to improve the situation [Fortune]. Cascade Engineering CEO, Christine Keller, talked about how socially responsible hiring is critical to building a successful company culture. "While we use traditional manufacturing methods of measuring our success, including our own lean program, we also measure how we are doing on our goals for our employees," Keller said [IndustryWeek].
THE FAIREST OF THEM ALL. Boosting the beauty-tubers: Arianna Huffington appeared at Beautycon's Los Angeles festival last weekend. Described by the New York Times as the "Super Bowl of the beauty industry," the event convened cosmetics companies like L'Oréal and Revlon and thousands of young makeup aficionados. Huffington's message? "For centuries, women have lived on the assumption that our only asset is our beauty. Now we realize that we have a portfolio of assets and how we look and what we wear is just one small part of it. We need to address our whole portfolio" [Forbes]. Rihanna is a now an institution in the beauty and fashion industries. How'd she manage it? Targeting an overlooked female demographic, for one. For two, Riri is simply fabulous [AdWeek]. And yet another pop star will soon be slinging beauty products: Selena Gomez is launching a line of skincare, haircare and essential oil products [THR]. Myro (Greek for "essences," duh), a gender-neutral refillable deodorant brand, got a financial boost from Serena Williams. The tennis star's investment (for an undisclosed sum) was part of a $7 million seed-extension funding round [WWD].
EXTRA, EXRA. One of the faces of Versace in China, actress Yang Mi, is ending her partnership with the brand after a controversy over a T-shirt, which apparently contested the "One China" policy by listing Hong Kong and Macau as separate countries. Donatella Versace apologized for the "unfortunate" error [CNN].
Have news to share? Email us at tips@bossbetty.com.