Manufacturing & Retail Brief: Glossier makes moves, it's a woke-washing world now & more
All the female-powered news in manufacturing & retail this week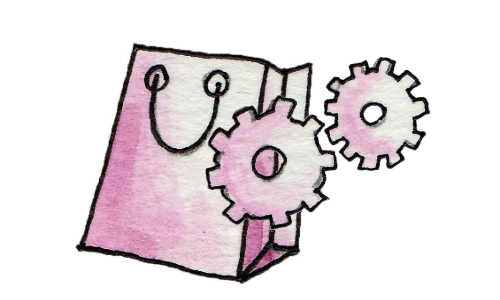 GOING HIGH GLOSS: Glossier, founded and run by Emily Weiss, experienced insane organic growth in its early days — largely thanks to social media — but is now increasingly using more traditional marketing. Its new campaign, "Feeling Like Glossier," will appear in outdoor advertising as well as in spots on ABC [AdWeek]. In other news for the much loved beauty line, it just poached Amazon's Melissa Eamer as COO [CNBC].
MORE THAN WORDS: It appears that the chorus of threats to quit SoulCycle, run by CEO Melanie Whelan, in protest of a Trump fundraiser hosted by one of the fitness company's owners was more than words, as is so often not the case [The Atlantic].
WOKE-WASHING has stripped down to its skivvies, with underwear brands going all-in on marketing that eschews binary gender norms. "There are male brands and women brands," marketing consultant Katie Martell told the New York Times. "But progressive brands see that the future is on the spectrum" [NYT]. Hasbro is launching Ms. Monopoly, which it touts as the "first-ever game where women make more than men." But while it promotes the game as empowering women, the company has erased the original board game's female inventor, a fierce feminist named Lizzie Magie, from its history [New Yorker].
CALLING BS: Rent the Runway CEO Jennifer Hyman still has to justify herself and her unicorn-status company to VCs, 90 percent of whom are men [Recode]. On investor day at Victoria's Secret's parent company, the lingerie brand's CEO, John Mehas, said, "There's a big belief in the company that we need to evolve…We need to be led by her, for her." The irony? Only three of the 11 featured speakers at the event were women and only one woman presented. Looks like they're talking the talk but not walking the

[Ad Age].
BIG PLAYERS, BIG LOSSES: Hudson's Bay, led by CEO Helena Foulkes, announced net losses of $1.91 per share in Q2 on Thursday, up from $0.44 per share from the year-ago quarter. Revenue was basically flat, at about $1.4 billion. Here's the transcript of the earnings call [Globe & Mail]. GM, helmed by Mary Barra, recalled almost 3.5 million trucks because of break issues [Fortune].
CHANGING THE FACE OF TIME: The world of watches has been known as a man's world for centuries, but women have always been integral to watchmaking. Read about six women changing the face of time, including Piaget CEO Chabi Nouri and Jacqueline Dimier, former designer at Rolex and Audemars Piguet [NYT].
TO BE, OR NOT TO BE…Former PepsiCo chair and CEO and current Amazon board member Indra Nooyi mulls what it means to be a corporation today, and the "increasingly blurry" line between business and society [Directors & Boards].
A FAREWELL: Joan Johnson, who founded the phenomenally successful hair and cosmetics company Johnson Products with her husband, died at 89. Johnson Products was the first black-owned company on the American Stock Exchange [NYT].
DESSERT: Dylan's Candy Store founder, Dylan Lauren, talks about building her company from just a sweet tooth into a 27-store confectionary force to be reckoned with [Fortune].