Boss Betty Brief: Tina Tchen named CEO of Time's Up, new IMF chief Kristalina Georgieva drives a red Tesla & more
A roundup of the biggest female-powered news across major industries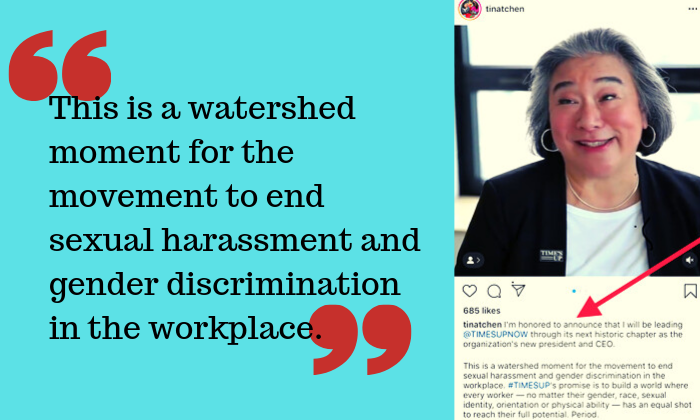 GENERAL ASSEMBLY: Saturday was the two-year anniversary of the day reporters Jodi Kantor and Megan Twohey broke the Harvey Weinstein story, one of the major catalysts of the #MeToo movement. In an op-ed, former Miramax assistant Rowena Chiu reflects on why she did not go public until now with her allegations of attempted rape by the disgraced movie mogul and on "the four power dynamics of gender, race, seniority and wealth" that led her to fall "into Harvey's trap" [NYT]. Women born in the mid-1980s are 22 percent more likely to hold a bachelor's degree than men — that's really a big percentage, btw — but are still getting paid less. Makes sense, right

? Part of the explanation apparently lies with women's decisions about what to get a degree in, though new research shows that's shifting: In the 1950s, the earnings associated with the majors chosen by women were 12.5 percent less than those picked by males, while females born in the '90s picked degrees in areas with potential wages "just" 9.5 percent lower than men, so the gap is shrinking. Why women are more prone to major in areas with lower earnings potential is a whole other thing that clearly needs to be explored and likely has its roots in some societal bs but that's for another study. This article also notes that when women do get degrees in male-dominated fields they often get paid less anyway so…[WSJ]. A recent study shows that both women and men express bias towards female bosses who give critical feedback [Quartz]. On Tuesday, the Supreme Court will hear a high-profile case on whether transgender and gay workers are covered by Title VII of the Civil Rights Act of 1964, which prohibits discriminating against employees on the basis of sex.
Here's the BB breakdown of the biggest female-focused news by industry. Have news to share? Email us at tips@bossbetty.com.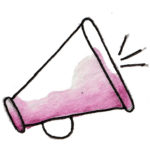 ADVERTISING & MEDIA: The co-founder of the Time's Up Legal Defense Fund Tina Tchen was named CEO of Time's Up. Tchen, an attorney, is Michelle Obama's former chief of staff. She replaces Time's Up's former CEO Lisa Borders, who stepped down following sexual misconduct allegations against her son [THR]. Ronan Farrow's book on his Harvey Weinstein investigation — which follows on the heels of Jodi Kantor and Megan Twohey's "She Said" — is almost here, and the New Yorker has an excerpt, which we can't wait to read but yes fine we will wait until the workday is over to do so [New Yorker]. As the Great Digital Media Consolidation continues, Group Nine is acquiring the women-focused publisher PopSugar, founded by Lisa and Brian Sugar. It's reportedly an all-stock deal putting PopSugar's valuation at north of $300 million. The acquisition follows directly on the heels of the couplings of Vice Media + Refinery29 and Vox + New York Media [WSJ]. How #MeToo has changed things for PR agencies — a two-year look-back [PR Week]. NBCUniversal's new streaming service Peacock will not roll out under the leadership of its chairwoman Bonnie Hammer as planned but rather under longtime Comcast exec Matt Strauss. Hammer will instead lead NBCUniversal Content Studios, a new division of the company [NYT]. The Avalon Group, which produces HBO's "Last Week Tonight With Jon Oliver" and Amazon's "Catastrophe," named Lionsgate's Laura Kennedy as its CEO [THR]. Forbes talked to Shari Redstone about her perspective on the Viacom-CBS merger. "No matter how hard or challenging it got, I tried to keep my head down, fight for what was right and not read the press," Redstone said of the process [Forbes]. A proposed class action suit accuses James Franco's now-shuttered film school of offering to advance the acting careers of female students in exchange for nudity and sex [Law360]. And in other lawsuit news starring bold-faced names, an ex-exec at Robert De Niro's production company filed a $12 million sex discrimination against him claiming that he paid her less than male peers and made "vulgar, inappropriate and gendered" remarks to her [Law360]. Geena Davis is going to be Disney's gender-bias watchdog, checking scripts for underrepresentation and stereotypes using an AI tool developed by her organization, the Geena Davis Institute on Gender in Media [THR]. CNN's "The Situation Room with Wolf Blitzer" promoted Emily Atkinson to executive producer [TVNewser].
Broadly speaking: Quartz announced major changes in its leadership team, including that its EIC and co-founder Kevin Delaney is stepping down; Jeffrey Katzenberg's Quibi is partnering with ESPN, which will provide content for the short-form video platform; here are the takeaways from the annual "Masters of Marketing" event hosted by the Association of National Advertisers; what Disney's ban of Netflix ads actually means; and…"The Joker."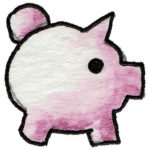 FINANCE: The U.K.'s ginormous asset management industry has a ginormous gender pay gap that actually increased last year [Fortune]. New IMF chief Kristalina Georgieva drives a red Tesla to work

— plus some other fun, and not so fun, deets on the Bulgarian economist [WSJ]. Deutsche Bank's global head of M&A Celeste Guth is leaving to join PJT Partners. Guth was promoted to her current position at Deutsche just a month ago; she's joining PJT as a partner [Bloomberg]. Bank of America's CMO Meredith Verdone talks about properly positioning a bank's brand when the economy sours [Ad Age]. Institutional Investor's ranking of U.S. equity analysts, which critics describe as a beauty pageant and popularity contest, is coming out this week. As the publication itself notes, the scarcity of women in the annual ranking — which is called the "All-America Research Team" (AART) — has been well-documented. Women never represented more than 13 percent of first-, second- and third-ranked analysts between 2009 and 2018. We'll see how this year stacks up. Ahead of the release of the 2019 AART, (a very self-aware) II talked to the research team behind a study evaluating the role that gender and facial attractiveness play in the publication's ranking [II]. Watch Bank of America's Cathy Bessant talk about the difference between fearlessness and bravery [American Banker].
Broadly speaking: HSBC is gearing up for another big round of layoffs as acting CEO Noel Quinn looks to make his mark — and secure the job permanently; everyone's jumping on the Charles Schwab bandwagon and cutting commissions; beware the impact of the earnings reports set to be released over the next few weeks; the NY Fed gave a $47 billion boost to the financial system.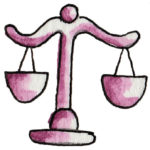 LAW: A partner at DLA Piper last week accused the firm's Silicon Valley co-managing partner Louis Lehot of sexually assaulting her multiple times and asked the firm to release her from its mandatory arbitration agreement. Vanina Guerrero filed her claim with the Equal Employment Opportunity Commission. On Monday, Guerrero's attorney attempted to pull presidential candidate Sen. Kamala Harris — whose husband is a partner at DLA Piper — into the dispute with an open letter asking for the senator's help and citing her stated position against forced arbitration [Bloomberg & American Lawyer]. Should law firms look for diversity in the recruiting companies they hire? Seems like an obvious "yes" to us, but here's an analysis piece on the subject [Law360]. A ex-managing partner at Marshall Dennehey Warner Coleman & Goggin's Harrisburg office was officially reprimanded for inappropriately touching attorneys at a bench-bar conference [ABA Journal]. Immigration attorney Miriam Lacroix talked to Above the Law about practicing immigration law under the Trump administration [ATL]. SCOTUS clerkships aren't necessarily all that and a bag of chips when it comes to résumé building (color us skeptical…) [Bloomberg Law]. Also in Supreme Court news (which obvi we're all drowning in since court is back in session), SCOTUS will not take up Winston & Strawn's bid to overturn a decision allowing an ex-partner to bring them to court for alleged gender bias instead of going through arbitration [Bloomberg Law]. Peter Thiel's VC fund Mithril Capital Management accused its former GC Crystal McKellar of trying to lure away investors with a whisper campaign besmirching the fund. McKellar described Mithril as "swampy" and said in an email to Corporate Counsel that the "allegations of wrongdoing are unequivocally false, and it will be a simple matter to prove them false if it gets that far." Perhaps you, too, remember McKellar as Kevin Arnold's one-time love interest Becky Slater in "The Wonder Years" [Corporate Counsel].
Broadly speaking: OSHA has some ideas on how best to prevent retaliation against whistleblowers; RIP Bill Urquhart, name partner in global litigation powerhouse Quinn Emanuel Urquhart & Sullivan.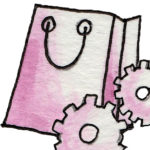 MANUFACTURING & RETAIL: Alison Cooper unexpectedly resigned as CEO of tobacco company Imperial Brands, which owns Davidoff and Winston. Cooper was Big Tobacco's longest-serving chief and her departure is characterized as "the latest fallout from regulatory headwinds buffeting the industry" [WSJ]. Hip luggage brand Away, founded by Jennifer Rubio and Stephanie Korey, is tackling the soft-side market with four "expandable" styles [AdWeek]. Glossier's new COO Melissa Eamer talks about leaving Amazon for the youth-focused beauty brand founded by Emily Weiss [Vogue Business]. Former Starbucks CMO Sharon Rothstein joined the board of LOLA, the organic tampon maker [NYBJ]. Strike update: Things are going particularly not well between Mary Barra's GM and the United Auto Workers union, with negotiations coming to a standstill Sunday over the question of whether the carmaker would shift some production from Mexican factories to the U.S. [NYT].
Broadly speaking: Despite telltale signs of a weakening economy, Americans are still spending — on goods from abroad; Nissan's been in crisis mode for a while, but it doesn't all begin and end with ousted chairman Carlos Ghosn; big-box retailers are going big on solar; GE is freezing workers' pensions.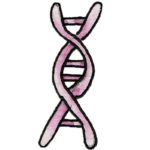 SCIENCE & HEALTHCARE: Remember that all-female spacewalk that was canceled because there weren't enough suits sized for women? It's back on, with astronauts Christina Koch and Jessica Meir scheduled to walk the friendly skies on Oct. 21 [CNN]. Doctors, once relied on to be GOP stalwarts, are increasingly leaning left, thanks in part to more women entering the profession [NYT]. MIT's Society of Women Engineers is celebrating 40 years of supporting women interested in STEM [MIT].
Broadly speaking: Three white dudes — Gregg Semenza, William Kaelin and Sir Peter Ratcliffe  — won the Nobel Prize in Medicine — fair play to them, and let's keep an eye on the gender and race of the other winners as Nobel season unfolds over the next week; the Sackler family made $13 billion off Purdue Pharma, the company at the center of the opioid crisis; Mayor Pete's looking to lower drug prices; around 25 percent of all U.S. healthcare spending is … a waste.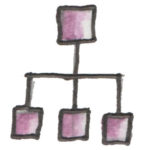 TECH & ENGINEERING: Oooh here's some good news vis a vis women and VCs: a new study shows that startups with at least one woman on the founder team raised  21 percent more in venture funding than companies with all-male teams [Bloomberg]. The ongoing suit against ex-Tinder CEO Gregory Blatt accusing him of sexual assault took another turn when Blatt sued two of the other executives involved, Tinder founder Sean Rad and its former head of marketing and communications Rosette Pambakian, for defamation. Blatt claims the two smeared him in order to discredit him in a separate suit alleging that he helped deliberately bring down Tinder's valuation, affecting their personal fortunes [Law360]. Google Cloud named Brigette McInnis-Day as its new VP of HR [Fortune]. Here's another piece on the myth of meritocracy in tech, with some tools for incorporating truly meritocratic values in a fairer fashion [Entrepreneur].
Broadly speaking: How Apple CEO Tim Cook became a Trump whisperer; can the CEO of Postmates deliver amid the  IPOcalypse?; Facebook was the focus of Monday meetings between the DOJ, the FTC and state AGs; say buh bye to that creepy "Following" tab on Insta.
If there's no relevant news of note to share in a given sector, we skip it for the day. Did we miss something? Let us know at tips@bossbetty.com.