BTW, the DOJ is totally cool with women being forced to wear skirts to work
Also all good with "treating all transgender persons less favorably than nontransgender"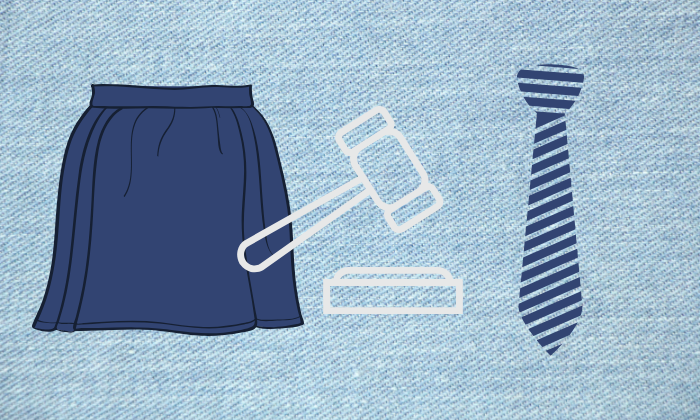 So last Friday the U.S. Department of Justice (that is our government, just saying) submitted a brief to the Supreme Court in support of the funeral home that fired Aimee Stephens for being a transgender woman and is being sued as a result.

At issue — among other things — is the fact that R.G. & G.R. Harris Funeral Homes believes "the Bible teaches that it is wrong for a biological male to deny his sex by dressing as a woman or for a biological female to deny her sex by dressing as a man." And the DOJ, our government, is totally on board with that. Yes, it is totes cool to have a professional dress code requiring "male employees to wear suits and ties and female employees to wear skirts."
The DOJ also takes the position in the brief that "treating all transgender persons less favorably than nontransgender" is not discrimination. Cisgender women allowed — but only in skirts! — and feel free to treat trans people like garbage. That's where we're at.
This fall the Supreme Court will hear the case, which seeks to overturn a lower court's ruling that the funeral home discriminated again Stephens. SCOTUS will decide whether the rights of transgender workers are protected under Title VII of the Civil Rights Act of 1964, which prohibits employment discrimination on the basis of sex, race, color, religion or national origin.
Unfortunately, the case is unlikely to get into the enforced structural sexism of the whole dress code thing as the lower court's decision did not take into consideration "whether certain sex-specific appearance requirements violate Title VII" in general — the case is very specifically dealing with Title VII vis a vis transgender people. But let's all add this bananas dress code situation (because I guess it's the 1950s again?) to our personal dockets for some fast future follow-up.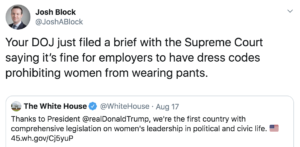 Meanwhile, an ACLU lawyer had the right response when the White House sent a braggadocios tweet about the president's supposed support of women: "Your DOJ just filed a brief with the Supreme Court saying it's fine for employers to have dress codes prohibiting women from wearing pants." Yup, that.
Additional brief points to peruse:
The DOJ appears very sympathetic to the funeral home's view that "[m]aintaining a professional dress code that is not distracting to grieving families is an essential industry requirement that furthers their healing process." Because, my goodness, can you imagine seeing a woman in pants? WHILE YOU'RE GRIEVING? The horror.
The looooong brief never one uses the gender pronoun for Aimee Stephens, instead using her name in every single instance.
Harris Funeral Homes provided suits and ties to male employees but did not provide clothing or a clothing stipend to female workers until the month after the lawsuit was filed.
The brief rather bizarrely tries to make the case that it's possible to discriminate against transgender people without any consideration of their sex in an attempt to avoid Title VII's whole you can't discriminate "on the basis of sex" thing .
The brief argues that many normal practices that "distinguish between the sexes" do not violate federal anti-discrimination laws "because they account for real physiological differences between the sexes" and then goes on to cite dress codes as an example. Our bad, we were totally unaware our anatomy made it impossible to wear pants. Off they go!