What Amy Coney Barrett's appointment to the Supreme Court means for everything from abortion access to LGBTQ+ rights
She is the youngest woman to be a Supreme Court Justice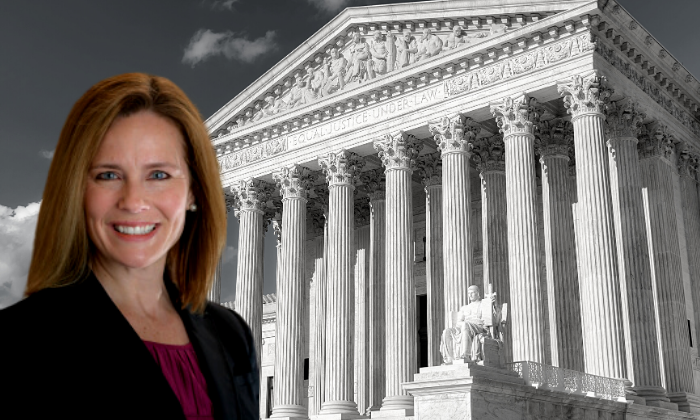 By Mariel Padilla, originally published by The 19th — Judge Amy Coney Barrett, 48, was confirmed as President Trump's third nominee to the high court and the youngest woman to ever sit on its bench. Barrett was confirmed in a 52-48 Senate vote, with Sen. Susan Collins casting the only "no" from the Republicans.
The confirmation came after a Senate session that lasted all night as the Democrats — joined by two Republicans — attempted to filibuster the nomination. Barrett can begin working as early as Tuesday morning, but she is likely to hear her first arguments next Monday when the court returns to the virtual bench.
The mother of seven children, aged 8 to 19, is also the first woman on the court to have school-aged children. Trump appointed Barrett in May 2017 to be a judge on the 7th U.S. Circuit Court of Appeals in Chicago. She was confirmed by the Senate in October 2017 after Republicans accused their Democratic colleagues of being anti-Catholic when they extensively questioned the judge's religious beliefs. Before becoming a judge, she was a professor at Notre Dame Law School.
After Ruth Bader Ginsburg's death in September, Trump promised to replace her position on the Supreme Court with a woman. When RBG was confirmed in 1993, she sailed through the process with a 96-3 vote. She later lamented how partisan the court's confirmation process had become — a reality made even more apparent in Barrett's hearings. Republicans hold a slim 53-to-47 Senate majority.
A devout Catholic, Barrett signed an advertisement in 2006 calling to overturn Roe v. Wade, which enshrined constitutional protections for abortion access. Though as a law professor, she said it was "very unlikely" the case would ever be fully overturned despite offering a flawed legal precedent.
However, Barrett has maintained that her personal views won't influence her rulings.
In her opening statement ahead of the Supreme Court confirmation hearings before the Senate Judiciary Committee, she referenced her late mentor Justice Antonin Scalia, who she said shaped her judicial philosophy.
"His judicial philosophy was straightforward," Barrett said. "A judge must apply the law as written, not as the judge wishes it were. Sometimes that approach meant reaching results that he did not like. But as he put it in one of his best known opinions, that is what it means to say we have a government of laws, not of men."
In the coming months, the Supreme Court is set to hear arguments on the Affordable Care Act, a law that has outsized implications for women and the LGBTQ+ community. In past ACA cases, Barrett has written in favor of arguments to strike down the law.
On November 4, the Supreme Court is set to hear Fulton v. City of Philadelphia, a case that could allow private agencies that receive taxpayer-funding to deny services to people based on their sexual orientation or religious beliefs. Many view Barrett's confirmation as potentially harmful to LGBTQ+ people.
Some LGBTQ+ legal advocates believe that Barrett's confirmation might set the stage to end marriage equality. She previously said Title IX didn't justify letting transgender people use restrooms that match their genders, and Barrett has also given lectures to anti-LGBTQ+ group Alliance Defending Freedom, which the Southern Poverty Law Center has designated as a hate group.
The Supreme Court will also likely have numerous opportunities in the coming years to weigh in on how institutions handle sexual misconduct, as a wave of lawsuits that stemmed from efforts by the Obama administration to prevent sexual assault on colleges wind their way up to the high court.
Advocates for sexual assault survivors worry that Barrett's record — specifically two major sexual assault rulings from the 7th Circuit Court of Appeals — could foreshadow rulings that reduce protections for victims of assault by casting misconduct as a personal offense rather than an institutional issue.
Barrett's confirmation follows several weeks of partisan tug-of-war as Republicans rushed to fill RBG's seat and Democrats argued that the court vacancy should be filled by the winner of the November 3 election. The majority of Americans, including half of Republicans, agreed with the Democrats.