How inclusive is the 'We' in WeWork? The company's board of directors is 100% male
A look at gender equality at the organization on a mission to "elevate the world's consciousness"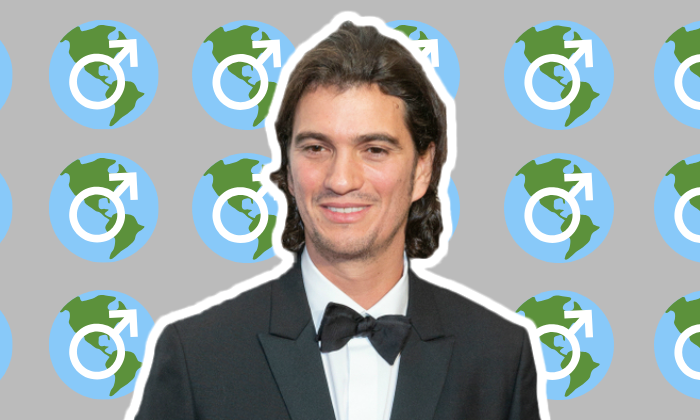 In an IPO filing, "zero" might be a good number for, say, a company's quarterly losses (ha — we haven't seen that in awhile), but when it's the number of women on a board, that's no good. When it's paired with a net loss of nearly $690 million in the first half of 2019? Even less good.
WeWork, which rebranded itself the We Company earlier this year, is expected to go public as early as next month and has a current valuation of (wait for it) $47 billion. The New York-based office space company — led by CEO and co-founder Adam Neumann — made its eagerly anticipated IPO registration filings public on Wednesday, revealing both the shocking gender inequity of its board, as well as its financial inner workings. For now, we'll leave the latter to be dissected by the likes of The Real Deal and the Wall Street Journal and stick with the question of female representation at the We Company and its generally questionable history of bro culture.
One of the first sentences of the company's IPO registration reads, "Our mission is to elevate the world's consciousness." The filing goes on to say that the organization provides its members with "a culture of inclusivity." However, some of the factual details of the paperwork — and the We Company's past — do not appear to square with the level of inclusivity the company is projecting.
For starters, it shows the seven-person board is 100 percent male. More than $1.5 billion in revenues this year, hundreds of millions of dollars in losses and…zero women. Furthermore, the all-male board appears to be almost all white, with the exception of Hony Capital's John Zhao. None of this is in line with consciousness-raising nor inclusivity. Three of the board appointments were made at the behest of We Company investors — Benchmark, Hony and the Softbank Vision Fund — so those firms certainly deserve to bear some of the responsibility for the total lack of women and prevailing whiteness.
"We will politely decline comment," was the We Company's response to inquiries on the lack of board diversity.
While the representation of women on boards among this year's biggest IPOs has been downright depressing — particularly given the supposedly more enlightened age we're in thanks to the visibility of the #TimesUp and #MeToo movements — very few of the biggest public filings to date have actually revealed boards with zero females. So the gender imbalance of the We Company's board is justifiably startling.
However, it should be noted that the office space provider is not entirely alone. A deep dive by Quartz in late May revealed that Change Healthcare — an independent healthcare software platform that was among the biggest companies to IPOs this year — had no women on its board when it registered to go public. So that's one compadre on the We road to inequity.
The other 10 biggest companies filing for IPOs at the time all had at least one woman on their boards (with the exception of the We Company, which at the time had not made its filings public). And, back in the day when Google and Facebook filed to go public (2004 and 2012, respectively), neither company had any women on their boards (Google now has three and Facebook two). So, a good seven to 15 years ago, the We Company would have been in some (ostensibly, at the time) decent company.
In terms of its executive ranks, the filing lists two women of six in top leadership positions. Rebekah Neumann, Adam's wife, is listed as co-founder and chief brand officer and is also the CEO of WeGrow, which elevates the "collective consciousness of the world by expanding happiness and unleashing every human's superpowers" (far out!). And Jennifer Berrent is named as co-president and chief legal officer. That ratio of executive women-to-men appears to be around the norm for 2019's IPO class so far.
WeWork, WePlay?
Founded nine years ago by Adam Neumann and Miguel McKelvey, the We Company rents out co-working spaces to startups, freelancers and enterprises. The real estate company — which works very hard to position itself as a tech company, so much so that the word "tech" appeared 123 times in its public filing, according to Vox's Recode — buys or leases long-term space and renovates it for sublease.
News of the company's bro culture has been widely reported. In a June article by New York Magazine, dozens of current and past employees interviewed questioned the company's internal culture and whether it was "one worth spreading." The piece detailed how Neumann bragged about 20-hour workdays and offered potential employees tequila during interviews. Sources discussed WeWork's mandatory "Thank God It's Monday" team building events, where employees walked around handing out shots of tequila, according to the article. There was Summer Camp, a mandatory multi-day event that included alcohol and drugs but "not a lot of food." One employee told the magazine about the time she woke up at Summer Camp to an unknown colleague urinating on the canvas above her head.
In the company's IPO filing, the risk factors the company lists includes the potential for legal claims — a standard disclosure: "We have in the past been, are currently and may in the future become involved in private actions, class actions, investigations and various other legal proceedings, including from members, employees, commercial partners…." The We Company goes on to acknowledge that the claims could include "discrimination (for example, based on gender, age, race or religious affiliation), sexual harassment, privacy, labor and employment, ERISA and disability claims."
WeWork is currently embroiled in multiple lawsuits, a likely reason for including the above as a risk factor for investors. The company is being sued by a former executive who accused it of gender and age discrimination. Lisa Bridges, a former senior vice president who oversaw compensation issues at the company, claimed an overwhelming majority of large pay packages went to male executives, according to The Wall Street Journal. Bridges said women received just three of 58 pay packages of more than $1 million in company stock awarded this year, according to the reporting. When she raised the issue, Bridges claimed, the We Company put her on leave and moved to terminate her.
The company was also sued in 2018 by its former director of culture, Ruby Anaya, who claimed she was wrongfully terminated after filing two sexual-harassment complaints alleging multiple instances when men inappropriately touched her at company events. Her complaints described WeWork as a "frat-boy culture that starts at the top," according to WSJ. The We Company has contested Anaya's claims.
There are some — small, kinda tiny — signs in the filing that the company may be taking steps to be more inclusive of women, very generally speaking. They have established a partnership with Rent the Runway, which the company claims has already provided "a significant convenience to hundreds of thousands of working women." WeWork is also a big investor in the women's co-working community The Wing, with about 23 percent ownership of the organization, according to the filing. And in 2017, they started a partnership with the woman-owned and majority-run Clarity Recruiting, a boutique staffing agency focusing on building better teams.
After the offering, Adam Neumann will control at least 50 percent of the voting power. His stake is worth an estimated $4.1 billion, and his co-founder — and chief culture officer — Miguel McKelvey's piece is valued at about $2.9 billion. In recent years, the company has expanded to include ventures such as co-living, health and wellness and education. Fingers crossed that Adam Neumann and the We Company do the right thing as they barrel towards building a WeWorld and prioritize gender equality in their corporate workplace and in its spaces. For a company so set on consciousness-raising, it certainly seems that it's an issue that should be of central importance.