1-minute profile: 💊Walgreens' Roz Brewer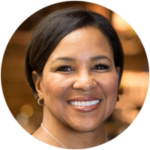 Roz Brewer is set to become the CEO of Walgreens, the country's biggest pharmaceutical chain. When she officially assumes the role on March 15, she will be the only Black woman running a Fortune 500 company (yes, egregious) and only the second in history to do so on a permanent basis — former Xerox CEO Ursula Burns was the first (Mary Winston was interim CEO of Bed Bath & Beyond for six months in 2019). There are currently only four African Americans (not including Brewer) serving as Fortune 500 CEOs: Merck's Kenneth Frazier, TIAA's Roger Ferguson, Lowe's Marvin Ellison and M&T Bank's René Jones. About 8 percent of Fortune 500 CEOs are women — a record high and yet so, so low. That's why we're seeing diversity initiatives like the Nasdaq proposal pop up, right? Right.
The job — and its challenges — in a nutshell: As the top chief at the $140 billion retail and pharmacy giant — known formally as the Walgreens Boots Alliance — Brewer will be steering a company employing close to half a million people across 25 countries with more than 21,000 retail locations. And things aren't exactly smooth sailing at the moment. Walgreens' struggles over the past several years have resulted in mass store closures, and the pandemic has made things even messier, with substantially reduced store traffic and, now, the beleaguered and much-citiqued roll-out of COVID-19 vaccines in partnership with the federal government. Looks like a bit of a scary view from that glass cliff, but several business leaders have expressed extreme confidence that Brewer is more than up to the challenges.
Notable work history: Starbucks Chief Operating Officer, Group President & board director (2017-2021); Sam's Club CEO & President (2012-2017). Prior to joining Walmart as a regional vice president in 2006 (Sam's Club is a Walmart division), Brewer spent more than two decades at Kimberly-Clark, where she started as a scientist and eventually served as president of one of its global divisions. Brewer has served on the boards of Amazon, Lockheed Martin and Molson Coors Brewing Company, and she will join the Walgreens board in March.
Illuminating anecdote: Not long after Brewer took the helm at Sam's Club in 2012, she attended an elite event in New York City just for top CEOs. A fellow attendee kept pestering her about what her role at the Walmart division was, the Financial Times reported, repeatedly asking whether she was in merchandising or marketing and somehow remaining completely unable to wrap their little heads around the fact that she ran the whole shebang. "I ascended to the podium as the keynote [speaker] for the day and I enjoyed the look on his face when my bio was read," she told the FT of the incident.
Reasons to stan* Brewer: She pushed hard for more diversity among Starbucks employees, launching a program in 2020 that tied executive pay to progress on diversity efforts. Under her watch, the coffee company set goals of increasing the number of corporate-level Black, indigenous and people of color staffers to 30 percent by 2025 and upping the percentage of underrepresented employees at the retail and manufacturing level to 40 percent. Brewer also implemented racial bias training in thousands of Starbucks stores following an incident in 2018 when two African-American men were arrested at a retail location after asking to use the store's restroom. She has long been vocal about her view that ensuring racial and gender diversity among corporate employees is just good business — check out her TED talk on the subject.
Getting personal: Brewer, 58, was raised in Detroit by parents who worked at General Motors. She was the first in her family to attend college, graduating from Spelman in 1984 with a degree in organic chemistry and later attending Wharton's Advanced Management Program and Stanford University's Directors' College. She's married and has two children.
*stan, verb: to feel respect and approval for (someone or something): to regard with admiration; to be an overzealous or obsessive fan // gerund or present participle: stanning