Boss Betty Brief: S&P 500 gets a new female CEO, new co-working space for WOC, casual sexism still a thing (who knew?!) & more
A roundup of the biggest female-focused news across major industries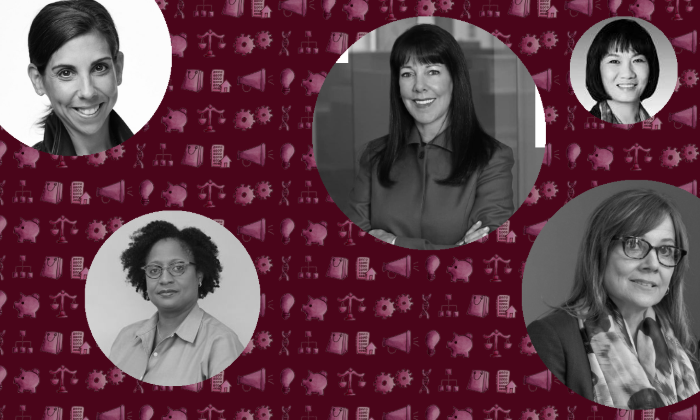 Published at 7 a.m. | Updated 10:15 a.m.
GENERAL ASSEMBLY: Let's all just take a moment to bow down to Simone Biles, who utterly destroyed at the U.S. Gymnastics Championship over the weekend. The 22-year-old gymnast won the all-around title, the sixth time she's taken home the honor in the last seven years. And one of the majestic ways she did it was by completing a rare and perfect triple double — a.k.a., a double back somersault with three twists spread out over the two flips. Some (we're not naming names — cough, Betty) might see this as a gigantic metaphor for the gymnastics women do so brilliantly in every aspect of their lives every day of their lives. Though admittedly, probably never as well as the sublime Biles [Slate]. In other news worth cheering over, New York State's workplace discrimination and harassment claims got a progressive makeover in a law signed Monday by Gov. Andrew Cuomo. Two highlights: The New York State Human Rights Law now applies to all public and private employers, and it removes the longstanding requirement that harassment be "severe or pervasive" before an employer can be held liable. Huzzah [The National Law Review]! And — don't put down your glass yet — we have one more toast for today: Rite Aid's new CEO is Heyward Donigan, putting her among the small group of women leading S&P 500 companies. More on that below.  
Here's the BB breakdown of the biggest female-focused news by industry. Have news to share? Email us at tips@bossbetty.com.
ADVERTISING & MEDIA: "Young. Attractive. Thin. Able-bodied. Straight. White. Cisgender." That describes nearly everyone who appeared in ads in decades past. Today's consumers aren't having it, and many brands are adjusting accordingly. But, companies need to beware insincere diversity efforts and avoid tokenizing [AdWeek]. Apple dropped a trailer for "The Morning Show," a new series slated for this fall that will help launch its upcoming Apple TV Plus service. Jennifer Aniston, Reese Witherspoon and Steve Carell will star in what's been compared to Apple's version of Aaron Sorkin's "The Newsroom" [The Verge]. Thanks in part to TLC's "captivatingly trashy" reality show "90-Day Fiancé," the Discovery network beat NBC for female viewership during the day and in prime time for the month of July. That stung NBC, whose Bravo channel airs the long-running "Real Housewives" franchise [New York Post].
FINANCE: KPMG's head of financial services, Tim Howarth, is out after an investigation into alleged misconduct. The company did not specify what the allegations were. Howarth is appealing the decision [BBC]. HSBC's top China exec Helen Wong resigned from the London-based bank, the second high-level executive departure in a week. (HSBC CEO John Flint was ousted unexpectedly last week.) Wong, one of the bank's most senior women, announced her resignation in July; she's apparently headed for another opportunity — what, we don't yet know [Bloomberg]. USAA's new chief information officer for bank technology, Maria Alvarez Mann, spent the first few weeks on the job searching out other Latinx employees in an effort to build community [American Banker]. Former Mastercard executive Colleen Taylor has moved over to Wells Fargo, where she will oversee merchant services [Yahoo! Finance].
LAW: "Dress: Men: Business attire, Women: Cocktail wear." So read the invitation to the Law Society of New Zealand's 150th Anniversary Commemoration. Guess we know what they'll be commemorating — 150 years of casual sexism, apparently. We hope New Zealand Prime Minister Jacinda Ardern will have something to say about that [Above the Law]. The American Bar Association decreed on Monday that all law firms should establish policies closing the pay gap for males and females working in similar jobs [Bloomberg Law]. In this piece on the pitfalls of social media for in-house attorneys, former VP and senior counsel at CBS, Hayley Geftman-Gold, is used as a prime what-not-to-do example. In the wake of the mass shooting at the Mandalay Bay Resort in Las Vegas in 2017, the then-41-year-old Columbia law grad posted on Facebook that she was "actually not even sympathetic" to those who died or were injured because "country music fans often are Republican gun toters." She was fired within a day [Corporate Counsel]. Watch out, Kim Kardashian may be koming for your kontracts' job — have you been keeping up? [Above the Law].
MANUFACTURING & RETAIL: The rite stuff? Rite Aid's new top executive is Heyward Donigan, a healthcare industry exec most recently with Sapphire Digital, a health plan analytics company. Donigan joins the company at a tumultuous time; Rite Aid has downsized substantially over the last year, selling about 50 percent of its stores to Walgreens Boots Alliance amid increased competition and slowing sales. As Fortune's The Broadsheet noted, this is prime glass cliff territory. We wish Donigan luck rite-ing the ship [WSJ]. Seattle-based luxury retailer Nordstrom said it reached "100 percent pay equity and almost 100 percent pay parity" for employees of all genders and races [WWD]. GM CEO Mary Barra is steering the company away from hybrid vehicles, opting instead to concentrate investments in fully electric cars. The auto titan plans to launch 20 electric vehicles worldwide in the next four years. Volkswagen is on the same green-brick road [WSJ]. Myro (Greek for "essences," duh), a gender-neutral refillable deodorant brand, got a financial boost from Serena Williams. The tennis star's investment (for an undisclosed sum) was part of a $7 million seed-extension funding round [WWD]. SoulCycle's attempts to mitigate the outrage sparked by owner Stephen Ross's Trump fundraiser last week included offering "social justice rides." The rides were free to spinners, and SoulCycle put the fees the classes would have generated towards nonprofits chosen by employees. CEO Melanie Whelan emailed customers to say: "We have nothing to do with our investor's personal political fundraising event. We do not support it…we are responding in the best way we know how — with diversity, inclusion, acceptance, and love" [Gothamist].

REAL ESTATE: Another not-WeWork co-working space is hitting the growing market of niche, diversity-and-inclusion oriented professional spaces. Blackbird, a co-working space "for women of color and allies," opens in Los Angeles next month with interior designer Bridgid Coulter at the helm [The Real Deal].
TECH & ENGINEERING: More moola for influencers (phew we were so worried, especially about Olivia Jade now that she's returning to influencing full time): PopBase chief executive Lisa Wong celebrated the launch of the app's "early access release" on Monday. The platform is designed for social media influencers to interact with their fans and monetize that engagement. "We believe that creators today are special, building their brands on personality, responsiveness, and playfulness," Wong said. "And we're designing our tools and tech to leverage that" [TechCrunch]. The cover story of Wired's September issue looks at Google's changing culture [Wired h/t Axios]. Domo, which provides cloud-based business intelligence tools, announced that SAP's Pam Marion would be its new chief customer success officer [Yahoo! Finance].
If there's no relevant news of note to share in a given sector, we skip it for the day. Did we miss something? Let us know at tips@bossbetty.com.