Boss Betty Brief: Debate news, a female-friendly funding option, big law allows preferred pronouns & more
A roundup of the biggest female-focused news across major industries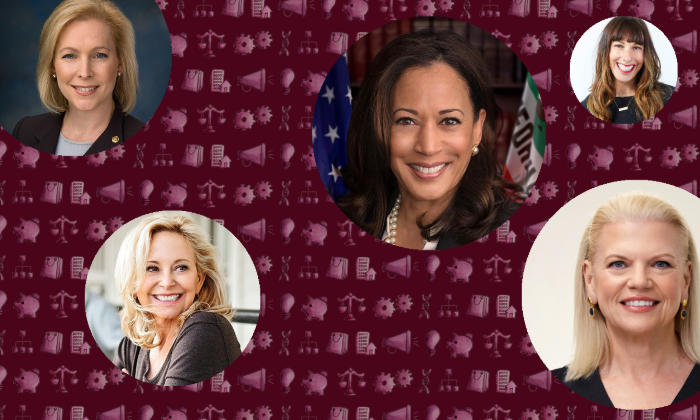 We got a couple of minutes on gender equality + work in Wednesday night's debate — whoop whoop! Sen. Kamala Harris outlined her proposal to fine firms who violate equal pay rules while Sen. Kirsten Gillibrand went after former Vice President Joe Biden big time for an op-ed he once wrote arguing against expanding the childcare tax credit. In it, he said doing so would lead to the "deterioration of the family," a point on which Gillibrand — as a working mom from a family of working moms — demanded an explanation. It should be noted that the thrust of Biden's piece seems to be an argument against giving the credit to higher-earning families. If you haven't already, read our rundown on where the candidates stand on issues related to workplace gender parity.
Here's the BB breakdown of the biggest female-focused news by industry. Have news to share? Email us at tips@bossbetty.com.
ADVERTISING & MEDIA: Twitter's head of global agency and platform solutions, Stephanie Prager, discussed how the company is restructuring its relationship with advertisers [AdAge]. Warner Bros. Television said adios to "Extra" host A.J. Calloway following their investigation into allegations of sexual assault made against him [Variety]. Two firms focusing on sex toys and sexual wellness for women have launched a campaign to chastise New York City's subway system for what they believe are arbitrary advertising policies [AdWeek]. Relatedly, startups are lining up to advertise on NYC transit — seems those ads with big dildos won't get approved, but we'll keep our eyes open on the commute [WSJ]. Hulu's scripted originals team is being folded into Walt Disney Television, and will now report to Disney TV Studios and ABC Entertainment chairman Dana Walden [THR]. Claudia Lyon is leaving ABC to join CBS as executive vice president of talent and casting [Variety]. A marketing exec writes about what those in the advertising industry can learn from dating etiquette [AdAge]. Interpublic Group's The Martin Agency — best known as Geico's creative partner — is focusing its growth on its media offering; to that end, the company hired veteran Becca Grimes as group media director [AdAge].
ENERGY: As GE looks to execute a turnaround, CEO Larry Culp is replacing its chief financial officer, Jamie Miller. Culp plans to play a key role in recruiting her successor, speaking with "new friends and old" in his search. Hopefully there are plenty of women in his network [WSJ]. Sen. Elizabeth Warren clashed with the more moderate Democratic presidential candidates when discussing  climate change on the debate stage on Tuesday [Scientific American]. PG&E denied that neglect of its power lines was what led to the deadly Camp fire in California. At the time of the fire, the utility company was run by Geisha Williams, who stepped down in January as a result of the havoc the liability wreaked on the firm's finances [WSJ].
LAW: Jenner & Block is the latest addition to the small group of top firms allowing staff to include their preferred pronouns in email signatures [Bloomberg Law]. Jones Day filed a 115-page response to a gender discrimination lawsuit filed by seven employees that alleged a fraternity culture and unequal pay. The firm has a notoriously opaque compensation system, but in its filing said they provided detailed information on pay on its website and internally. This was the response from one Above the Law editor: "There are plane crashes where the black box wasn't as impenetrable as Jones Day's comp" [Above the Law]. Jana Cohen Barbe, a senior partner at Dentons and the first woman appointed to the law firm's global board, penned an open letter saying that there is a clear mental health crisis in the legal industry and it requires changing the billable hour structure, rethinking KPIs and approaching compensation differently [American Lawyer]. More LeClairRyan news: Following a gender discrimination lawsuit and several high-level exits, the firm has begun the dissolution process. Color us unsurprised [Above the Law]. A survey of IP corporate counsel found that 60 percent of participants faced discrimination because of their gender, race and/or sexual orientation [Corporate Counsel]. The California Institute of Technology has named Jennifer Lum, who's a former federal prosecutor, their new general counsel following the retirement of Victoria Stratman [Law.com].
MANUFACTURING & RETAIL: Lingerie business Lively, helmed by former Victoria's Secret exec Michelle Cordeiro Grant, was acquired by Wacoal for $85 million [TechCrunch]. Birchbox co-founder Katia Beauchamp talked about disrupting the beauty industry and the difficulties she had raising money for the business [Retail Dive]. Amazon's Personal Shopper by Prime Wardrobe is taking on the likes of Katrina Lake's Stitch Fix and Julie Wainwright's The RealReal [MarketWatch]. Melissa Reiff's The Container Store is opening a new retail concept in Los Angeles [Retail Dive]. Mary Dillon's Ulta Beauty is opening a huge flagship store in New York's Herald Square [NY Post]. J.C. Penney CEO Jill Soltau announced that Jim DePaul would be the company's new head of stores and supply chain after what appeared to be an abrupt departure by executive Michael Robbins [Retail Dive]. Max Mara group global digital director Andrea Cappi, Sephora EVP of omni retail Mary Beth Laughton and The RealReal CEO Julie Wainwright were in the top 10 of a ranking of the biggest players in e-commerce [Chain Store Age].
REAL ESTATE: Douglas Elliman's self-described Queen of Retail, Faith Hope Consolo, died in December, but her name will live on. The retail broker's group will continue to call itself the Faith Consolo team. "Faith was an icon and a brand unto herself, and we were lucky to receive her leadership and guidance for so many years," a team member said [The Real Deal].
SCIENCE & HEALTHCARE: Heather Bresch's Mylan, which will merge with a unit of Pfizer next year, is purchasing a Novartis plant that produces cystic fibrosis drugs [FiercePharma]. Check out the women scientists and inventors on this "Future 50" list, an ongoing project profiling 50 people who will make an important and positive impact over the next decade [Inverse].
TECHNOLOGY & ENGINEERING: Ginni Rometty's IBM has fired 100,000 employees in its quest to be "cool" in order to attract millennials, a lawsuit alleges. The suit is one of several the company is facing related to age discrimination [Bloomberg]. Googlers are throwing their support behind Senators Elizabeth Warren and Bernie Sanders — both of whom are in favor of breaking up big tech — as the company's employees continue to demand accountability on matters ranging from sexual harassment policies to defense contracts [Recode]. Apple's Kim Vorrath, a high-profile software exec, has moved over to the company's augmented reality team [The Information]. Women-founded firms get just 3.1 percent of venture funding; 82 percent of the companies getting VC money have all-male founder teams. The investment firm Clearbanc may help change that — it does not require schmoozy pitch meetings that one usually only lands via a chummy network, instead taking applications online, which are then evaluated using AI. The company says this helps to eliminate human bias: "It's not a human relationship," said Clearbanc President Michele Romanow. Instead, "We're looking [at], does this business have positive unit economics, and do they have customers that they can continue to scale to?" That makes Clearbanc a good option for female founders, which make up about 18 percent of its portfolio [Fast Company]. VC firm CRV has hired Anna Khan — formerly of Bessemer Venture Partners — as general partner [TechCrunch]. The global lead for serious games and gamification at IBM, Phaedra Boinodiris, said that the biggest obstacle to getting more women in tech "is that it is very hard to BE what you can't SEE" [TechWire].
If there's no relevant news of note to share in a given sector, we skip it for the day. Did we miss something? Let us know at tips@bossbetty.com.