Boss Betty Brief: Debating reason-blind leave, Amazon Studios news & more
A roundup of the biggest female-focused news across major industries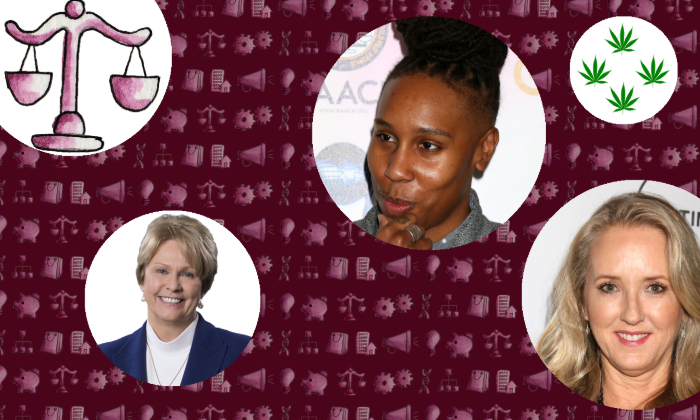 Updated at 10 a.m. ET
You know who's (surprisingly) bullish on releasing gender pay gap numbers? Citibank. Who's not? Facebook and Google, among several other huge companies. Read our feature on how activist investor Arjuna Capital continues to push top firms for transparency on pay across gender and race. And, if you're interested in serving on a corporate board — whether now or in the future — read this Boss Betty piece on how to prep for success as a director. Following is a rundown of what we're reading around the web today. Enjoy!
General Assembly: Is "purpose-agnostic paid leave" the benefit of the future? This piece looks at whether offering "reason-blind" paid leave to all employees would take some of the stigma away from working mothers and create a fairer system for all [Quartz]. And, more on whether the phrase "glass ceiling" is a tired linguistic relic — a conversation that we're still not tired of having [NYT]. What's the socio-political value of wearing a T-shirt that says "woman" or "I am woman" or some other declarative statement of gender? This op-ed disentangles a "politics of visibility" from an "economics of visibility" and is very definitely worth reading and mulling over. We're still mulling, and still considering the wardrobe implications [NYT].
Here's the BB breakdown of the biggest female-focused news by industry. Have news to share? Email us at tips@bossbetty.com.
Advertising & Media: Amazon Studios' head Jennifer Salke reiterated this weekend that the streaming video service would not be releasing ratings metrics, unlike its rival Netflix. "We agree that it's not a strategy for us…We'll talk about the success of our shows and single out shows that are overperforming," Salke said [AdWeek]. Also in Amazon Studios news: Lena Waithe signed a development deal with the company to produce a horror anthology series [Broadcasting & Cable]. Sure, the "recent television renaissance" has elevated the voices of female and nonbinary creators, but Hollywood is still not a terribly friendly place for non-males, and that's unlikely to change any time soon [NYT]. Vice Media, helmed by Nancy Dubuc, is reportedly in talks to acquire the women-focused publisher Refinery29. Both publications have looked to diversify their revenue streams and cut costs over the past few years [WSJ]. Starz is now devoted to producing content for a "premium female audience." A company exec said the network is similarly devoted to that demo behind the scenes, with women holding 65 percent of leadership roles on its series [AdWeek]. Away's Jen Rubio and former Telemundo entertainment president Nely Galán shared their experiences at the 2019 ColorComm Conference in Miami this weekend, an event for women of color in the communications industry [PR Week].
Energy: In the ongoing saga of Carl Icahn vs. Occidental Chief Executive Vicki Hollub, the billionaire activist investor asked the oil company's ex-CEO Stephen Chazen to be one of his board nominees. Chazen didn't join Icahn's line-up, but told Hollub he was willing to join the board if it would help resolve the situation [WSJ].
Finance: Finance is known to be mostly male and white, and this depressing survey of financial advisors indicates there's no real reason to hope it will get better. A choice quote: "It's hard to move the needle because it takes real effort, and we all have limited time in our days." Oof [InvestmentNews]. Julia Wellborn will lead Wells Fargo Private Wealth Management [BusinessWire].
Law: Just quoting the headline on this because, well, it says it all: "American Lawyer wonders why more men don't take paternity leave days after advising lawyers not to take parental leave" [Above the Law]. LeClairRyan keeps making headlines for all the wrong reasons — amid a slew of high-profile departures, the firm and its joint venture with UnitedLex were sued by a former marketing employee for gender pay discrimination [Bloomberg Law]. A Texas panel tackled the question of whether it's possible in today's political climate to effectively advance diversity and inclusion initiatives in the legal profession [American Lawyer]. Meanwhile, Mayer Brown and eBay took a stab at it with their  Summer Fellowship Diversity Program, which just finished; the law firm was one of a dozen earlier this year that partnered with eBay, Uber and Facebook to launch the Technology Diversity Collaborative, aimed at getting big law to pay attention to students at schools that don't often see prestigious recruiters [Corporate Counsel].
Manufacturing & Retail: Women and people of color are bearing the brunt of retail's upheaval [Vox]. Stella McCartney's new "Agents of Change" campaign promotes the brand's sustainability and features activists and models [BoF]. Celeb fashion designer and singer Nikki Lund talks about balancing her clothing line, entertainment career and family [Forbes]. Two-year-old luxury cannabis company Beboe is targeting women, and their products seem to be pretty lit [Forbes]. Despite having raised more than $300 million from investors and continued expansion, Minted's CEO Mariam Naficy said the company has no plans to IPO [Yahoo].
Science & Healthcare: Generic drugmaker Mylan's CEO Heather Bresch will retire next year after its pending merger with a unit of Pfizer closes [WSJ]. The American Museum of Natural History has closed its sexual misconduct investigation into astrophysicist Neil deGrasse; he will keep his job as head of  the Hayden Planetarium [NYT]. Xing Chenyue, one of the scientists behind Juul's secret sauce (bees to honey for the teenage set), has a new startup that's producing an alternative to e-ciggs. Her company, Myst Labs, has been working on the product for two years, and it will be a rival to Juul once both hit the Chinese market [Tech Crunch]. Astronomer Jill Tarter addresses Twitter questions about aliens [Wired]. "The public option is a Trojan horse with single-payer hiding inside," wrote Centers for Medicare & Medicaid Services Administrator Seema Verma, going on to outline the Trump Administration's vision for American healthcare [FierceHealthcare].
Technology & Engineering: The founder of Ministry of Testing, a global software testing community, details why and how she started and bootstrapped her tech company [Hacker Noon]. French Defense Minister Florence Parley said the country is looking at putting hundreds of millions more into militarizing its spacecraft — but said France was not going on the offensive in space, just looking at self-defense. How do you say "hmnn" in French [Breaking Defense]?
If there's no relevant news of note to share in a given sector, we skip it for the day. Did we miss something? Let us know at tips@bossbetty.com.