Boss Betty Brief: Former Tinder exec alleges ex-CEO sexually assaulted her, a look into Julia Hartz's Eventbrite & more
A roundup of the biggest female-focused news across industries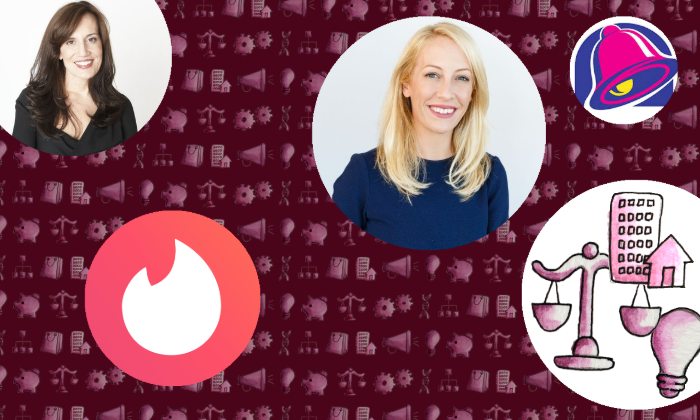 Updated at 10 a.m.
Here's the BB breakdown of the biggest female-focused news by industry. Have news to share? Email us at tips@bossbetty.com.
ADVERTISING & MEDIA: ABC Entertainment President Karey Burke put a nice spin — for her network — on the broadcast vs. streaming battle, saying that the overwhelming majority of last season's most-watched programs were on broadcast television. "Most shows on competing platforms these days, sometimes they get a billboard on Sunset, and sometimes they disappear into the sunset," she said of streaming's programming. She also said Georgia's fetal heartbeat bill was still a concern for ABC, and the network was waiting to see what unfolded with the legal challenges before making any decisions about shooting in the state [Bloomberg & Fortune]. Nancy O'Dell is leaving her post as co-host of CBS' "Entertainment Tonight" after almost nine years [Broadcasting & Cable]. Leo Burnett promoted Jordan Doucette to chief creative officer [Ad Week]. Wunderman Thompson made some moves: The WPP company promoted the CEO and co-founder of digital agency Swift, Liz Valentine, to CEO of its west region, hired Melissa Dorko away from Isobar to be chief growth officer of its North America operations and named Huge Atlanta's Carrie Philpott president of the agency's Atlanta business [AdAge].
ENERGY: This op-ed makes the (not difficult to wrap your head around) case that the lack of women in the power sector is a "a squandered economic opportunity." Globally, males hold about 75 percent of all energy sector jobs, according to the piece [The Hill].
LAW: Sidley Austin is the latest BigLaw firm to go bigger with paid parental leave, boosting time off to 14 weeks for new parents and 22 weeks for birth moms. Some progress is progress, so we'll take it for today [Bloomberg Law]. California judge Jeffrey Johnson — who has been accused of a litany of sexual misconduct allegations ranging from propositioning police offers to groping a fellow judge — faces a judicial disciplinary hearing that will determine his future (or lack thereof) on the bench. A whopping 168 witnesses are set to testify [Above the Law].
MANUFACTURING & RETAIL: Brazilian model Valentina Sampaio will be Victoria Secret's first openly transgender model. Just last year, the company's CMO,  Ed Razek, said the lacy lingerie brand wasn't interested in casting trans models, a comment for which he was later forced to apologize. Razek resigned today, a decision he said he had informed Victoria Secret's CEO of a few weeks prior [NYT]. Barney's, headed by CEO Daniella Vitale, filed for bankruptcy in the wee hours between Monday and Tuesday. The New York luxury retailer will get a loan from Gordon Brothers and Hilco Global so it can operate in bankruptcy for 60 days while it looks to lock down a buyer [WSJ]. Taco Bell's Global Chief Brand Officer, Marisa Thalberg, resigned after four years at the fast food chain. Two marketing SVPs —  Melissa Friebe and Tracee Larocca — will take over her duties, but the brand has no plans to hire a replacement [Ad Age].
REAL ESTATE: Thirteen percent of female agents have experienced sexism or harassment from their clients, and 6 percent from colleagues, according to a recently released report from RedFin [REW]. JLL announced Cynthia Kantor will be chief product officer of corporate solutions, a brand new role at the company [Cision]. Fox Residential's Barbara Fox and Bohemia Realty Group's Sarah Saltzberg were among the resi players that shared their "unvarnished, first-person accounts of life" in today's challenging real estate sector in The Real Deal's latest issue [TRD].
SCIENCE & HEALTHCARE: Two employees of Gail Boudreaux's Anthem Health Insurance were among those murdered in the Dayton, Ohio shooting over the weekend. In a memo to employees, the Anthem CEO said the two were "known for their positive energy" [NYT]. Nominations are open for 2019's "fiercest" women in life sciences [FiercePharma].
TECH & ENGINEERING: What's happening at Julia Hartz's Eventbrite? The company went public last year and recently opened three international outposts, but further expansion plans have been put on hold and a slew of executives have left. Insiders say Eventbrite's acquisition of Ticketfly has slowed down the growth of its core business [The Information]. A former Tinder exec is suing the company and its ex-CEO Gregory Blatt, alleging that Blatt sexually assaulted her, and that after she filed a complaint, the company fired her. Tinder said their independent investigation revealed that nothing illegal or against company policy transpired [Marketwatch]. A Googler accused the company of discriminating against her while she was pregnant in a memo posted to an internal message board and leaked to the media. The memo was titled, "I'm Not Returning to Google After Maternity Leave, and Here is Why," and received a slew of likes and the meme treatment from some of the more than 10,000 employees who read it [Motherboard]. Also in Google news, a group of senators including Kamala Harris and Elizabeth Warren urged the company to make its more than 120,000 temporary and contract workers full-time staff. Because of their uncertain status and desire for full-time positions with the tech behemoth, many of these workers do not report sexual harassment and do not get paid for overtime [NYT]. Ginni Rometty's IBM is hoping to use the blockchain to simplify supply chain management [Reuters].
If there's no relevant news of note to share in a given sector, we skip it for the day. Did we miss something? Let us know at tips@bossbetty.com.