Boss Betty Brief: Geena Davis's new doc, why the "screamer" at law firms is so not okay & more
A roundup of the biggest female-focused news across major industries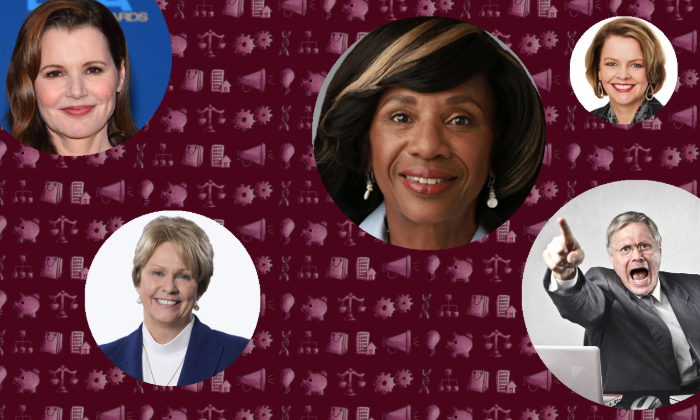 Published 7 .a.m. | Updated 10 a.m.
Here's the BB breakdown of the biggest female-focused news by industry. Have news to share? Email us at tips@bossbetty.com.
ADVERTISING & MEDIA: Geena Davis's documentary, "This Changes Everything," dives into Hollywood's pervasive gender inequities. This review indicates the film gets off to a shaky start but finds its footing as it progresses — certainly seems worth the watch. As the review mentions, a man directed the doc; however, Davis was one among several female executive producers [NYT]. GroupM's data-driven media agency, Essence, named Kyoko Matsushita as its new CEO. She succeeds Christian Juhl, who was promoted to global CEO of GroupM [AdAge]. Ann Curry's next step: Seven years after she left the "Today Show," Curry is joining TNT and TBS's "Chasing the Cure," which will employ doctors and crowdsourcing (ummm…) to solve medical mysteries [AdWeek]. The Venice Film Festival announced it will screen Nate Parker's "American Skin," his first project since "The Birth of a Nation" bombed when rape charges brought against him in 1999 — charges of which he was ultimately acquitted — resurfaced. Whether its appropriate for him to make a comeback will surely be the talk of the festival [Variety].
ENERGY: Anadarko shareholders didn't hesitate on Thursday to approve the sale of the company to its rival, Vicki Hollub's Occidental Petroleum, for $38 billion. The sale has been the subject of a massive public rift between activist investor Carl Icahn and Hollub. Icahn described the deal as "one of the worst I've ever seen" in an interview on Thursday [Reuters & CNBC].
FINANCE: A decade ago, JPMorgan Chase compliance officers recommended the bank end its relationship with Jeffrey Epstein. The bank did not, in large part because a top-ranking exec, Mary Erdoes, recommended they keep him as a client. Why, Mary? Epstein brought in new private-banking clients for JPMorgan Chase, which Erdoes deemed important enough to overlook the sex crime charges (now, of course, Epstein is charged with sex trafficking minors, too) [NYT]. Also in JPM news, senior banker Karen Simon is retiring after nearly four decades with the company [American Banker]. The former CEO of Virgin Money, Dame Jayne-Anne Gadhia, is heading to Salesforce to be the chief executive of its U.K. and Ireland operations [Financial News].
LAW: The poor D.C. lawyers at Covington & Burling are forced to watch people have sex in an adjacent apartment building, and it is very distracting and they are very upset [Above the Law]. A veteran legal secretary claimed two Venable partners' verbal abuse was so intense it constituted sex discrimination under California's fair employment law. She filed suit Aug. 1 in Los Angeles, also alleging retaliation and disability and age discrimination under the state law. The employee said one incident was so traumatic she had a panic attack and landed in the hospital [ABA Journal]. Very relatedly, do you have a "screamer" at your firm? That partner that rages around intimidating new associates, or worse, employs subtler, quieter forms of mental torture? Well, that person is creating a hostile workplace environment, and firms need to deal with them [Above the Law]. Locke Lord partner and head of diversity, Paulette Brown, said that "one of the reasons why I did not give up my partner status and my clients is because I believe you can be more effective when you contribute to the bottom line." She was among five chief diversity officers at legal firms that weighed in on effective diversity and inclusion initiatives in this piece [The American Lawyer]. A case against Harvard University alleging it illegally used gender and race in its Law Review selection process was dismissed [Bloomberg Law].
MANUFACTURING & RETAIL: Jill Soltau's JCPenney could be delisted from the NYSE. The company has about six months to get back in compliance [CNBC]. Sustain, a female-first sexual wellness brand with products ranging from lube to tampons, was just acquired by newish e-commerce brand Grove Collaborative. The deal terms were not made public. Sustain was founded by Jeffrey Hollander, founder of Seventh Generation, along with his daughter, Meika Hollender, who is the company's CEO. As the face of Sustain, Meika is a vocal advocate of women's sexual health and wellness, and for that has been plagued by misogynistic messages over the years. She will stay on at Sustain and plans to continue her advocacy work [Fast Company]. Cascade Engineering CEO, Christine Keller, talks about how socially responsible hiring is critical to building a successful company culture. "While we use traditional manufacturing methods of measuring our success, including our own lean program, we also measure how we are doing on our goals for our employees," Keller said [IndustryWeek].
SCIENCE & HEALTHCARE: You know what's ready for disruption? Female contraception. Evofem Biosciences, led by CEO Saundra Pelletier, says they've come up with a gel that can prevent pregnancy when applied before sex. "It's time that women have the opportunity to have sex on demand, like men have had with condoms for years," Pelletier said [Businessweek]. 23andMe's vice president of business development, Emily Drabant Conley, offered up details of her experience asking for a big promotion at the $2.5 billion company — "a very pivotal moment" — at just 33 [Business Insider]. Neena Patil, previously of Novo Nordisk and Pfizer, joined Jazz Pharmaceuticals as general counsel [Corporate Counsel].
TECH & ENGINEERING: One in three women in tech is told she only got her job because of her gender, a new U.K. says. One. In. Three. Happy Friday, y'all [Computer Business Review]. Amira Valliani's Glow, which helps podcasters build a sustainable business around their content, announced $2.3 million in seed funding in a round led by Greycroft. Valliani founded the company after launching her own podcast and realizing advertising wouldn't support it [TechCrunch]. Uber, the company that was almost derailed by its toxic workplace culture, posted a mind-boggling $5.2 billion loss in the second quarter. Read Boss Betty's piece on whether the ride-hail firm has truly reformed itself, culturally speaking — seems it still has quite a long way to go financially [WSJ]. This meditation on A.I.'s potential for bias includes some prescriptive measures, as well as scary gems like, "AI algorithms have gone in the direction of an abusive relationship" [Hacker Noon]. Attorney General William Barr appointed Justice Department lawyer Lauren Willard head of its investigation into whether big tech is violating antitrust laws  [Bloomberg].
If there's no relevant news of note to share in a given sector, we skip it for the day. Did we miss something? Let us know at tips@bossbetty.com.