Boss Betty Brief: Julie Wainwright's TheRealReal sees a real loss, GSK's Emma Walmsley shakes things up & more
A roundup of the biggest female-focused news across major industries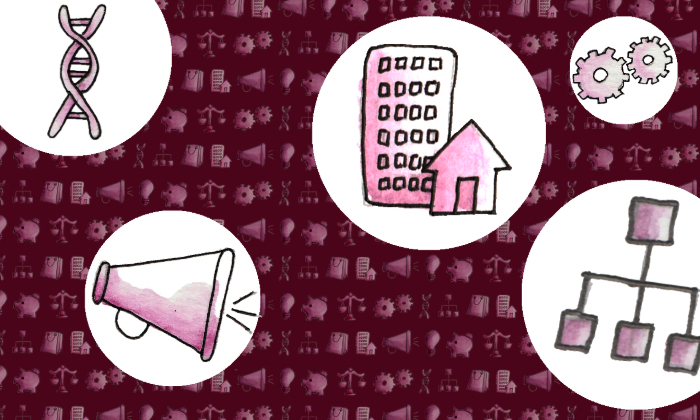 General Assembly: Opera legend Plácido Domingo is being investigated by the Los Angeles Opera for sexual harassment. Multiple women alleged the singer used his powerful position to pressure them into sexual relationships, using job opportunities as bait and spiting them professionally if they did not comply with his demands [Associated Press]. Creating more flexible work schedules is one known way to keep women in the workforce and help them thrive, but it's a challenging proposition for both employees — who don't want to be seen as shirking duties — and managers. This piece offers some sound how-to advice on proceeding in a way that works for everyone [Quartz]. Having a baby while running a company isn't new, but what it means and how it's handled is changing. Eleven women — including those behind Birchbox and The Wing — tell their stories of giving birth in the C-suite (well, maybe not literally IN their executive offices, but you get the point) [Fortune].
Here's the BB breakdown of the biggest female-focused news by industry. Have news to share? Email us at tips@bossbetty.com.
ADVERTISING & MEDIA: Shari Redstone's dreams really do come true. After more than a decade apart, CBS and Viacom agreed to merge on Tuesday. The combined company will be better-positioned to compete in the streaming market and with the big tech platforms eating up their ad revenues. Redstone has been angling for the reunion for three years now but faced pushback from executives including former CEO, Leslie Moonves, who was ousted last year after several sexual assault allegations. "We will establish a world-class, multiplatform media organization that is well-positioned for growth in a rapidly transforming industry," Redstone said in a statement. We look forward to seeing how things unfold for the "new" dynamic duo (made up of two very old-school organizations) [NYT]. Patricia Heaton will produce a series on Jeffrey Epstein based off of the Miami Herald articles that exposed him as a child molester [Variety]. McCann Health named Hilary Gentile as its inaugural global chief strategy officer; previously she had the same role overseeing its North American operations. Meanwhile, the One Club, the nonprofit that supports creatives in the ad industry, promoted Kasia Karolak to the new role of gender equality program manager [AdAge].
FINANCE: If Sara Tirschwell's $30 million lawsuit against asset-management firm TCW goes to trial, it will be Wall Street's first big #MeToo moment inside of a courtroom. Tirschwell's blockbuster suit alleges gender discrimination, retaliation and breach of contract, and yet, it hasn't set off the kind of reckoning seen in the entertainment industry, in part because she had a previous sexual relationship with her boss. Some insiders "view it mostly as an office romance gone wrong," but Tirschwell is staying the course, putting everything on the line  [The Cut]. A new study by Illumen Capital and a division of Stanford University showed (not for the first time) that institutional investors favor teams led by white men. "I've observed investors leaving money on the table because they underestimate the value of funds managed by people of color and women," Illumen Capital founder Daryn Dodson said in a statement. The study showed that top-performing minorities are those likely hurt the most by bias [Institutional Investor]. Congresswoman Maxine Waters (D-California) released a report Tuesday showing that women and minorities hold less than a quarter of senior leadership roles at the eight largest U.S. banks. Furthermore, no women or minorities are the CEOs of those institutions. "…[M]egabanks are making some progress in their diversity efforts but there is much more to do," Waters said [American Banker].
MANUFACTURING & RETAIL: Julie Wainwright's The RealReal, which went public in June, is facing some realreal headwinds. While secondhand is cool, it's apparently not cool enough to insulate the online reseller of luxe goods from the woes of its more traditional retail competitors. As department stores continue to discount prices, shoppers are picking up fewer used goods. On Tuesday, The RealReal reported higher earnings over the last quarter but wider losses [WSJ]. Michelle Gass's Kohl's is partnering with Facebook in a quest to find new brands that will lure shoppers to its stores and website. This is not the stalwart brand's first foray into digital territory — it previously teamed up with Amazon and has been forward thinking in its point-of-sale processes [AdAge].
REAL ESTATE: A former marketing executive at New York's Empire State Realty Trust — which counts the Empire State Building among its properties — sued both CEO Anthony Malkin and the company, claiming she was terminated for reporting age discrimination to the human resources department. She alleged that Malkin repeatedly said she was "too old" and "a fossil" [The Real Deal].
SCIENCE & HEALTHCARE: GlaxoSmithKline continues to evolve under the leadership of Emma Walmsley. In the latest seismic shift, GSK said U.S. pharma president Jack Bailey will step down at the end of the year and be replaced by Maya Martinez-Davis, who is the president of Merck KGaA's Latin America business [FiercePharma]. Sexual misconduct complaints against California doctors are up an alarming 62 percent since the fall of 2017, which coincides with the rise of the #MeToo movement [LA Times]. One in seven internal medicine residents is bullied, according to a new study released Tuesday. Bullying was defined as "repeated harassment by someone in a position of greater power." Women and men reported similar rates of bullying — 14 percent and 13 percent, respectively — but foreign medical students experienced higher rates of bullying [Modern Healthcare].
If there's no relevant news of note to share in a given sector, we skip it for the day. Did we miss something? Let us know at tips@bossbetty.com.