Boss Betty Brief: Omnicom loses a hero, the sexism of activist investors, ex-Uber-ers are up for grabs & more
A roundup of the biggest female-focused news across industries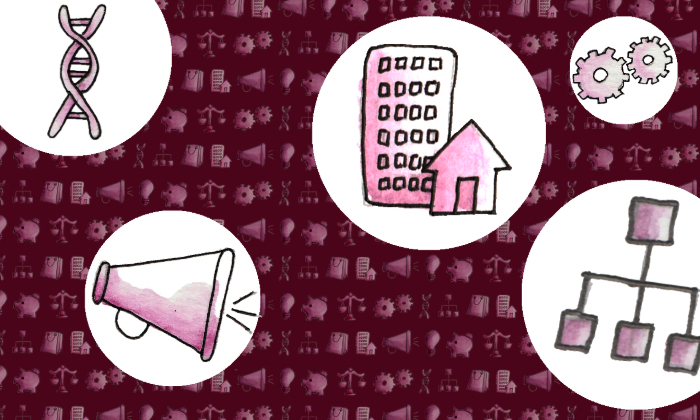 Published at 7 a.m., Aug.5 | Updated at 12:30 p.m.
Wanna start your Monday ANGRY? New research shows that's a much better way to get up and at 'em than coffee. Just kidding. But new research does show that female CEOs are much more likely to face an activist investor challenge than their male counterparts — to wit, the ongoing battle between Occidental's Vicki Hollub and Carl Icahn. Also to wit, bruising skirmishes between activist investors and: Marissa Mayer while she was at Yahoo, Indra Nooyi when she was at PepsiCo and Meg Whitman in her Hewlett-Packard days. Oh, and also GM's Mary Barra and Cracker Barrel's Sandra Cochran. We could go on, but read this piece and take a look at the academic evidence that supports the "hypothesis" that activist investors target female leaders — in one study, it's to the tune of 27 percent of women top bosses versus an under-1-percent chance for male CEOs . Come, the f, on [WSJ].
Here's the BB breakdown of the biggest female-focused news by industry. Have news to share? Email us at tips@bossbetty.com.
ADVERTISING & MEDIA: Omnicom EVP Janet Riccio died July 30 after a battle with ALS. The 61-year-old ad exec founded  Omniwomen, a network for the marketing conglomerate's female employees, and was dean of the executive training organization Omnicom University. Riccio was also a longtime board member and former co-chair at the New York Women's Foundation (AdWeek). What do we think about a woke Playboy? It doesn't seem to be in the magazine's DNA, but the publication's gotten a millennial make-over. With #MeToo's Tarana Burke on the cover this summer, it's a far cry from the Frankenstein Hugh Hefner creation [NYT]. To file under nice things to do for your fellow marketing professionals: Following the dismissal of around 400 employees of Uber's marketing department, an online roster of their names is circulating — putting those laid off in front of recruiters and (unintentionally) offering a window into the (huge) division's operations. The list's creator said all of the names were entered voluntarily and, "Literally hundreds of people have reached out" to be added [AdAge]. Afton Williamson, co-star of ABC's "The Rookie," announced on her Instagram account Sunday that she would not be returning to the show, alleging sexual harassment and racial discrimination. "Throughout the filming of the pilot, I experienced Racial Discrimination/Racially Charged inappropriate comments from the hair department and bullying from Executive Producers. During the Season, it continued along with Sexual Harassment from a recurring guest star and the racist commentary & bullying from the Hair Dept. Head escalated into Sexual Assault at our Wrap party," she wrote on Insta [THR]. Meredith Vieira, who's won more than a dozen Emmy Awards, discusses what motivates her to keep working in this episode of the "Secrets of Wealthy Women" podcast [WSJ]. To foster diversity, newsrooms need to go beyond the nation's top colleges when looking for recruits [Quartz].
ENERGY: Wyoming's Bureau of Land Management director, Mary Jo Rugwell, is retiring after more than three decades with the agency. Rugwell was the state's first female director [Greenwire]. Vicki Hollub's Occidental Petroleum — which is in the middle of a knock-down-tear-down with Carl Icahn over its Anadarko Petroleum acquisition — beat earnings estimates for Q2, even as it posted a 14 percent drop in quarterly profits. Its stocks took a hit [Yahoo! Finance].
FINANCE: Adena Friedman, the CEO of Nasdaq, talks about the exchange's new adventures in sports betting, the impact of companies staying private longer and her intern days [Businessweek]. If the European Union has its way, Kristalina Georgieva will replace Christine Lagarde as head of the International Monetary Fund. Georgieva, a renowned Bulgarian economist, was previously head of the World Bank. It remains to be seen whether the U.S. will get on board; the deadline for alternative nominees is Sept. 6 [NYT]. The chairperson of the Federal Deposit Insurance Corp., Jelena McWilliams, said that if regulators don't get it together on how banks should be allowed to use A.I., the FDIC will [American Banker].
LAW: First Amendment experts weigh in on whether a gun store billboard that targeted "the Squad" (Reps. Ilhan Omar, Alexandria Ocasio-Cortez, Rashida Tlaib, and Ayanna Pressley) should have been illegal [Above the Law]. Ready for something sweet now? How about a legal love story? Engaged power law couple Donna Wilson, CEO of Manatt, Phelps & Phillips, and Linda Kornfeld, head of Blank Rome's West Coast insurance recovery practice, talk about making two big careers work while raising a kid and law's LGBTQI community [American Lawyer]. In other Manett news that will make you feel niiiiice — did you know it's got a whole thing going on the CBD trade [Manett]? National Geographic Partners' Evelyn Miller was promoted from her role as senior vice president of legal and business affairs to deputy chief counsel. She will provide "strategic and tactical legal advice" at the organization, which is a joint venture between the nonprofit National Geographic Society and Walt Disney, as well as be responsible for media rights on the legal side [Corporate Counsel].
MANUFACTURING & RETAIL: Louis Vuitton Moët Hennessy is going hard on forced arbitration, arguing on Aug. 1 that a female attorney for the company needs to use the private, non-judicial process for pursuing a sexual harassment claim against the brand, and saying the former employee owes them for the legal fees from her current claim. Previously, the claimant's lawyers had asked that she be granted the exception New York State makes for those pursuing sexual harassment allegations who have signed an arbitration clause [Bloomberg Law]. In the fashion biz and feeling a bit guilty about all the waste? If not, maybe you should be — fast-fashion stat: Somewhere between 15 and 20 percent of material used in clothing design gets trashed. But fear not, Jessica Schreiber's FABSCRAP is on the case. The nonprofit takes in excess fabric destined for landfill and recycles it. The New York City org's current clients include J. Crew and Oscar de la Renta, among others. Get on that sustainability train [Grist]. An industrial consultant weighs in on creating a culture of communication at manufacturing companies [IndustryWeek]. The fashion industry has a diversity problem — assumedly, that's the reason for its many, many (many) racially and/or culturally insensitive mistakes. We've recently seen announcements of new heads of diversity and inclusion at both Gucci and Chanel, but those appointments are facing blowback, too. How do we find our way out of our mess? Hint: It's complicated, and that's okay [CNN].
SCIENCE & HEALTHCARE: Let's hope we can file this under "unsurprised but still mad as hell": Female CEOs in biotech still make up less than 10 percent of those in top positions. Just 15 of 180 leading biotech firms were led by women, a recent analysis showed. "…[A] shockingly, ridiculously low" number, according to Veracyte CEO Bonnie Anderson [BioPharma Dive]. Leo Burnett's Karuna Rawal will be the first CMO at the a biotech startup Sustainable Bioproducts.
TECH & ENGINEERING: Has the investment tide turned? Prob not, but, research by a Stanford Graduate School of Business prof showed that candidates perceived as women — and Asians — were more likely to receive an interested response when initially pitching VCs. What happens when one progresses further down the investment track — e.g. post-cold-pitch — was not tracked by the study, though we know that at the end of the day — to date, anyway — women get less than 2.5 percent of VC funding [Fast Company]. At the time the scandal broke over Cambridge Analytica's use of Facebook data to manipulate the 2016 election, 30-year-old Brittany Kaiser — a Democrat — was the firm's business development director. She's been on something of a redemption tour ever since. Have a read of this piece and decide whether she should be remembered as a whistleblower, or something a bit more…nefarious [Washington Post].
If there's no relevant news of note to share in a given sector, we skip it for the day. Did we miss something? Let us know at tips@bossbetty.com.