Boss Betty Brief: Disney's big buh-byes, best law firms for women & more
A roundup of the biggest female-focused news across industries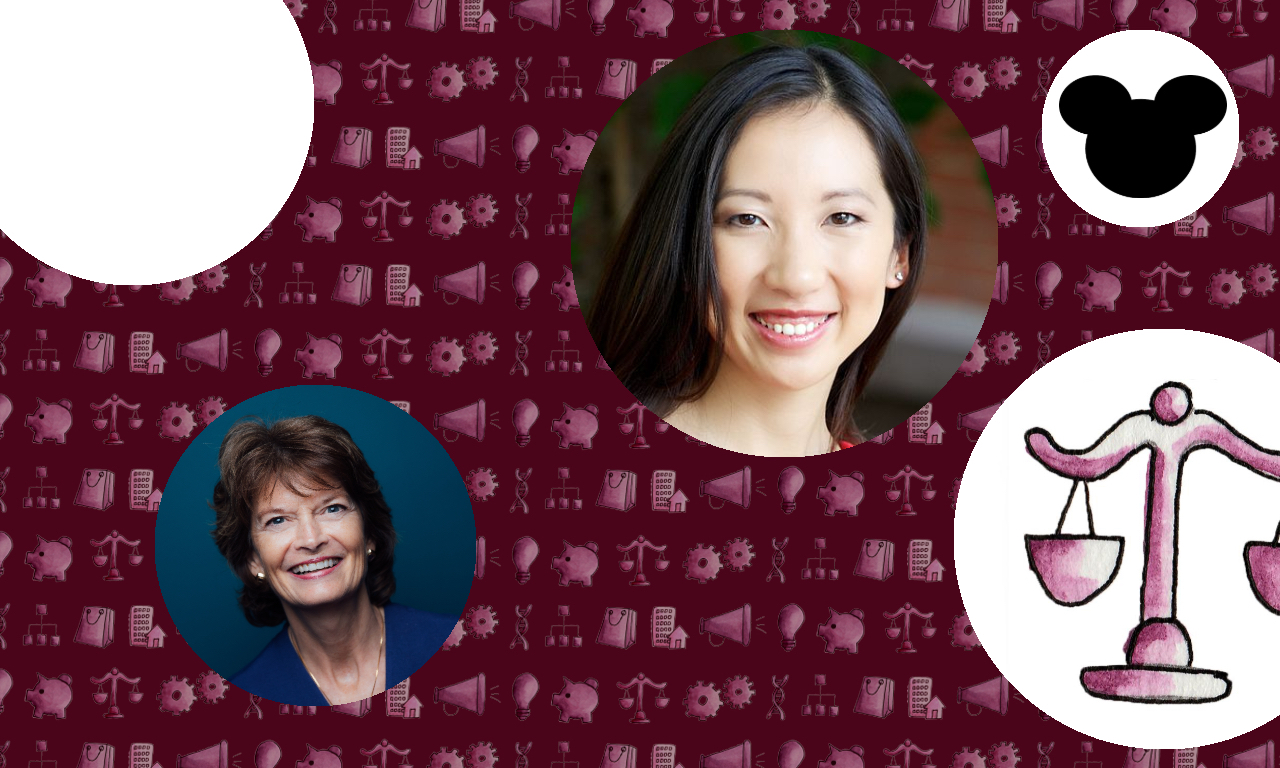 Here's the BB breakdown of Monday's biggest female-focused news by industry. Have news to share? Email us at tips@bossbetty.com.
ADVERTISING & MEDIA: Andrea Mitchell will get a Lifetime Achievement Award at this year's News and Documentary Emmy Awards in September. The chief foreign affairs correspondent for NBC — and host of her eponymously named news show — is serving her 42nd year with the network. [THR] Veteran producer Elizabeth Gabler, whose oeuvre includes the film adaptations of "The Devil Wears Prada," "The Fault in Our Stars" and "Hidden Figures," will hang a shingle at Sony Pictures. Gabler was previously head of Fox 2000, a division of 21st Century Fox that Disney absorbed and subsequently dissolved. [NYT] In another big adieu for Disney, top sales and marketing exec Janice Marinelli is leaving. [Variety] And in still more mouse-ear related news, following heiress Abigail Disney's undercover stint at Disneyland, the company is disputing her claims about abhorrent working conditions at the theme park. [CNN] Angela Bromstad, a former NBC exec, will be senior advisor at a new podcast development company called LAist Studios, owned by Southern California Public Radio. [Deadline]
ENERGY: The Senate Energy and Natural Resources Committee, led by Sen. Lisa Murkowski (R-Alaska), approved 22 energy-related bills on Tuesday. The senator said a September markup would deal with legislation regarding energy storage, though she did not specify whether that included a potential tax credit. [Utility Dive] Lynn Good's Duke Energy was one among several energy companies to praise President Donald Trump's decision not to put quotas on the U.S. production of uranium. [Daily Energy Insider]
FINANCE: In the latest salvo in the fee war between Abigail Johnson's Fidelity and Vanguard, the former announced five new index mutual funds with expense ratios lower than its competitor. [Bloomberg] Global Investment firm KKR announced Emilia Sherifova as chief information & innovation officer. [Pitchbook] Former Orange County Rep. Mimi Walters joined the board of B. Riley Financial, and Bain Capital promoted Merritt Hummerto (now senior principal) and Aneesha Mehta (now principal). [The Broadsheet]
LAW:  Check out the 2019 list of best law firms for women. [Working Mother] And, check out an analysis of those findings. [American Lawyer] Will another moon visit be easier than closing law's gender parity gap? [ATL] Just 17 percent of cases heard by the Supreme Court this term were argued by women. This episode of the "Cases and Controversies" podcast takes a look at gender diversity at the high court. [Bloomberg Law] Sen. Kamala Harris goes with Perkins Coie. [American Lawyer]
MANUFACTURING & RETAIL: Stitch Fix CEO Katrina Lake discusses the ongoing evolution of her business. [Fortune] Amid the ongoing labor market crunch, Michelle Gass' Kohl's has gotten a jumpstart on seasonal hiring. [Retail Dive] Color us unsurprised — the growing cannabis industry is the playground of white men. Yes, the distribution of VC money is very much a part of the problem. [Bloomberg] Ivanka Trump will visit Lockheed Martin next week for a discussion with CEO Marillyn Hewson and other company executives about their workforce development. [Denver Post] Estée Lauder made Sara Moss vice chairman. [The Broadsheet]
SCIENCE & HEALTHCARE: GlaxoSmithKline's Emma Walmsley is shaking things up in Big Pharma. [Businessweek] Dr. Leana Wen is leaving her post as head of Planned Parenthood after just eight months. [NYT] Gilead is replacing HR head Katie Watson with Jyoti Mehra. [Fierce Pharma] Gail Boudreaux's Anthem hired former DOJ attorney Cynthia Ridgeway to lead corporate strategy. [Modern Healthcare] Ancestry CEO Margo Georgiadis discusses privacy law when it comes to your DNA. [Fortune]
TECH & ENGINEERING: Ginni Rometty's IBM posted a drop in quarterly revenues again; however, profits topped Wall Street's expectations. "In the second quarter, we continued to grow in the high-value areas of the business, led by a strong performance across our Cloud and Cognitive Software segment," Rometty said. [WSJ] Remember the big employee walkout at Google last year? More than half of those who led the charge have resigned. [Wired] The legacy of the PayPal mafia lives on? Facebook's Calibra — the entity creating a digital wallet for their much vaunted and critiqued cryptocurrency, Libra — is led by former PayPal president David Marcus; of his eight direct reports, two worked with him at PayPal. The good news is that there is a women in this junior edition of the PayPal mafia — Christina Smedley, who is head of marketing. The bad news is that there are only two women on the core team [The Information]. "Badass" programmer Margaret Hamilton's code was critical to the success of the moon landing. [Vox] Ripple recruited ex-Morgan Stanley exec Zoe Cruz as a senior strategic advisor. [The Broadsheet]
If there's no relevant news of note to share in a given sector, we skip it for the day. Did we miss something? Email us at tips@bossbetty.com.