Boss Betty Brief: Top global CEOs just 2.8% female, McD's CMO makes like a tree & more
A roundup of the biggest female-focused news across major industries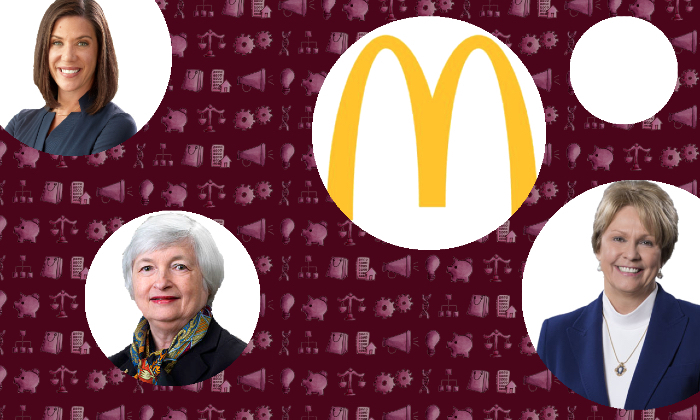 GENERAL ASSEMBLY: Fortune's Global 500 is out, and (take a deep, deep breath) women hold only 2.8 percent of CEO roles at the world's top companies. Hard to stomach, but do check out the Boss Betties who made the list. [Fortune]
Here's the BB breakdown of Monday's biggest female-focused news by industry. Have news to share? Email us at tips@bossbetty.com.
ADVERTISING & MEDIA: Is the CMO role going the way of the dodo? So says AdWeek, and the newly announced departure of McDonald's Global CMO Silvia Lagnado, who will not be replaced, gives credence to the idea. While nobody will wear the CMO crown at Mickie D's, the company did create two new SVP marketing roles, both of which will be filled by men. [AdAge]
ENERGY: Carl Icahn calls Occidental Petroleum CEO Vicki Hollub "arrogant" and says Warren Buffett took her "to the cleaners" in the ongoing saga over Oxy's acquisition of Anadarko. [Forbes] Michigan Gov. Gretchen Whitmer appointed two former clean energy advocates to the state's Public Service Commission as utilities there look to decarbonize their portfolios. [Energy News Network]
FINANCE: Janet Yellen was not into the Bank of England job. Didn't apply. Brexit was apparently not appealing, go figure. [Reuters] In the insurance world, Progressive was ranked 391 on the Fortune Global 500 list with about $32 billion in annual revenues. [Fortune]
MANUFACTURING & RETAIL: Macy's has pulled their super unappetizing line of dinner plates featuring concentric rings featuring "mom jeans," "favorite jeans" and "skinny jeans" food portions. Gross.  A poor showing by the brand Pourtion, who produced the line. [HuffPost] Amid a less-than-great year, Mary Barra's GM ranked 32 on the Fortune Global 500 list with $147 billion in revenues; Marillyn Hewson's Lockheed Martin took no. 197 while fellow defense contractor Phebe Novakovic's General Dynamics landed at $36 billion; Corie Barry's Best Buy rung in at 276 with about $43 billion in revenues and yet another defense contractor, Kathy Warden's Northrop Grumman, was ranked 416th. [Fortune]
REAL ESTATE: Zaha Hadid's One Thousand Museum got a visit from David and Victoria Beckham this weekend. The celebrity couple reportedly checked out a unit at the late architect's luxury condo project while on vacation in Miami. [TRD Miami] A day with Tami Halton Pardee — the founder of Los Angeles luxury brokerage Halton Pardee + Partners — means status updates, lunch orders and Brené Brown. [TRD LA]
SCIENCE & HEALTHCARE: Gail Boudreaux's Anthem was no. 79 on the Fortune Global 500 list with $92 billion in revenues. [Fortune] Two women in Chicago are responsible for most generic prescription drug names. [LAT]
TECH & ENGINEERING: Ginni Rometty's IBM fell 22 spots to rank 114 on the Fortune Global 500 list, despite achieving annual revenue growth for the first time under Rometty; Safra Catz's Oracle clocked in at 307 with just under $40 billion in revenues as it works to compete in the cloud computing space. [Fortune] Read this trans woman's take on gender in the tech industry. [Fast Company]
If there's no relevant news of note to share in a given sector, we skip it for the day. Did we miss something? Let us know at tips@bossbetty.com.