Can you spot the difference(s) in these photos? Proposed 'Council to Reopen America' appears a bit … skewed
One woman, no POC among the presumed Council members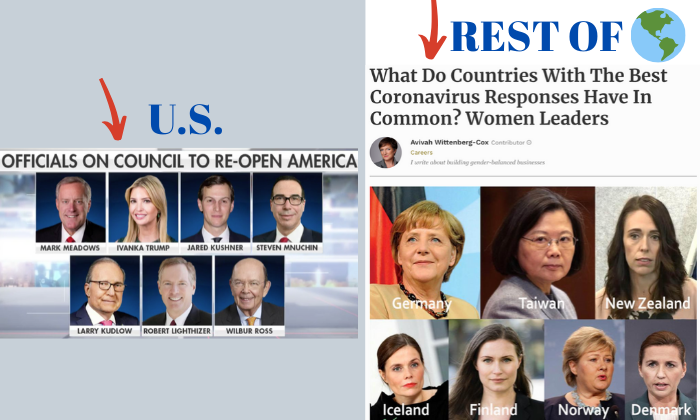 Yes, often a picture really is worth 1,000 words, so, we'll keep this short and leave you each to your own (tortured, we hope/expect) ruminations on the above image: The current presumed makeup of the "Council to Reopen America" has one woman on it, Ivanka Trump (presented without comment). The countries best handling the pandemic all have female leaders. Oh, also, the mouthpieces for the current administration have yet to name a doctor, public health expert or real economist to the presumed lineup. And, nobody in the running — again, per reports on the Council's expected members — appears to be a person of color.
Who would we appoint? We're totally spitballing here, but we're thinking: On the straight gov't side, maybe Michigan Gov. Gretchen Whitmer, San Francisco Mayor London Breed…; on that public health tip, Dr. Nancy Messonnier (CDC), Ellen MacKenzie (dean of the Johns Hopkins Bloomberg School of Public Health)…; for that economic perspective, how about Janet Yellen (former U.S. Treasury Secretary), Heather Boushey (CEO, Washington Center for Equitable Growth)…; and calling in from the business sector, let's put Indra Nooyi (former CEO PepsiCo, Amazon board director) and Barbara Rentler (CEO Ross Stores) on the line… Perhaps some tech peeps, too? Hmnnn… Your turn: info@bossbetty.com.
P.S.  Check out this mean (as in awesome) Mashable roundup of "Council to Reopen America" memes.
— Rob Sheridan, but from a safe distance (@rob_sheridan) April 13, 2020