Under 10% of the 220 leaders on Trump's 'Opening Our Country Council' are women
Six industry sectors have zero female representation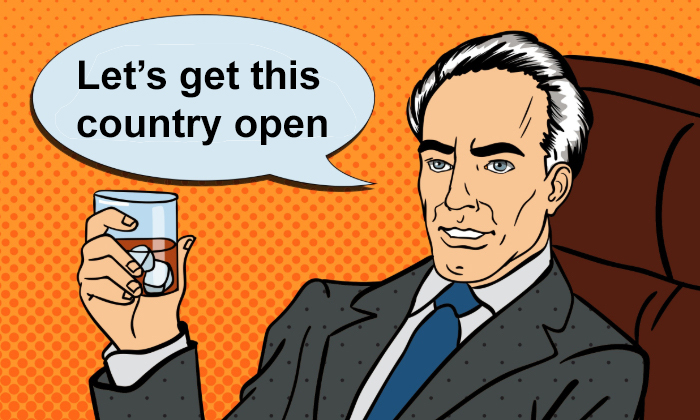 We all speak percentage fluently now, and we've all grown sadly accustomed to dismal numbers, so here are some more: President Trump appointed just 21 women out of 220 members to his pandemic-induced "Opening Our Country Council" — that's less than 10 percent. It's quite a puzzling figure since female leaders seem to be managing the coronavirus crisis better, women make up 50.8 percent of the U.S. population (census, says!) and women are losing jobs because of the pandemic at a higher rate than men. Presumably, the apparently better skilled, more impacted group would have at least an equal say, right?
The paucity of women appointed to Trump's "Opening Our Country Council," which has morphed into a coalition the White House calls "Great American Economic Revival Industry Groups," reflects gender leadership gaps broadly speaking — about 6 percent of S&P 500 CEOs are women and just 27 percent of board seats at these companies are held by women, for starters.
But each industry in Trump's coalition has C-Suite women at top companies just as qualified as the men included. So what gives?
Here's the gender breakdown of appointees by industry group, beginning with those that include zero women:
Banking — 0 women out of 9
Food & Beverage — 0 women out of 23 
Hospitality — 0 women out of 10  
Real Estate — 0 women out of 9
Telecommunications — 0 women out of 6
Transportation — 0 women out of 10
Agriculture — 1 woman out of 11: Barbara Grimm, Grimmway Farms
Construction/Labor/Workforce — 1 woman out of 13: Linda Bauer Darr, American Council of Engineering Companies
Energy — 1 woman out of 12: Vicki Hollub, Occidental Petroleum
Financial Services — 1 woman out of 15: Abigail Johnson, Fidelity Investments
Retail — 1 woman out of 15: Heyward Donigan, Rite Aid
Healthcare — 2 women out of 27 : Gail Boudreaux, Anthem; Karen Lynch, Aetna
Manufacturing — 2 women out of 13: Mary Barra, General Motors Company; Ann Mukherjee, Pernod Ricard
Defense — 3 women out of 5: Marillyn Hewson, Lockheed Martin; Kathy Warden, Northrop Grumman; Phebe Novakovic, General Dynamics 
Sports — 3 women out of 16: Lesa Kennedy, NASCAR; Cathy Engelbert, WNBA; Lisa Baird, NWSL
Tech — 3 women out of 15: Safra Catz, Oracle; Jennifer Morgan, SAP; Lisa Su, Advanced Micro Devices
Thought Leaders/Groups – 3 women out of 11: Kay Coles James, The Heritage Foundation; Condoleezza Rice, former U.S. Secretary of State; Catherine Reynolds, The Catherine B. Reynolds Foundation