How to create your own career 🍀 'luck' 🍀
A hefty dose of skill, as it turns out, is a prerequisite for being lucky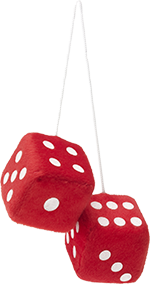 "Persistence, resilience and the ability to manage your own mind" are the key attributes of any woman looking to make a splash in the still male-dominated world of business, Cindy Gallop — an entrepreneur and former top advertising exec — said at a conference this fall.
Gallop's comment followed a talk by the journalist-turned-pro-poker player Maria Konnikova about her latest book, "The Biggest Bluff: How I Learned to Pay Attention, Master Myself, and Win," and indicated that the book might have the recipe for that third, most elusive of virtues.
Gallop's insight piqued our interest in the book — the ability to "manage your own mind" in the face of great adversity is practically the whole game, right? Konnikova further stoked our curiosity by saying that women were socially conditioned to be superior poker players — extrapolate this to the game of work/life — because we are constantly in situations where, unlike men, "we need to try to figure out, okay, how do I make myself heard, how do I read the room, how do I insert myself correctly?" and "that is at the heart of strategic decision making, being able to adjust to your opponents."
Konnikova's book is a great read, both narratively and in terms of its helpful insights into navigating decision-making in high-risk situations, and we highly recommend picking it up at your local bookstore. One of its central messages is that "luck" is largely what you make of it — sure, chance plays an unavoidable  role in most things, but you can certainly stack the odds in your favor. A hefty dose of skill, as it turns out, is a prerequisite for being lucky.
Here are a few of our favorites insights:
👉 "You're not lucky because more good things are actually happening; you're lucky because you're alert to them when they do … We can't control what happens. But we can control our attention and how we choose to deploy it."
👉 Avoid dwelling on "bad beats," those times when things don't go your way — don't continually recount them to others, don't let your mind endlessly ruminate on them. It's poor mental hygiene and will get you nowhere.
👉 Make it a mental habit to frame yourself as a victor, not a victim, and act accordingly: "A victim: The cards went against me. Things are being done to me, things are happening around me, and I am neither to blame nor in control. A victor: I made the correct decision. Sure, the outcome didn't go my way, but I thought correctly under pressure."
👉 Language really, really matters — both in how you express things to yourself and to others: "Clarity of language is clarity of thought — and the expression of a certain sentiment, no matter how innocuous it seems, can change your thinking, your mindset, your mood, your whole outlook."
The column "3 Ways to Attract More Luck Into Your Life," published by the wonderful Polina Marinova of The Profile, is a great companion read to Konnikova's book. The author, George Mack, advises avoiding boring people, creating your own "luck razor" and cultivating a poker mindset. Read it for a super quick primer on attracting more luck into your life.