Boss Betty Brief: It's Women's Equality Day — but voters see increasing gender inequality under Trump — Laurene Powell Jobs' litmus test & more
A roundup of the biggest female-powered news across major industries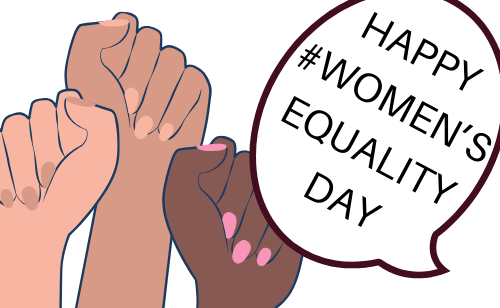 GENERAL ASSEMBLY: Happy Women's Equality Day! Four score and 19 years ago today, the 19th Amendment was ratified and women got the right to vote. It took decades and decades of fighting to push the amendment through and still decades more in many states for African-American women to be able to vote freely because of racist policies. Days like today are good ones to reflect generally on gender equality in the U.S. (#SoIsEveryDay), and this piece from MarketWatch has a couple of solid ideas on how everyone can be proactive in the workplace when it comes to increasing parity between the sexes. Meanwhile, a new Politico poll shows that nearly four in 10 voters say gender equality is worsening under Trump. Given that the Department of Justice just filed a brief with the Supreme Court that endorses an employer's right to force women to wear skirts to work, it's unsurprising that people would think we're moving backwards in that regard. On the global stage, the G7's Gender Equality Advisory Council — which includes such notables as actress Emma Watson, Women Deliver's Katja Iversen and UN Women's Phumzile Mlambo-Ngcuka —  wrote a piece for The Guardian urging governments to do the necessary work to help build a gender-equal world. "Women don't have the same rights as men to get a job or pursue a trade or profession in 18 countries," the group wrote, saying in the penultimate paragraph, "We have many different perspectives and varied backgrounds, but we stand together because we know this to be true: a gender equal world is healthier, wealthier, more productive and more peaceful."
Here's the BB breakdown of the biggest female-focused news by industry. Have news to share? Email us at tips@bossbetty.com.
ADVERTISING & MEDIA: Laurene Powell Jobs, whose $100 million investment in the Atlantic gave her the majority stake, is due for a report card of sorts as the publication gears up to launch its long-delayed paywall after Labor Day. The magazine added more staffers and increased its coverage areas in advance of the launch — at the direction of Powell Jobs — and the relative success or failure of the paywall over the next several months will be a pretty direct reflection on its new owner. Over the past year, the Atlantic has been studying gender dynamics in its newsroom and is reportedly addressing issues of pay disparities. Last year 75 percent of new hires were women [WSJ]. Billy Bush is ready for his close-up, again. The question is, are we? And do we ever need to be? Bush hasn't appeared on TV since the infamous "Access Hollywood" tape emerged in which he is heard laughing and joking around with now-President Trump, who was bragging about stars being able to do whatever they want with women: "Grab 'em by the pussy. You can do anything." Lisa Gregorisch-Dempsey, producer of "Extra," hired Bush as host and managing editor. His first appearance on the show will be Sept. 9 [NYT].
FINANCE: Your average wealth manager is usually white and male, but increasingly clients are looking for female financial advisors and firms are trying to rapidly adjust to this new reality. Merrill Lynch Wealth Management has upped the percentage of women employees in its U.S. adviser training program to about 1/3, a new record, and at UBS, the number of female financial advisors globally ticked up from 18.6 percent in 2011 to 20.9 percent today. Morgan Stanley is "actively recruiting and preparing more female advisers for the needs of the marketplace," according to Kara Underwood, the firm's head of wealth management diversity and inclusion [WSJ]. Ex-financial adviser Dawn Bennett is appealing her conviction on federal charges related to a $20 million Ponzi scheme. Bennet previously operated Bennett Financial Group Services in Chevy Chase, Maryland. She was found guilty on all 17 charges, including conspiracy, securities fraud, wire fraud and bank fraud — in one occurrence, she spent half a mil annually of a client's money for a suite at the Dallas Cowboys football stadium [Investment News].
LAW: Everyone's favorite judicial justice fighter just fought off a pancreatic tumor. A statement from the Supreme Court said RBG "tolerated treatment well" and that "no further treatment is needed at this time" [NPR]. Polsinelli's Nancy Refuse was among the team of four Atlanta litigation partners that Seyfarth Shaw poached from the firm. More are expected to follow, stay tuned [American Lawyer]. Julissa Rodriguez, who headed Greenberg Traurig's Miami appellate practice, moved over to Shutts & Bowen's in Miami [American Lawyer]. The Commonwealth Bank of Australia — the country's biggest bank — hired Carmel Mulhern as group general counsel. She will oversee the legal department for the company, which has branches in North America, Asia, Europe and New Zealand [Corporate Counsel].
MANUFACTURING & RETAIL: Ipsy, which sends subscribers a makeup bag with five cosmetics samples every month, hired Jenna Habayeb as chief brand officer. She was previously CMO at Canndescent, a California-based luxury cannabis brand. What is a luxury cannabis brand, you ask? Apparently, curated "ultra-premium" products offering an array of experiences in very pretty packaging [happi]. Barneys New York's CTO and chief digital office, Katherine Bahamonde Monasebian, spoke on a panel last week about some of the issues that forced the luxury retailer into bankruptcy, including high rent. She then went on to explain why they are in fact keeping their New York flagship location, despite said issue, saying, "It's the place where we exercise the most creativity, it's the most true to sort of the heritage of the brand" [Retail Dive].
TECH & ENGINEERING: Riot Games — owned by Chinese tech behemoth Tencent — finally settled a gender discrimination class-action lawsuit that alleged harassment, retaliation and lack of parity in pay and promotions. Details of the settlement were not released [Fortune]. As the spotlight continues to burn so, so brightly — as well it should! — on corporate culture at Google, the company released "community guidelines" discouraging workers from engaging in political or incendiary discussion on internal message boards. "While sharing information and ideas with colleagues helps build community, disrupting the workday to have a raging debate over politics or the latest news story does not," the guidelines read. "Our primary responsibility is to do the work we've each been hired to do, not to spend working time on debates about nonwork topics," the guidelines read. Google also banned sharing certain internal company conversations with the public, an action that in the past has led to such positive changs as the ending of forced arbitration [Inc.].
If there's no relevant news of note to share in a given sector, we skip it for the day. Did we miss something? Let us know at tips@bossbetty.com.