Boss Betty Brief: Madonna Badger's agency parts ways with new owner, WeWork adds a female director & more
A roundup of the biggest female-powered news across major industries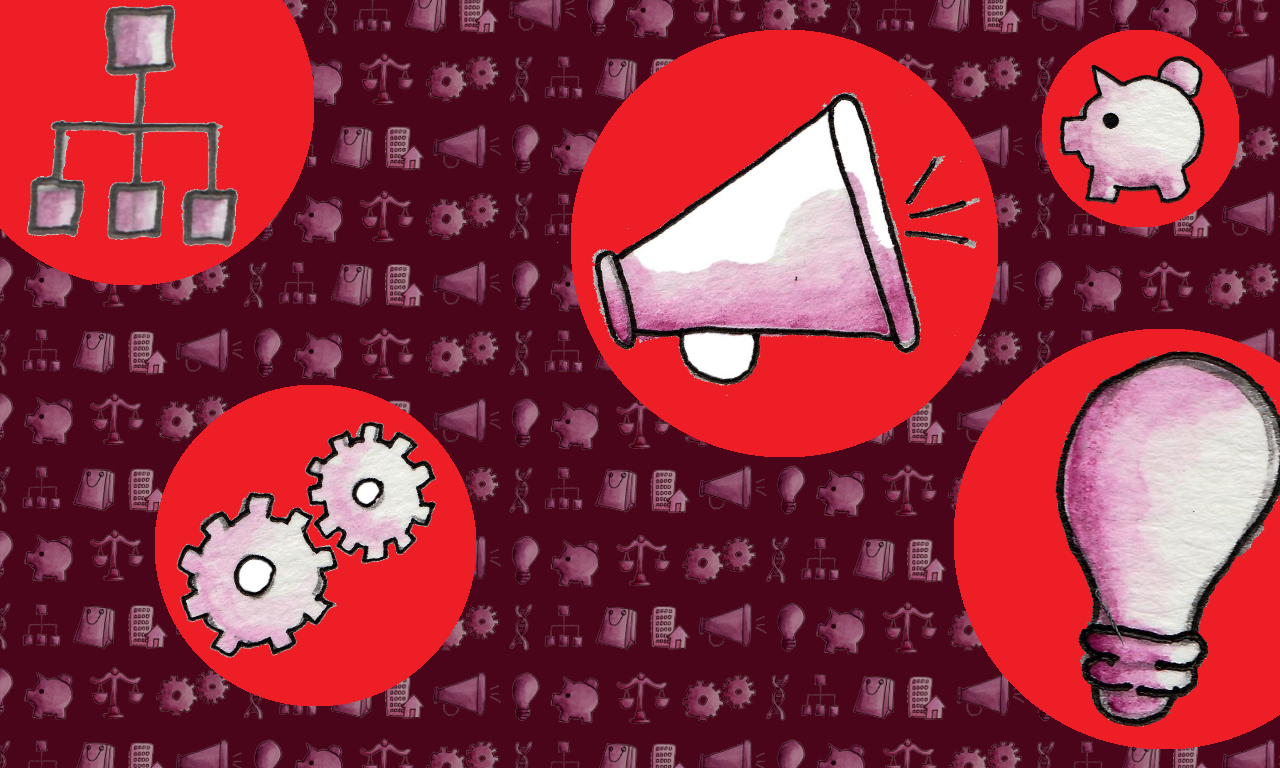 Here's the BB breakdown of the biggest female-focused news by industry. Have news to share? Email us at tips@bossbetty.com.
ADVERTISING & MEDIA: Madonna Badger's firm, Badgers & Winters — known as a leading voice of female empowerment in the industry — is parting ways with Plan A, which acquired the company just last year. Badger's company is also resigning as agency-of-record for JC Penney. "The work [JC Penney] needed from us was very transactional and felt very different from the work we were producing for other clients and what we wanted to be famous for in the industry," said Badger's business partner and president of the firm, Jim Winters [Ad Age]. Janice Min, former queen bee at The Hollywood Reporter, has left Jeffrey Katzenberg's short form streaming platform Quibi less than a year after joining. A reason for her departure was not released publicly, but sources told Deadline there was a difference in opinion between Min and Katzenberg over the direction of the platform's news content [Deadline]. Imagine TV's Samie Kim Falvey was promoted from president to chairperson, replacing Francie Calfo, who is transitioning into a producing deal with Imagine [Variety]. The Obama's production company, Higher Ground Productions, chose HBO's Ada Chiaghana as VP of development and production [THR]. MTV Group, owned by Viacom (soon to be ViacomCBS), made several executive moves, elevating Bahareh Kamali to SVP, head of strategic development; promoting Dara Cook to SVP, original franchise programming; and naming Sitarah Pendelton (along with Benjamin Hurvitz) as SVP, original series [Deadline]. Publicis Sapient poached Silicon Valley veteran Wendy Johansson to be global VP, experience transformation lead [MediaPost]. Marriott's head of marketing, Karin Timpone, will step down at the end of the year. She will pursue unspecified "new opportunities" [AdWeek]. The co-writer of the phenomenally successful "Crazy Rich Asians" movie, Adele Lim, walked off the sequel after learning that her white, male co-writer earned 10 times what she did for the work. The studio offered her an increase and her co-writer, Peter Chiarelli, offered to split his fee with her, but she said she didn't want to be just the "soy sauce" on the project [THR]. Good news for the small screen: the number of women in speaking roles and working behind the camera hit a record high in television and streaming over the past year, making up 45 percent of all speaking characters and 31 percent of behind-the-scenes roles [Variety]. Golin's chief creative officer, Caroline Dettman, left the agency to launch Have Her Back, a brand consultancy focused on helping companies navigate gender parity efforts. Dettman is joined in the venture by Erin Gallagher, who was executive director of marketing at Golin, and Pamela Culpepper, who was chief people officer at Golin until 2016 and previously served as PepsiCo's chief global diversity officer [AdWeek].
FINANCE: Alpha Advisory Partners' founder and CEO, Sheila Hooda, was appointed to the board of ProSight Global [Broadsheet].
LAW: In news surprising absolutely no one in the industry, the latest Chambers and Partners ranking of U.S. lawyers majorly underrepresented women. Chambers' rankings continue to be mostly white and mostly male, even as the industry publicly grapples with ongoing gender equality issues. In the 2019 ranking, only 13 percent of New York M&A attorneys and just 7 percent of lawyers in the general commercial litigation category in New York were women [American Lawyer]. Estée Lauder appointed longtime Thomson Reuters legal chief, Deirdre Stanley, as its new general counsel. She will succeed Sara Moss, who was made vice chairman in July [Corporate Counsel].
MANUFACTURING & RETAIL: GM, led by Mary Barra, appointed Deborah Wahl as its first global marketing chief since 2012. "By aligning marketing across GM under Deborah's leadership, we will build stronger brands while ensuring more effective, efficient and agile customer engagement," Barra said in a staff memo. Wahl was previously CMO of the Cadillac brand [Ad Age]. Meanwhile, Barra met with President Trump Thursday but few details from their tête-à-tête emerged. Barra called the meeting, which proceeded several instances of Trump bashing GM, "productive and valuable." The discussions were expected to touch on contract negotiations with the United Auto Workers union, GM's shuttered plants in Detroit and the trade issues with China [Reuters]. Poshmark, the online resale marketplace co-founded by Tracy Sun, decided to delay its IPO until 2020. For now the company plans to focus on increasing sales and perfecting its retail execution [Bloomberg]. Former tech executive Sali Christeson's brand, Argent, has provided sophisticated workwear to political luminaries including former Sec. of State Hillary Clinton, Sen. Kamala Harris and San Francisco Mayor London Breed. "The real catalyst for starting Argent was reading research that showed how much women at work are judged based on appearance," Christeson said in a recent interview. Her line is taking off in both the political sphere and across other industries — Drybar's Alli Webb is a fan, as is feminist icon Gloria Steinem and Hollywood's Awkwafina and Amy Poehler [Fast Company].
REAL ESTATE: WeWork has added a woman to its board — huzzah! And how crazy is it that we have to be "huzzah-ing" over a company of that size finally including ONE woman on its board? Anyway, as we reported in mid-August when its IPO filing was made public, the office-sharing company's board was all male and appeared to be mostly white. Now, Harvard Business School's Frances Frei, who has advised several companies in need of a cultural revamp, will become a WeWork director when the IPO is completed [Boss Betty]. Meet the mastermind behind the famed Douglas Elliman Eklund-Gomes team, Julia Spillman. "Million Dollar Listing" star Fredrik Eklund and his business partner John Gomes brought Spillman aboard in 2016 and a year later, she was named CEO of the group. Now she's overseeing its expansion into L.A. and Miami [TRD].
SCIENCE & HEALTHCARE: Veteran life sciences venture capitalist Renee Ryan, who was most recently with Johnson & Johnson's venture division, was appointed CEO at California-based startup Cala Health. Cala developed a wearable for treating neurological disorders including essential tremor, among other conditions [MedCity News]. Maine Gov. Janet Mills is just saying no to the Trump administration's plans to ditch the Affordable Care Act. Mills told the Centers for Medicare and Medicaid Services that the state wants to take more control over its exchange, including the marketplace's outreach, marketing and consumer assistance functions. The governor said Maine would explore moving to a wholly state-run exchange in the future [Modern Healthcare].
TECH & ENGINEERING: Fourteen women filed a suit against Lyft on Wednesday saying that the company had not dealt with sexual assault complaints lodged against their drivers. The suit alleges that "Lyft has been aware of sexual predators driving for the company and sexually assaulting and raping female passengers since 2015." Lyft head of Trust & Safety, Mary Winfield, told TechCrunch that "what the victims describe is terrifying and has no place in the Lyft community" [TechCrunch]. The results are in and Susan Wojcicki's YouTube, which was expected to pay somewhere between $150 million and $200 million in FTC fines for illegally collecting data from children, will owe $170 million. While it's a record fine for the violation, critics say it is way too little given the expected $160-billion-plus Google's parent company, Alphabet, could generate this year [Recode]. Atlassian's Archana Agrawal joined MongoDB's board [Broadsheet].
If there's no relevant news of note to share in a given sector, we skip it for the day. Did we miss something? Let us know at tips@bossbetty.com.