WeWork finally adds a female board member, ahead of IPO (board is still blindingly white, though)
Harvard Business School's Frances Frei is joining the office-sharing company's board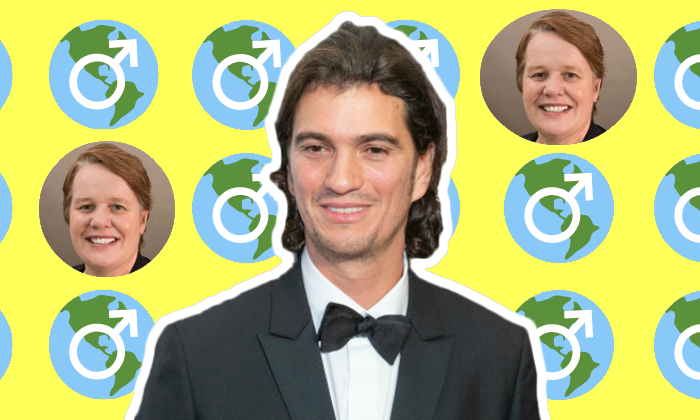 WeWork's all-male, almost all white board has a new addition and, happily, she's a woman. She's also a well-known "culture fixer," which seems extra right for a company that says it's on a mission to "elevate the world's consciousness" but until now has failed to include a single woman on its board of directors.
Harvard Business School's Frances Frei, who temporarily served as SVP for leadership and strategy at the similarly brotastic company Uber, will join the office-sharing company's board when it completes its IPO, which is expected later this month. The move follows blowback (ahem, Boss Betty reporting?) after WeWork made its initial IPO filing public in mid-August. The amended filing also revealed that We Company CEO and co-founder, Adam Neumann, would return the $5.9 million fee he received from the company for its use of the trademarked "We," for which he was much ridiculed and criticized.
Frei has a history of working with companies that have, umm, "issues" when it comes to gender parity and diversity generally in the workplace. Following her work at Uber, Frei moved on to Riot Games in September 2018, where she helped implement a new "Culture and Diversity & Inclusion Initiative" after many employees alleged sexual discrimination at the gaming company. Riot Games just settled a gender bias lawsuit last week.
In Wednesday's amended IPO filing, which announced that Frei was joining the board, WeWork said that it also intended to add another director to the board, "with a commitment to increasing the board's gender and ethnic diversity." The board appears to be almost all white, with the exception of Hony Capital's John Zhao. The We Company continues to decline to comment, citing the SEC-mandated quiet period in the lead-up to their IPO.
"Frances brings to our board of directors extensive experience researching and advising on corporate strategy, operations and culture, which our board of directors believes gives her particular insight into strategic planning and leadership," the amended filing reads.