Through the gender lens: A look at the bucket of buzzy new IPO filings
California's Women on Boards law is creating more room for female directors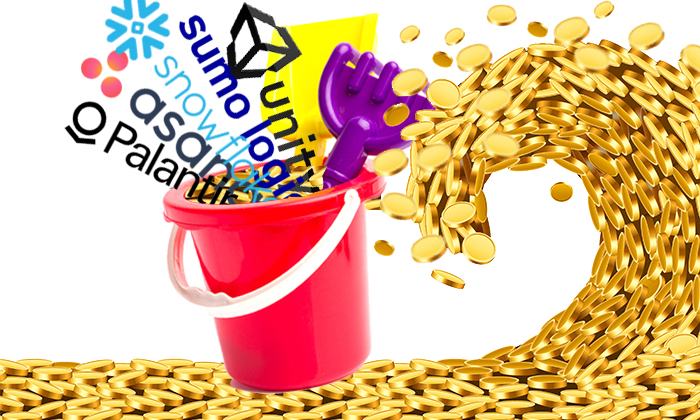 A slew of Silicon Valley-ish software companies filed paperwork this week for their widely anticipated IPOs, revealing not just a trove of fascinating financials but also a closer look at the companies' corporate governance.
We combed the filings to see how well women were represented among directors and executives and also whether attention was paid to creating inclusive and diverse workplaces, an increasingly common element of such paperwork in the wake of the #MeToo movement and the country's ongoing racial reckoning.
All five of the companies we analyzed were based in California as they prepped to go public (Palantir just moved to Colorado) and the relatively recent presence of women on their boards indicates that the state's Women on Boards law continues to be successful in creating more room for female directors. The legislation mandates that any publicly held company have at least one female board member and, by the end of 2021, boards with five directors are required to have two women and those with six or more must have at least three female directors.
Here's a look at the filings through the Boss Betty gender lens:
Peter Thiel's data mining company, Palantir, finally added a woman to its board earlier this year as it prepped to go public via a direct listing.
Palantir's six top executives are all male, according to its paperwork, which was made public on Tuesday. Alexandra Wolfe Schiff, who chronicled Silicon Valley startup culture in her book "Valley of the Gods," is the lone female director among the board's six members.
The tech company is often described as "secretive" and "controversial" and ran afoul of some of its employees and activist groups last year when news spread that it was doing business with the U.S. Immigration and Customs Enforcement agency amid a backlash against ICE's policies.
There is no mention made in its SEC filing of efforts to cultivate diversity and inclusivity among employees; however, Palantir has offered "Women in Tech" scholarships for the past 10 years "to encourage women to pursue computer science, engineering, and technical studies, and to become leaders in these fields." Palantir also has a section of its website devoted to diversity among "Palantirians." Palantir did not respond to requests for comment.
Silicon Valley-based Snowflake is challenging the likes of Amazon and Microsoft with its cloud-based data warehousing products.
The company has three women directors among 10 total board members, according to its IPO filing. In December of 2019, Snowflake appointed its first female director, Teresa Briggs, who has extensive board experience at companies including Warby Parker and Deloitte USA. In January of this year, Cisco CFO Kelly Kramer was nominated to the board and in June Arista Networks CEO Jayshree Ullal joined the board. With those appointments, Snowflake has satisfied California's law mandating that boards of six or more directors have at least three women by the end of next year.
The company's top executives, according to its registration statement, are all male. A Snowflake spokesperson noted that though they were not named in the filings, the company's chief marketing officer and head of human resources are both women.
Snowflake did not outline any diversity and inclusion initiatives in its filing, but, according to a June post on the company's blog, a "Diversity Council" was created in response to requests for more action on the issue from employees.
Unity Software, which is based in San Francisco, makes tools for game developers. While the tech industry is notoriously bro-oriented, the gaming industry is known to take that to the next (ahem) level — Riot Games, for example, paid $10 million last year to settle a class action gender discrimination suit.
Perhaps Unity's higher visibility will help usher in a new more female-friendly era in gaming. Back in 2016, the company launched a series of "Women in Gaming" workshops to help develop the careers of women in the industry and, in 2018, won accolades from theBoardlist for being among the tech companies with the most diverse boards.
Three out of eight of the company's top executives are women, according to its IPO filing. Unity has two female directors and five male directors. The company's women directors, Workday CFO Robynne Sisco and Square executive Alyssa Henry, were appointed in 2017 and 2018, respectively, more than a year before California's law became reality.
The company references its diversity and inclusion programs in its filing and says the initiatives continue to be developed and expanded. A representative for Unity said they had no further information to add.
San Francisco workflow software company Asana filed to go public with a direct listing like Palantir, and Spotify and Slack last year. Asana was co-founded by Facebook co-founder Dustin Moskovitz, who holds the titles of CEO, president and chair.
There is one woman among the four top executives listed on Asana's SEC paperwork, Eleanor Lacey, who serves as general counsel. Three out of Asana's seven board directors are women, all of whom were appointed in 2019: Sumo Logic CFO Sydney Carey (Sumo also filed to go public this week, see below); Guru Technologies' Anne Raimondi; and Lead Edge Capital's Lorrie Norrington. Notably, Norrington's bio reads, "As a member of the LGBTQ+ community, Ms. Norrington is a passionate advocate for inclusion and diversity" — not something you see written everyday in SEC filings.
Asana was ranked #11 in a list of Best Workplaces for Women (Small and Medium) and mentions its commitment to creating a diverse and inclusive work culture several times in its filing, noting that, "By culture, we don't mean 'beer on Fridays.'"
Data analytics firm Sumo Logic, which is based in Silicon Valley, appointed its first woman director in March of this year, according to its IPO filing. Sandra Bergeron remains the sole woman on the company's seven-member board. Bergeron has served on multiple boards and was previously a venture partner at Trident Capital.
The software company has two women executive officers among the five named in its filing. There is no mention made of corporate culture of diversity and inclusion practices; however, it was listed at #22 among Fortune's 2019 Best Workplaces in Technology (small and medium companies). A representative for Sumo Logic declined to provide comment.