0 for 8 in the Nobel Prize department so far — we're lookin' at you, Peace Prize…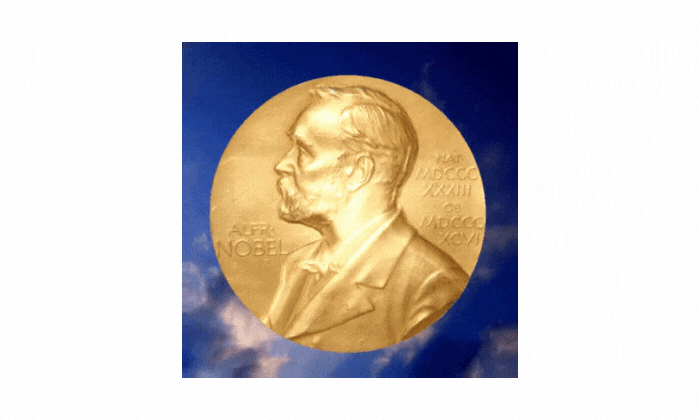 We'll take that Nobel Peace Prize now, thanks.
Alright, it's (checks phone) Thursday of Nobel Prize week and so far all of the 2021 Nobel laureates are men. That's eight dudes — presumably and assumedly pretty awesome dudes, we should say, but still, that leaves about half of the population out of the prize equation. This is not great, particularly given the gendered history of the prizes — only 57 women to date have been awarded a Nobel out of 900-plus recipients — and, oh, the fact that it is, you know, well into the 21st century.
However, the pièce de résistance of Nobels, the Peace Prize, will be announced tomorrow. We're betting that the Swedes will read the room — and, more importantly, help bend the arc of the moral universe towards justice — and award the prize of all prizes to a deserving non-male. What do you think? Want to throw in on our bet?
Cast your vote 🗳: Tap the thumbs up next to the person (or organization) you think will win. We'll see who's right tomorrow, and a lucky winner will receive a few Boss Betty goodies…
👍 Belarusian human rights activist/politician Svetlana Tikhanovskaya
👍 Climate activist Greta Thunberg
👍 New Zealand Prime Minister Jacinda Ardern
👍 Other (reply with your write-in answer!)
---
News to note 📝
'Ladies who launch:' The women shaping space tourism are speaking up and speaking out. Not all heroes wear capes; Alexandra Abrams is blowing the whistle on rocket company Blue Origin's allegedly toxic work culture despite a punishing non-disparagement clause. Jeff Bezos' pet project is facing scrutiny for
the safety of its spaceships and its treatment of employees, particularly women. Meanwhile, "satellady" Candace Johnson is pioneering the very technologies that make space tourism possible. Women are crashing the space race boys' club at an alarmingly awesome rate. Here's hoping (or not?) that Bezos and his ilk can keep up. P.S. Still no takers on our boob rocket idea…? [Quartz, Fortune]
A doctor who was asked in an interview whether she planned to have kids took to TikTok to tell her tale. Orthopedic surgeon Dr. Pamela Mehta went viral on TikTok for her story of pregnancy discrimination and succeeding in a competitive medical field despite also having three children (the audacity!). After her employer tried to push her out when she got pregnant with her second child, Mehta hired a lawyer and fought back. Now, she owns her own practice and is social media famous (16 million views and counting) for sticking it to the man. Notably, only 6 percent of orthopedic surgeons are women. [BuzzFeed]
'Not so fast' says federal judge to Texas abortion ban. Judge Robert Pitman blocked Texas' six-week abortion ban on Wednesday, granting an emergency request from the Justice Department. The state is appealing the decision. Meanwhile, dating apps including OkCupid, Match and Bumble are making their own moves for abortion rights. OkCupid users can add a pro-choice badge to their profile, with the company pledging to donate $1 for every badge to Planned Parenthood. And demonstrators marched on the Supreme Court on Saturday as part of a nationwide protest supporting abortion rights in the first Women's March of the year. From the streets, to the courts, to the apps, the battle rages on. [CNN, Axios, AP]
Prioritize diversity or else, major clients tell law firms. Elite law firms traditionally made up of mostly white men are facing docked fees if they don't boost the diversity of their legal teams. Global companies like Facebook, HP and Novartis are threatening to take their money and run if firms don't act on diversity measures. Currently, law firms on both sides of the pond are falling behind on the number of women and people of color in their ranks. Corporations say that more diverse legal teams are also better at their jobs, yet one more reason for Big Law to get on board with diversifying their ranks. [Bloomberg]
The Mom Project raises $80 million to match mothers with jobs. After dropping out of the workforce in record numbers, mothers and other caregivers are ready to go back to work. Enter The Mom Project, a recruitment firm for moms. The company saw a 69 percent increase in candidates signing up in August and over triple the number of jobs versus pre-pandemic numbers. There are currently over 500,000 job-seekers on its platform. The site is targeted at white collar workers (most of whom are college-educated) and two-thirds of the jobs are contract-based. [WSJ]
Best — and worst — o' the rest: The battle over California's board gender quotas is headed to trial. If you've ever wondered whether gender researchers have more equitable marriages, here's your answer. The U.S. criminal justice system needs a feminist overhaul. Women left out of "old Wall Street" are trying to steer the cryptocurrency world towards a more gender inclusive future. Australia's old boys' club is costing it billions. The annual "Most Powerful Women" list from Fortune is out, with CVS CEO Karen Lynch clinching the top spot. Women's soccer is reeling from allegations of abuse and harassment. Here are some tips on how to avoid getting interrupted or having your ideas stolen at work.
---
Numbers to know 🔢
 $500  The amount the U.S. government spends annually on childcare for a toddler versus the more than $23,000 spent by countries like Norway and Denmark. Congress is currently negotiating a spending bill that would help bridge the gap.   
 106  The whopping record number of restrictions to abortion that passed this year. Arkansas leads the pack with 20, while Oklahoma is right behind with 16. Texas, shockingly, doesn't even make the top five, despite enacting the strictest ban in the country.
 22:2  Ratio of mermaid statues to U.S. congresswomen statues. Per Curbed, "Sit with that: more monuments to mythic aquatic creatures than the real-life women who have shaped the laws, rights, and freedoms that affect every single person in the country."
---
And, in closing, a tweet to think on