We see your phallic rocket and raise you a boob rocket + other big news o' the week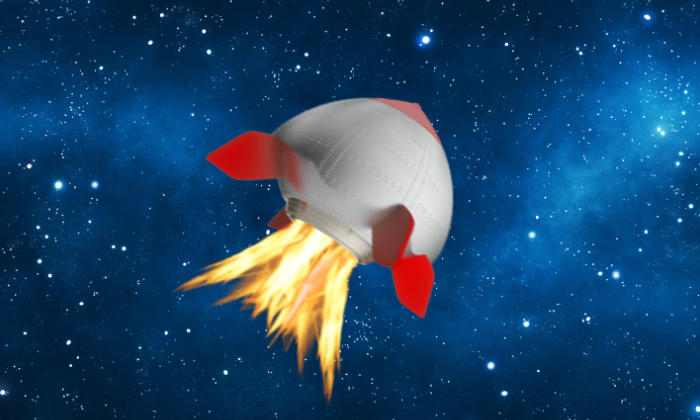 Things we've had it with this week include phallic rockets, the Sports Illustrated swimsuit issue…
Oh hi, how's your week? Yes, we are feeling a bit on the 😡side of things, how'd you guess? We think it has something to do with this thing (see right) being shoved in our faces all week. Yeah, yeah, we know there's some good engineering reasons for why the Blue Origin rocket looks like it does, but c'mon. If you haven't already joined in the "fun," check out this roundup of internet commentary on Jeff Bezos's penis-shaped spaceship.
This whole billionaire-bros-go-to-space thing is just generally offensive on so many different levels. The moral and ethical issues surrounding brotastic billionaires Bezos, Richard Branson and Elon Musk blasting off are well documented in this piece from The New Republic, "The Billionaire Space Race Is a Tragically Wasteful Ego Contest."
One of the (many, so many) things that really get our goat is that it's thanks to the ongoing systemic sexism that perpetuates the wealth and opportunity gaps that here we are, once again, with a bunch of men leading the most public aspects of the charge into new frontiers. Would we feel less rancor when it comes to the morality of these space trips if one of these billionaires was a woman? The same quandaries would apply, but at least give us a shot at making the right decision. We're not even in the game.
What saved us from a complete funk was, of course, 82-year-old Wally Funk, who was rejected by NASA four times but finally made it to space this week in the Blue Origin rocket. In the hopes that there will be a gazillion more Wally Funks of all ages headed to space in the not-too-distant future, we're cooking up our own rocket design (see left). What do you think?  (PSA: Do not Google "boob rocket" in a public place. And that's all we have to say on that.)
P.S. If you missed it last week, check out our piece on whether unions are supporting women. The feedback we've been getting on social indicates that there's a ton of work to do, and we'll continue to report on this issue. "After 6 years as president of my local Union, I couldn't wait to throw my re-election and walk away because I was tired of being treated as if I was incompetent only because I was a woman," commented one former union leader.
---
News to note 📝
The Sports Illustrated swimsuit issue is out and garnering praise for featuring Leyna Bloom, the first transgender model on its cover. That's awesome, and it's very cool that rapper Megan Thee Stallion and swimmer Naomi Osaka are also featured (there are three cover stars this year), so kudos to SI for becoming more inclusive as they age. But here's a wild idea: Just get rid of the swimsuit issue. The whole thing is wildly sexist — it's pretty much a visual dictionary definition of the objectification of women — and after 50-plus years, it's well past its retirement date. Time for the media to say buh-bye to the male gaze. [NPR]
"I Tried to Live Off Women-Owned Businesses. Turns Out, Men Still Run Everything." Reporter Alana Samuels spent a week trying to buy things solely from companies owned by or run by women and found that, sadly, it's still men running the multinational corporations that make the items we exist on daily. Even the brands that featured a feminine figure and/or name, like Organic Girl lettuce or Annie's Homegrown, are actually run by men. Sigh. [Time]
One of the biggest asset managers in the world, Pimco, is facing a lawsuit alleging that it enables a "fraternity culture" that favors white males. A California judge nixed the company's request that the discrimination suit, lodged by two female employees, be tossed out. The complaint alleges that Pimco leadership alienated women by encouraging work gatherings at strip clubs, on the golf course and around the poker table and said that women are underpaid and under-promoted. [Bloomberg]
Extremely cool job alert: The Indiana Jones of the Louvre. Sorry, should we have mentioned the position is filled? Art historian Emmanuelle Polack was hired last year by the Paris museum to sleuth for looted paintings and, honestly, the job sounds just as rife with intrigue — and, sniff, is that a whiff of danger? — as you would hope and imagine. In September, Polack will have a new boss when Laurence des Cars, the first woman to run Louvre in its 228 year history, takes over. [NYT]
Harvey Weinstein pleaded not guilty to rape and sexual assault charges in Los Angeles this week. Weinstein was extradited from New York, where he is serving 23 years for similar crimes. The former Hollywood mogul is facing 11 counts of sexual assault from five women in California related to alleged incidents that occurred in Beverly Hills and Los Angeles between 2004 and 2013. [BBC]
The "intensive margin" measures how much people work rather than whether they're in the workforce at all. Gee, we wonder who that's affected… Yeah, you guessed it: Moms. Amid the pandemic, it's primarily women with young children who have seen their career prospects dim as they're forced to work less and turn down assignments and promotions. [NYT]
Best — and worst — o' the rest: The #MeToo movement has seen its ups and downs in China — allegations that Kris Wu, a huge Chinese Canadian pop star, lured young women into having sex with him with promises of career opportunities (sound familiar?) have reignited calls for justice. Mega talent agency Endeavor, headed by Ari Emanuel (you know, Ari Gold from "Entourage"), added former Xerox CEO Ursula Burns to its board — per Boss Betty's reporting a couple of years back, Endeavor initially planned an IPO with zero women on its board. Senate Democrats are saying that the FBI failed to fully investigate the sexual misconduct allegations against U.S. Supreme Court Justice Brett Kavanaugh.
---
Numbers to know 🔢
 $40B  in funding was earmarked to advance gender equality globally over the next five years. The investment, announced earlier this month at the Generation Equality Forum in Paris, is the largest financial commitment ever made to women's rights, which are, of course, human rights.
 2  female filmmakers, as of the end of this year's ceremonies, have won the top award for the Cannes Film Festival. Director Julia Ducournau became the second female director to win last weekend with her film, "Titane."
 0.34%  of venture capital funding has gone to Black women this year, even as VC investments hit a record high. Sadly, this miniscule percentage — less than half a percent — is an increase over previous years.