Boss Betty✊: Why board talk isn't boring – Amazon sued (again) for gender bias – Pinterest aims to put a pin in bias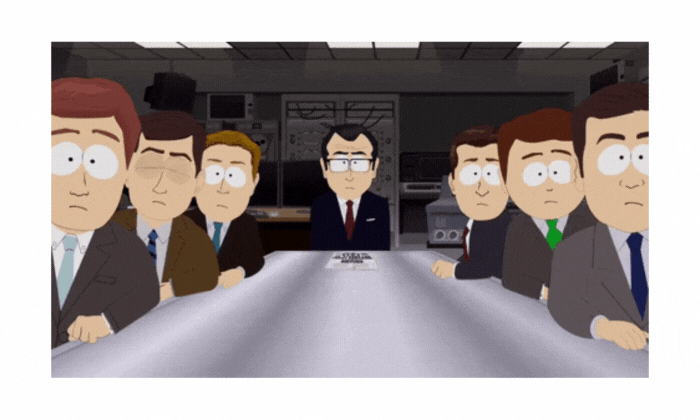 Why we never get bored with board talk
Business has replaced government as the most trusted institution in the world, according to a new Edelman report, but we don't get to choose our corporate overlords, which means we're putting our faith in leaders who have not been subject to the scrutiny elected officials face and are not accountable in the same ways. (Note: Yes, we realize there is a ton of work to do when it comes to holding politicians accountable, too 😳!)
The job of a company's board of directors is to protect the interests of its shareholders, acting not just as stewards of its financial future but also its values and standards, which translate into corporate culture, among other key areas. Boards help decide which top executives stay and go, the compensation packages key personnel get and the policies generally governing hiring, firing, promotions and numerous other operational activities that impact the day-to-day workplace.
While we the hoi polloi don't get a say in who gets to be CEO or chair of a given company, we do sometimes get a say — to a degree — in the gender and racial representation of the members of these boards via the politicians we elect. Research supporting diversity in boardrooms aside, it's a no-brainer that a board that more accurately reflects the general public will do better by its consumers and its employees and therefore its shareholders.
Legislators in about a dozen states have enacted or are in the process of enacting board diversity laws and the results are significant. The number of public companies in California that have all-male boards went from 86 to 1 since the state's 2018 law mandating that companies have at least one woman director, Equilar reported Thursday. Overall, women now hold 24.3 percent of board seats at the country's biggest 3000 public companies, versus 15.1 percent in 2016. Pressure from public opinion as well as influential institutional investors along with new legislation is responsible for the equalizing effect, the report said. Let's keep it up! 👏👏👏
---
News to note 📝
Pinterest looks to put a pin in its history of gender and racial bias in the workplace. The 2,700-employee company, which paid out a record $22.5 million settlement in a gender bias suit in December, said it will up the number of women in leadership roles from 30 percent to 36 percent and will increase the percentage of employees from underrepresented races and ethnicities from 12 to 20 percent by 2025. [WSJ]
Will Wall $treet get a second female CEO? JPMorgan announced Tuesday that its head of consumer lending, Marianne Lake, and CFO Jennifer Piepszak will be the co-heads of its enormous consumer banking division. That makes both of them top candidates to (some day) replace Jamie Dimon as CEO. Earlier this year, Jane Fraser became the first woman to lead a big U.S. bank when she took the helm at Citi. [CNBC]
Bill Gates exited the Microsoft board during a probe into his affair with an employee. Directors at the tech company were investigating the billionaire's prior romantic relationship with a female Microsoft employee when he stepped down from the board in 2020 — and that isn't the first time his workplace conduct has been called into question. [WSJ & NYT]
Five women are suing Amazon for gender and racial discrimination. The employees, who are in corporate and warehouse management roles, all say white managers retaliated against them when they spoke up about experiencing gender or racial bias in the workplace. The suits follow one in March accusing Amazon and some of its execs of allowing sexual harassment and assault in addition to discrimination. [Recode]
A group of 200 businesses are pushing to transform what it means to be a working parent. Companies ranging from Spotify and Uber to Levi Strauss and McDonald's have signed on to a council created by Time's Up to advocate for policies supporting the caregiving economy, providing greater support for workers, particularly women. [Fortune]
The Supreme Court will hear a case challenging Roe v. Wade. The case involves a Mississippi law that would ban most abortions after 15 weeks and is the first time since Roe that SCOTUS will rule on the constitutionality of a pre-viability abortion ban. Meanwhile, Texas Gov. Greg Abbott signed a bill outlawing abortions as early as six weeks. [Ms. Magazine]
---
Numbers to know 🔢
 5.1M   Number of American mothers who stopped working for pay during the pandemic; 1.3 million currently remain without paid work.
 104%   Percent increase in the number of people with the title of "head of diversity." The number of "chief diversity officers" also increased 68 percent between 2015 and 2020.
 $2.13   Federal minimum wage for tipped workers, the vast majority of whom are women. About 70 percent of servers, hosts and other tipped workers are female. An ongoing "labor shortage" has been attributed to historically low wages.
---
And, in closing, a quote to think on
"It is time for Amazon and other tech companies to have the same rigorous focus on gender and racial equity that they have on the bottom line."