Boss Betty Brief: Barneys' bankruptcy suitors, Care.com CEO steps down, Match feels the love & more
A roundup of the biggest female-focused news across industries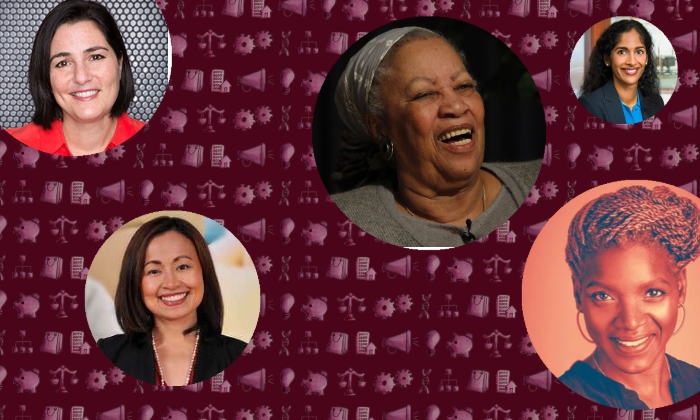 Published at 7 a.m. | Updated at 10 a.m.
Here's the BB breakdown of the biggest female-focused news by industry. Have news to share? Email us at tips@bossbetty.com.
ADVERTISING & MEDIA: "There is no modernity and no justice without the talent, the passion and the steely intelligence of women," Toni Morrison once said. She was a cultural giant, and her work telling stories of the black experience has affected generations of writers and media types. A great — though sad — excuse to reread "Beloved," though one never needs an excuse for that [NYT]. Moving on from that mournful loss to the trade-y news (Morrison was one for working over wallowing), the wild ride of investigative news startup The Markup isn't over yet — or maybe things are finally settling down: Julia Angwin, the editor in chief who was fired a few months back, has been reinstated. And there are new additions to the executive team, including a new president, Nabiha Syed — previously general counsel at BuzzFeed — and former "Marketplace" executive editor Evelyn Larrubia [NYT]. Universal McCann (UM) made Deidre Smalls-Landau U.S. chief marketing officer. She'll add that role to her current title of global head of culture [AdAge]. Listen to The Atlantic's Taylor Lorenz, a tech reporter, talk about what's so special about TikTok, the go-to app for young'uns [Digiday Podcast].
LAW: Emma Watson is using her prodigious star power to help launch a hotline offering legal advice to women who have experienced sexual misconduct. Experts from the nonprofit Rights of Women will dispense guidance on handling NDAs, what does and does not constitute harassment and the myriad other difficult and thorny related issues [Above the Law]. American Airlines hired Priya Aiyar as general counsel. Aiyar is the Treasury Department's former acting general counsel [Corporate Counsel]. Laws limiting arbitration have been proposed in 19 states amid the #MeToo era, but federal legislation makes the prospect of those proposals becoming anything more than just that — proposals — pretty darn dim. For now [Bloomberg Law].
MANUFACTURING & RETAIL: Daniella Vitale's bankrupt Barneys has more than one Prince Charming — in the form of various lenders — ready and willing to float it a money raft as the luxe retailer seeks a buyer [Bloomberg]. More than 100 models petitioned Victoria's Secret to do something about the sexual misconduct they experience on the job. The open letter — signed by the likes of Christy Turlington, Milla Jovovich and Gemma Ward — points out the dealings between the CEO of the lingerie brand's parent company, Les Wexner, and alleged sex trafficker Jeffrey Epstein. The models urged the company to sign on to a program that would formalize the reporting and investigation of sexual misconduct claims [The Cut].
SCIENCE & HEALTHCARE: Care.com's founder, Sheila Lirio Marcelo, is relinquishing her CEO role, just over a dozen years after starting the company. Part of her motivation for starting the now public Care.com was her difficult experience finding help for her father after he'd had a debilitating heart attack. She will take on another role focusing on advocacy. Her resignation comes after an investigation earlier in the year revealed the platform did not fully vet its caregivers, with some terrible consequences [WSJ]. Researchers found that both women and men in the medical field associate the word "career" with  males, and "family" with women [Reuters]. The VC money going to women's health startups totaled $284 million in the second quarter of 2019, more than double what it was in the year-ago quarter [FierceHealthcare].
TECH & ENGINEERING: Match Group's Mandy Ginsberg is feeling the love after the company beat both profit and sales expectations in the second quarter. Shares shot up 18 percent in after-hours trading. That's very good news for the group, which owns Hinge, Match.com, OkCupid and Tinder, the latter of which was hit with a sexual assault suit on Monday [WSJ]. More news from dating app land: Bumble is bringing its female-first angle to esports. The company put together an all-female Fortnite team, a week after the all-male World Cup Finals [AdWeek]. Check your (algorithms') bias! Tips for designing more ethical AI include getting consent during data collection and doing the necessary due diligence to confirm the objectivity of your algorithm [Fast Company]. Strava CFO Christine Park, who joined the fitness tracking company in July, said despite the trend, she does not plan to scale at any cost. "We continue to focus on growth in a smart way," Park said of the venture-backed firm, which has more than 44 million users [WSJ].
If there's no relevant news of note to share in a given sector, we skip it for the day. Did we miss something? Let us know at tips@bossbetty.com.