Boss Betty Brief: Binging on social good marketing, arbitration in Biglaw, Bonobos' CEO on standing up for women & more
A roundup of the biggest female-focused news across major industries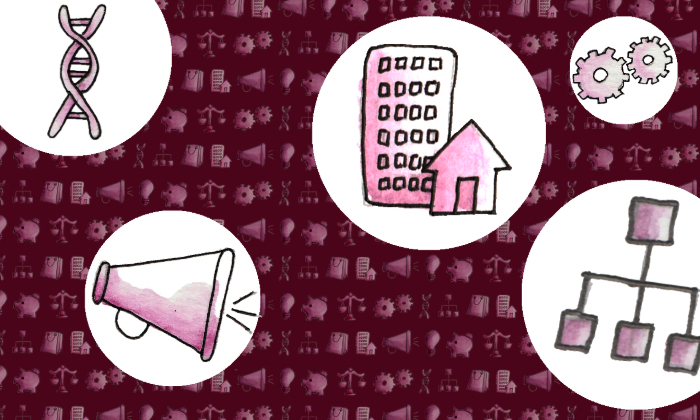 Here's the BB breakdown of the biggest female-focused news by industry. Have news to share? Email us at tips@bossbetty.com.
ADVERTISING & MEDIA: Brands with a purpose perform well with the coveted millennial audience — but is the social-good space getting overcrowded, to the point that the marketing isn't necessarily effective? The commercialization of Pride in June was an issue for the LBGTQI community, and this piece opines that, "When the group that you are trying to support feels they need to reclaim their own event, it probably means that advertisers have gone too far" [AdWeek]. CBS defended its decision to keep "Bull" on the air despite the sexual harassment allegations against its star, Michael Weatherly. Network head Kelly Kahl basically said the show was too popular to cancel. Kahl also addressed CBS' issues with racial diversity in its lineup, saying, "On all our shows, our producers receive unconscious bias training" [Hollywood Reporter]. Fox production exec Dana Belcastro was among the high-profile cuts Disney made this week [Variety]. Boutique agency Interesting Development, led by CEO Tamera Geddes, took the silver for Agency of the Year in the under-10 employees category at the 2019 AdAge Small Agency Awards [AdAge].
ENERGY: Oof, Thursday was not a banner day in the energy sector, but we'll power through it (too soon?). Arcadia Power named Kate Henningsen its new chief operating officer. Previously, she was the firm's SVP of operations and general counsel. She was Arcadia's fifth employee [Solar Industry]. Catherine Stempien, president of Duke Energy Florida, talked about the decreasing price of renewable energy, a NYT article that critiqued Florida utilities' relationship with solar power and being a female leader in the industry [St. Pete Catalyst].
FINANCE: PGIM's head of diversity and inclusion, Kathy Sayko, talks about cultivating a diverse workforce while maximizing shareholder value [Hedgeweek]. Probable fed nominee Judy Shelton compared the global economy to the 1930s in discussing her views on the dangers of central banks cutting rates [CNBC]. Amherst College hired Letitia Johnson as its chief investment officer, putting her in charge of the institution's nearly $3 billion fund. Johnson was previously a managing director at Cambridge Associates, where she led the endowment and foundation team [Institutional Investor]. Need a book to add to your summer reading list? Diamond Hill Capital CEO Heather Brilliant, who is also chair of the CFA Institute, recommends Doris Kearns Goodwin's "Team of Rivals" and "Leadership in Turbulent Times" [Institutional Investor].
LAW: A ton of Biglaw firms have been sued for gender discrimination, but mandatory arbitration clauses often mean they don't get litigated and whatever happens in arbitration remains confidential. One plaintiff, a former partner at Winston & Strawn, successfully challenged the firm's arbitration clause last fall, but now Winston & Strawn has brought the case to the Supreme Court. And another Biglaw firm has filed an amicus brief in support, saying settling such disputes through arbitration is necessary to operations [Above the Law]. Ms. published a piece by a workplace discrimination attorney who was experiencing the very same harassment and discrimination she was prosecuting at her own top labor firm [Ms. Magazine]. Trend alert: Lawyers in counsel roles continue to get plucked for nonlegal C-suite positions, and many of them are women — including Accenture's CEO Julie Sweet, who we just wrote about [Corporate Counsel]. LinkedIn really does work for recruiting! After Proskauer Rose's Erika Collins — "a "big fish" — saw a post on the professional network saying that Epstein Becker & Green was partnering with Deloitte Legal on employment law, she reached out to them about bringing her prestigious labor practice to the firm [American Lawyer].
MANUFACTURING & RETAIL: Bonobos CEO Micky Onvural wrote about the importance of men standing up for women at work and at home in order to achieve true gender equality [AdWeek]. Daily Harvest's Rachel Drori talked about fighting increasing customer acquisition costs and the challenges of positioning her company for potential funders [Digiday]. Brandless is doing a bit of the P-word (pivoting) as it looks to stem its cash outflow, and that means its founder and ex-CEO,  Tina Sharkey, is up at all hours talking to new CEO John Rittenhouse [Forbes]. GM beat its second quarter earnings, but it's not clear that will positively impact its stocks, given the industry's issues. CEO Mary Barra said that consumer demand for trucks and SUVs drove profits, which "helped offset the effects of planned heavy-duty downtime ahead of our launch and industry weakness in China" [SeekingAlpha].
REAL ESTATE: Pam Liebman's Corcoran opened its first office in the New York City borough of Queens as demand for housing continues to grow in the area [TRD]. Check out HousingWire's 2019 Women of Influence [HousingWire].
TECH & ENGINEERING: The Google culture wars continue, with a Republican engineer saying he was fired for being vocal about his political beliefs. Kevin Cernekee drew unfavorable attention from colleagues for his conservative postings on internal message boards, defending a colleague who said the tech giant should not take gender or race into account in hiring and criticizing a self-described feminist Googler. He told the Washington Post that "there's been a lot of bullying at Google," and that there is "a big political angle, and they treat the two sides very differently" [WSJ]. With 19.7 million shares, MacKenzie Bezos is officially Amazon's second-largest shareholder [Bloomberg].
If there's no relevant news of note to share in a given sector, we skip it for the day. Did we miss something? Let us know at tips@bossbetty.com.