Boss Betty Brief: Susan Wojcicki on free speech, Versace's China issue, 'Jane Doe' suits on the rise & more
A roundup of the biggest female-focused news across major industries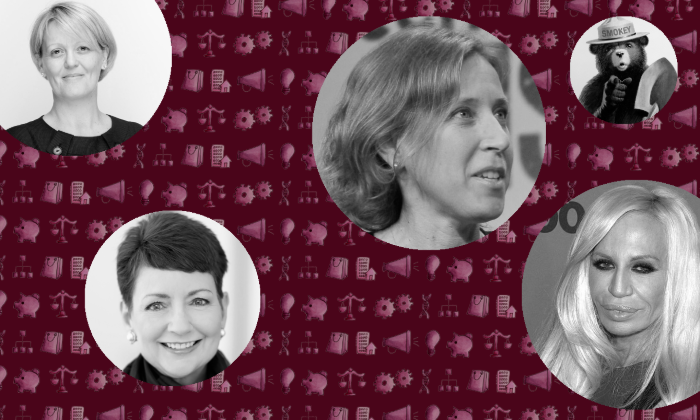 Published 7 a.m. | Updated 11:15 a.m.
This weekend's New York Times book section included a review of Lisa Taddeo's "Three Women," which traces the love lives of three American females. The book sounds like an interesting meditation on the limitations love often places on the lives of women and some of the ways we're complicit in this. "A man has always been a woman's best excuse to avoid her destiny; that a man is her destiny is one of patriarchy's most pernicious tenets. What a scam," writes the review's author. Perhaps worth adding to your reading list? Speaking of summer reads, make sure to check out media-exec-turned-startup-investor-turned-author Fran Hauser's book recs in the inaugural edition of the Boss Betty Book Club, which will feature the titles top professional women find most personally and professionally inspiring.
Here's the BB breakdown of the biggest female-focused news by industry. Have news to share? Email us at tips@bossbetty.com.
ADVERTISING & MEDIA: The Ad Council's iconic Smokey Bear is turning 75, and in a gender-bending twist, the ursine fire prevention hero will be voiced by Betty White. FCB created the ad spot, which will pair an animated emoji version of Smokey Bear with White's voice [AdWeek]. Taylor Swift talked about gender equality and the pay gap during an acceptance speech at Sunday's "Teen Choice Awards," cheering on the U.S. women's soccer team for their work on the issue. She was introduced by player Alex Morgan, who said that Swift uses "her platform to be a role model for positive change. To break barriers. To stand up for gender equality, including equal pay for men and women." Yeah, Tay Tay [THR].
ENERGY: Lynn Good's Duke Energy named a new legal chief, Kodwo Ghartey-Tagoe, who was the company's South Carolina president. Duke's current lead counsel, Julie Janson, will become the president of the Carolinas [Corporate Counsel].
FINANCE: In Captain Obvious news, the male-driven, intimidating trading floor culture is still a huge barrier to getting more women in foreign exchange [Financial Times]. More news on the why's and how's of JPMorgan retaining the now deceased sex offender and accused sex trafficker of young girls, Jeffrey Epstein, as a client until 2013 [Institutional Investor]. The Royal Bank of Scotland (RBS) is set to be the first major bank run by a woman. Alison Rose, a 25-year veteran at the bank, will reportedly succeed Ross McEwan as chief executive [Guardian]. President of the Goldman Sachs Foundation, Asahi Pompey, shared her thoughts on the Trump Administration's impact on her work. "If anything, it's extraordinarily motivating," she said. "There's a fire in my belly around making sure that we're making an impact in the communities in which we work and live. And so, I see it as fuel" [Yahoo]. The University of Cambridge has hired Tilly Franklin, formerly director of investments and head of private equity at Alta Advisers, as its chief investment officer. Franklin will manage the august institution's nearly $4 billion endowment [Institutional Investor].
LAW: Equal pay lawsuits are on the rise at law firms thanks to the "Jane Doe" alias as well as more equal-pay-for-equal-work laws. Plaintiffs have to prove an exceptional need to remain anonymous throughout proceedings, but even so, an analysis showed the number of suits filed anonymously have doubled in recent years. Fifty-two such suits were filed in 2018, versus 24 the previous year [Bloomberg Law]. BigLaw is taking pains to attract and retain young talent, increasing parental leave, offering "bottomless" vacations and enhancing mentorship programs, but increasingly younger attorneys are looking to go the boutique route [American Lawyer]. "Another day, another gender discrimination lawsuit in the legal industry." This one is a pregnancy discrimination suit filed against the New York County Lawyers Association by a former employee [Above the Law].
MANUFACTURING & RETAIL: One of the faces of Versace in China, actress Yang Mi, is ending her partnership with the brand after a controversy over a T-shirt, which apparently contested the "One China" policy by listing Hong Kong and Macau as separate countries. Donatella Versace apologized for the "unfortunate" error [CNN]. The world's top cocktail festival featured a panel on diversity and inclusion, with liquor brand owners, restaurateurs and others weighing in on how bias affects the hospitality industry and what steps can be taken to improve the situation [Fortune].
SCIENCE & HEALTHCARE: This week's NYT's "The Ethicist" column examines whether patients should be allowed to specify the gender, race and sexual orientation of their healthcare providers. [NYT]
TECH & ENGINEERING: YouTube's Susan Wojcicki, who is contending with a crisis around extreme content on the platform,  discussed her role as an internet gatekeeper of sorts. Of extremist videos — like those of Alex Jones, who is now banned from YouTube — she said, "…the way that we think about it is: 'Is this content violating one of our policies? Has it violated anything in terms of hate, harassment?' If it has, we remove that content. We keep tightening and tightening the policies. We also get criticism, just to be clear, [about] where do you draw the lines of free speech and, if you draw it too tightly, are you removing voices of society that should be heard?" [The Guardian] A former Googler who left the company to raise her children discussed the feedback she gave her employer on how it could be more supportive of working parents  — detailed in this Medium piece — including offering onsite childcare and being more flexible with work schedules. She also talked about the challenges of instituting these types of policy changes at larger, established companies versus startups, which are more nimble in their approaches to experimenting with new initiatives [NPR].
If there's no relevant news of note to share in a given sector, we skip it for the day. Did we miss something? Let us know at tips@bossbetty.com.