Boss Betty Brief: Susan Wojcicki has a good day, whitewashing diversity in advertising & more
A roundup of the biggest female-focused news across major industries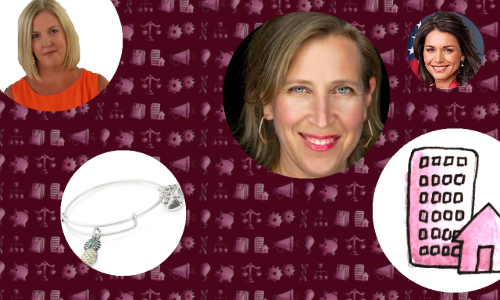 Updated at 10 a.m. ET
General Assembly: Iceland's Prime Minister, Katrin Jakobsdottir, is the youngest woman to ever lead a European nation and is enacting the world's toughest equal pay legislation. Dear leaders, take note [Time]. Food for thought given the ongoing international and domestic crisis: If refugee women in six countries —including the U.S., Germany and Turkey — were given jobs earning the equivalent of workers in their host nations, they could earn more than $5 billion. Close the employment and pay gap and expand that to the 30 nations with the most refugees, and that's an estimated $1.4 trillion contribution to the global GDP [Fast Company]. This piece — summed up succinctly in the headline, "Instagram Is Great for Models. It's Also Good for Predators" — details how Insta's access to success for young women makes them susceptible to abusers [NYT]. And, the reader feedback on whether it's time to retire the term "glass ceiling" is really interesting — quite a mixed bag [Fortune].
Here's the BB breakdown of the biggest female-focused news by industry. Have news to share? Email us at tips@bossbetty.com.
Advertising & Media: More and more companies are coming around to the idea that being a good corporate citizen pays off in actual dollars. Consumers are increasingly looking at which businesses act socially responsibly and giving their money to them, which means brands need to make sure they are associated with values including diversity and environmental sustainability. Sure it's a bit cynical in that at the end of the day it's just about the dolla dolla bills for these firms, but still seems like a win-win for everyone [AdWeek]. And following on that thread, when you are trying to enact a diversity initiative, don't whitewash it — marketing veteran Belinda Smith writes about being furious that the ad industry is "rebranding diversity" to "simply mean 'women,' and most often to mean 'white women,'" and she has some ideas on how to fix that [AdWeek]. Any creativity points agency Manifest New York would have gotten for using Tinder as a recruiting tool are zeroed out — actually, negatived out — for saying they're "seeking a shit hot PR account manager" that has a "bulging…book of media contacts." Ew + not okay. [PR Week].
Energy: The CEO of the Solar Energy Industries Association, Abigail Ross Hopper, put out a statement urging congress to extend the solar investment tax credit, saying, "polling shows that Americans across the political spectrum are concerned about our changing climate and they strongly support solar." AKA, it's a human thing, not a partisan issue. Bills to that effect were introduced in both the House and the Senate on Thursday [Solar Industry]. U.S. Secretary of Energy Rick Perry congratulated this year's recipients of the Presidential Early Career Award for Scientists and Engineers, several (but not enough) of whom were female — it's go-time, recruiters. Follow the link to the list [DOE].
Finance: Alex & Ani filed a $1 billion gender discrimination lawsuit against Bank of America on Thursday, alleging that the bank has been driving it towards bankruptcy since it hired a female replacement for its male CFO in 2017. Last year, BoA said the company — founded by Carolyn Rafaelian — defaulted on a $50 million loan, which the bank said came from a syndicate of lenders [WSJ]. Not long after Mercer's acquisition of investment consultancy Pavilion, the co-lead of its healthcare unit left for a role at Wells Fargo Asset Management. Alyssa Cheatham had been with Pavilion since 2005 [Institutional Investor]. Nonprofit Financial Executives International has a couple of tips for women looking to advance their careers in finance [FEI]. Judy Shelton resigned as the U.S. envoy to the European Bank for Reconstruction and Development in preparation for her likely nomination to the Federal Reserve Board [WSJ].
Law: Firms continue to up the ante on paid leave (as they should): Munger, Tolles & Olson is offering all attorneys 18 weeks of paid parental leave. "In addition, parents giving birth will receive an additional six to eight weeks of paid disability leave," their press release said. Do we hear 24 weeks? 36 weeks [American Lawyer]? Time announced Dana Rosen as general counsel. Rosen was most recently at ALM Media, which owns The American Lawyer and New York Law Journal [Time]. In other GC news, commercial insurance firm Zurich North America announced Laura Lazarczyk as its permanent chief legal officer after her interim tenure [Corporate Counsel]; and organizational software firm Asana hired Eleanor Lacey to head up its legal division [Corporate Counsel].
Manufacturing & Retail: Barneys New York, led by Daniella Vitale, is raising capital for a bankruptcy filing that could happen next week [CNBC]. After the ascension of Corie Barry to CEO at Best Buy, she has been replaced as CFO by Matt Bilunas [BusinessWire].
Real Estate: Executives at Bank of the Ozarks, which has doled out billions in real estate loans in major markets, have been hit with a lawsuit alleging sexual misconduct and age discrimination. The former employee's suit claims the bank fostered an "animal house" culture in its commercial lending unit [The Real Deal]. Consumer Financial Protection Bureau Director Kathy Kraninger said some Fannie Mae- and Freddie Mac-backed mortgages will no longer get "special treatment" when it comes to the bureau's underwriting rules. So fewer risky mortgages, but also fewer affordable options for borrowers that need them [American Banker]?
Science & Healthcare: The space travel industry needs to update its language — no, it's not a "manned" flight [The Atlantic]. Vertex Pharmaceuticals Chief Medical Officer Reshma Kewalramani has been promoted to CEO [FiercePharma]. Want to build next-gen STEM workers? Reduce class size [Science Daily].
Technology & Engineering: Much like the rest of us (read: our teenage dream selves), Amazon Studios is just trying to make it in Hollywood. Read about Amazon Studios Chief Jennifer Salke's struggle [The Information]. Alphabet shares shot up after a positive Q2 financial report that was partly attributable to ads on YouTube, run by Susan Wojcicki. Alphabet CFO Ruth Porat said controversy over YouTube content had "virtually no impact" on sales, allaying analysts' concerns [Reuters]. Presidential candidate Rep. Tulsi Gabbard (D-Hawaii)  is suing Google for temporarily suspending her campaign's advertising in June [NYT].
If there's no relevant news of note to share in a given sector, we skip it for the day. Did we miss something? Let us know at tips@bossbetty.com.