Rest in Power, RBG, the most supreme of them all
Ruth Bader Ginsburg, gender equality crusader, died at 87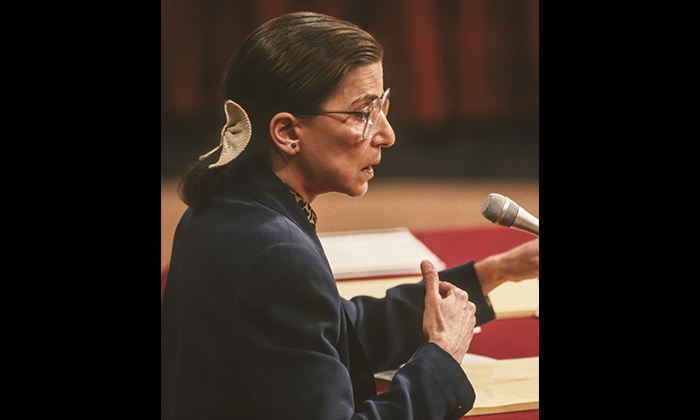 By Errin Haines | Originally published by The 19th
Justice Ruth Bader Ginsburg, the second woman to serve on the Supreme Court, died on Friday from complications of metastatic cancer of the pancreas. She was at her home in Washington, D.C., surrounded by her family, according to the court.
"Our nation has lost a justice of historic stature," Chief Justice John Roberts said in a statement. "We at the Supreme Court have lost a cherished colleague. Today we mourn but with confidence that future generations will remember Ruth Bader Ginsburg as we knew her, a tried and resolute champion of justice."
Ginsburg was the most senior liberal justice on the nine-member court and a feminist icon. Her court collar has been made into buttons. Her face is emblazoned on baby onesies. Her fans call her "the Notorious RBG."
"People ask me sometimes, when  — when do you think it will be enough?" Ginsburg told PBS in a 2015 interview. "When will there be enough women on the court? And my answer is when there are nine."
Her death, just 46 days before the general election, raises the stakes in both the presidential race and more than a dozen competitive U.S. Senate races throughout the country.
Ginsburg, despite battling repeated bouts of cancer, had said she would not retire from her lifetime appointment to the court, a move meant to deny Republican President Donald Trump the opportunity to fill another court vacancy.
Republican Senate Majority Leader Mitch McConnell said on Friday that Trump's replacement nominee would receive a vote on the Senate floor.
McConnell's statement appeared to backtrack on moves he made after the 2016 death of Justice Antonin Scalia, a conservative icon. Scalia died 269 days before that year's presidential election. Then, McConnell blocked the chamber from voting on President Barack Obama's pick, appeals court judge Merrick Garland.
At the time, McConnell said that there was precedent that Supreme Court vacancies should not be filled in the run up to an election, which he attributed to now Democratic presidential nominee Joe Biden, who chaired the Senate Judiciary Committee in the 1990s during the presidency of George H.W. Bush. Biden floated the idea in 1992 but it was never tested because no subsequent court vacancy occurred during Bush's presidency.
A potential vacancy on the Supreme Court has already become an issue in the 2020 election, with Trump releasing his latest list of potential nominees last week and Democrats increasingly focused on the impact the presidential and Senate elections may have on the court's ideological balance.
The political implications of Ginsburg's passing now leave little room to mark her legacy. It was a reaction the justice seemed to have anticipated, reportedly dictating to her granddaughter, Clara Spera, in a statement days before her death: "My most fervent wish is that I will not be replaced until a new president is installed."
Ginsburg was born in Brooklyn, New York, on March 15, 1933. She graduated from Cornell University, Harvard Law School and Columbia Law School. She married Martin Ginsburg in 1954. They have a daughter, Jane, and a son, James.
"Justice Ginsburg paved the way for so many women, including me. There will never be another like her. Thank you RBG," former Secretary of State and 2016 Democratic presidential nominee Hillary Clinton wrote on Twitter.