The RBG Way: The (many) secrets of Ruth Bader Ginsburg's Success
So you wanna be a changemaker? Here's a bit of how-to from a higher power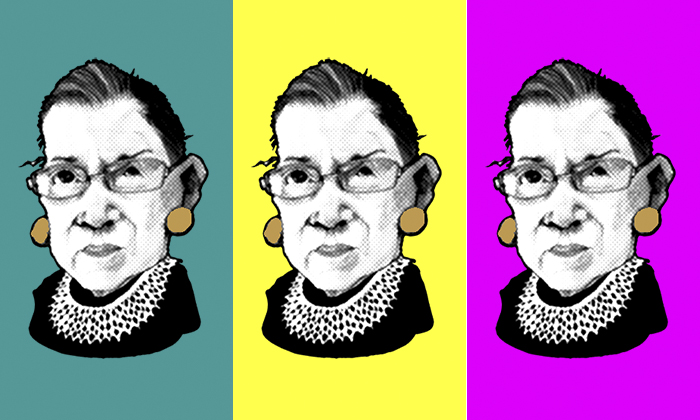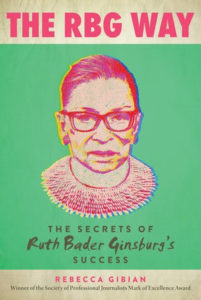 The below is excerpted from award-winning journalist Rebecca Gibian's new book "The RBG Way," which explores the key lessons to be learned from Ruth Bader Ginsburg's spectacularly successful professional and personal life. We start with a young Ginsburg in the introduction and move on to the 1970s in Chapter 5, "On the Shoulders We Stand On," when a helping hand from a female colleague plays an important role in the then-lawyer's evolution into the now-Notorious RBG.  
It is 1959, and 26-year-old Ruth Bader Ginsburg is having trouble getting a job. She's already attended Harvard Law School, where she was one of only nine women seated among more than 500 men. But then her husband, Marty, got a job offer in New York City, so Ginsburg transferred to Columbia Law School, where she became the first woman to be on two major law reviews: the Harvard Law Review and Columbia Law Review. Now, having graduated from Columbia tied for first in her class, she was looking for a job at a law firm or as a clerk to a judge or justice.
None of her accomplishments seemed to matter to the men in charge of the legal world. She was not given an offer at Paul, Weiss, Rifkind, Wharton & Garrison, despite a successful clerkship the summer before. They already hired an African American woman, which fulfilled their commitment to diversity. Ginsburg applied to a dozen other firms, resulting in only two second interviews and no job offers.
Judge Learned Hand of the US Court of Appeals for the Second Circuit also denied Ginsburg a job, even though they shared an interest in process theory. So did Supreme Court Justice Felix Frankfurter, who wouldn't even interview Ginsburg for a clerkship position.
And there's no question about it: potential employers rejected her due to her gender. Despite graduating at the top of her class, being on two law reviews, and having strong recommendations — including one from a professor (and later dean) at Harvard Law School, Albert Martin Sacks — Ruth Bader Ginsburg was a Jewish woman and a mother to a young toddler, which were three strikes against her.
★ ★ ★
Barbara Babcock met Ruth Bader Ginsburg for the first time in the early 1970s, when they were both among a very small number of female law professors, Babcock at Stanford and Ginsburg at Rutgers. At the time, women law professors were "as rare as unicorns," Babcock told me, and so they all knew each other, either personally or by reputation. Babcock's career trajectory was similar to that of Ginsburg — she, too, had struggled to find a job even though she was very smart, and they were both asked by female law students to teach a course on women and the law (Babcock at Georgetown and Ginsburg at Rutgers).
While Babcock and Ginsburg weren't particularly close friends, they were doing the same thing and therefore knew that they could count on each other. At the time, Babcock didn't think that Ginsburg's efforts in women's equality would place her at the top of their shared profession, but she admired the courage Ginsburg displayed in throwing herself entirely into the movement and litigation. But Babcock forgot to factor in one thing: Marty Ginsburg. Marty called and asked Babcock for help when Ruth Ginsburg was being considered for appointment on the DC Circuit. At the time, Babcock was Assistant to the Attorney General for the Civil Division, and Attorney General Griffin Bell had asked her to find some women for the president to appoint to federal courts.
Without hesitation, Babcock wrote to the Attorney General and explained that "for this very visible appointment that could lead to the Supreme Court, it had to be Ruth."
"I cannot exaggerate the feeling among women lawyers that all increases in numbers or victories are pyrrhic if Ruth is not appointed," she wrote to Bell. She told him it would be a "slap in the face" if Ruth, who not only was more qualified than "any woman applicant in the country" but had also absolutely paid her dues, was not chosen.
Bell proceeded to recommend Ginsburg, and the rest is history. According to Babcock, who is a professor emerita at Stanford Law School, since that moment, Ginsburg has always given her "tremendous credit" for helping at that time. This seems to come as a surprise to Babcock when she talks about how much credit Ginsburg has and continues to give her.
"I just thought, she doesn't have to do that, nobody knows except Marty and a few others that I was such a big help to her, and I only did it out of duty, I felt as though we owed it to her, and that nobody else would've given up their highest ambitions to help the movement the way she did," Babcock said in a phone interview. Babcock explained that she doesn't believe Ginsburg would have ever called her to ask for help, because she wouldn't think Babcock owed her anything. It was all Marty. But because Babcock did help, she will always be thanked.
This is a theme in Ginsburg's life: acknowledging those whose shoulders she stands on to get to where she is. The lesson here is pretty straightforward: no one does anything alone and we should all acknowledge that, both in the moment and as we move forward. Be sure to frequently (and loudly) thank those who either paved the way or helped us along the path.
★ ★ ★
The four women who have sat on the Supreme Court all seem to take this lesson to heart, and each has taken a turn supporting each other, like when O'Connor helped Ginsburg through her cancer treatments or when Justice Elena Kagan, the fourth woman nominated to the Supreme Court, talked about how Ginsburg paved Kagan's own road to the court.
"More than any other person, she can take credit for making the law of this country work for women," she has said.
Ginsburg's thanks, acknowledgment, and uplifting of the women who are important to her, both in the past and in the present, means that she has a support system when she in turn needs it. Sonia Sotomayor, in turn, was there for Ginsburg during an incredibly hard point in the older justice's life. Journalist Joan Biskupic wrote a book about Sotomayor, and in it, tells the story of the court's end-of-term party the year Marty died. Sotomayor put on salsa music, and went over to RBG, who was sitting quietly off to the side of the event. Marty had died just days before. Sotomayor whispered to Ruth that her husband would've wanted her to get up and dance. Biskupic writes, "Ginsburg relented and followed Sotomayor in a few steps. Ginsburg put her hands up to Sotomayor's face. Holding her two cheeks in her palms, Ginsburg said, 'Thank you.'"