Stick a fork in Gov. Cuomo, he's done 🍽 — right?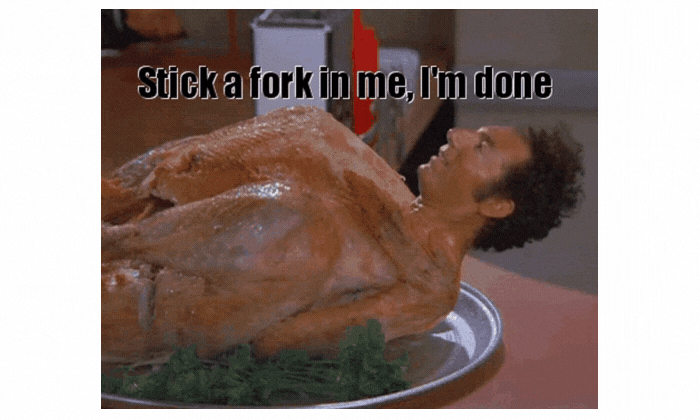 You've likely heard the news that New York Gov. Andrew Cuomo, whose daily pandemic briefings became must-see TV for the nation last year, has been credibly accused of sexual misconduct by several women, including current and former aides.
There's a ton of news flying around regarding the allegations, so we figured we'd round it up for you in one place. Convenient, right? (And yes, you're supposed to pretend that that's Cuomo's head on a turkey, not Kramer's.)
Here's the breakdown of what's happening:
• Cuomo sexually harassed 11 women, violating both state and federal law, according to a 168-page report issued Tuesday by NY Attorney General Tish James. The AG's investigation, which was based on interviews with 179 people and a review of 74,000 documents, also found evidence that Cuomo and his crew of loyalists retaliated against a former state employee, Lindsey Boylan, who accused him of sexually harassing her for years. One of the most notable and heretofore unreported stories to emerge from the report was that of a state trooper Cuomo hired for his security detail in 2017 and then proceeded to verbally and physically harass over the ensuing years.
• Pretty much everyone thinks Cuomo should resign, including 63 percent of New Yorkers. President Biden, Speaker Nancy Pelosi and New York's entire Democratic congressional delegation have also called on Cuomo to step down, as have state lawmakers across party lines. His former close ally and the head of the state Democratic Party, Jay Jacobs, referred to Cuomo's departure as "inevitable." Last anyone heard from Cuomo, he was continuing to refuse the growing calls for his resignation.
• The disgraced gov's response to the situation has been pretty disgraceful. He denied any wrongdoing, saying, "I never touched anyone inappropriately or made inappropriate sexual advances," despite all corroborated evidence to the contrary. A rebuttal to the investigation's findings included several pictures of him kissing and hugging various politicians and family members, as well as photos of other pols being affectionate with each other and/or victims of natural disasters. Because that's relevant to Cuomo being accused of forcibly kissing employees and grabbing their breasts or butts and verbally harassing them how…? Oh, right, because he's attempting the age-old sorry tactic of trying to normalize his abhorrent behaviour — it's "cultural" and "generational." He's trying to sell us on an alternate reality (scarily familiar, right?).
• So what's next? The New York State Assembly is reportedly very close to concluding its impeachment investigation, which covers not just the now-substantiated sexual misconduct allegations against Cuomo but also an investigation into whether his administration deliberately undercounted coronavirus deaths in nursing homes, among other items. Cuomo's lawyers have until Aug. 13 to submit evidence in his defense, and articles of impeachment could be filed in the next couple of weeks. If he is impeached by the Assembly, he will face a trial in the State Senate. Meanwhile, prosecutors in Manhattan, Nassau County and Westchester County have opened criminal investigations into Cuomo's conduct. If he is ousted, whether by forced resignation or impeachment, Lieutenant Gov. Kathy Hochul would become the state's first female governor.
---
Other news to note 📝
Buh-bye Malibu Barbie, hello STEM Barbie. Toy company Mattel is making Barbie dolls in the image of Sarah Gilbert, who led the development of the Oxford/AstraZeneca vaccine. The scientist called the gesture "very strange" but said that she hoped it would serve as inspiration to young women interested in careers in science, technology, engineering and mathematics (STEM). Mattel also created Barbies honoring five other women in STEM fields, including U.S. healthcare workers Dr. Audrey Cruz and nurse Amy O'Sullivan. [Guardian]
Nasdaq's push to diversify corporate boards will finally get the go-ahead. Late last year, the exchange requested permission from the SEC to require that Nasdaq-listed companies have at least one female board director and one otherwise diverse director, defined by them as an underrepresented minority or a person identifying as LGBTQ+. Eight months later, the SEC appears poised to approve the move, potentially within the next week. [Bloomberg]
Video game maker Activision Blizzard is in turmoil as execs step down and workers protest amid bias lawsuit. The president of the company, which makes the hugely popular games "Call of Duty" and "World of Warcraft," resigned this week after news broke that the gaming titan is being sued by the state of California. The suit accuses the company of gender pay discrimination and fostering a toxic "frat boy" culture and details several disturbing accusations of harassment and misconduct. Blizzard's senior vice president of HR is also no longer with the company. Blizzard executive Jennifer Oneal will assume the role of co-leader, becoming the first woman to lead the studio. [Verge]
The NCAA got schooled in an external review into its treatment of women's basketball. A probe into gender disparities in the association's basketball programs found "systemic" inequities resulting in women's b-ball being treated as inferior to men's for years. The report recommended major reforms, including changing up the NCAA's leadership and the structure of its media contracts and revenue payments, as well as creating a combined Final Four tournament for women and men. [WaPo]
Will the #girlboss, that "planner-toting, serum-slinging embodiment of 21st-century hucksterism," get a reprieve? In the year since the epic workplace reckoning for white feminism — which took down The Wing's Audrey Gelman and Man Repeller's Leandra Medine, among others — several female founders accused of not practicing the feminism and inclusivity that they preached and profited from promised to take a step back and listen. Now, "the girlboss apologia era is upon us." [Vanity Fair]
---
Numbers to know 🔢
 $1.7B  — that's how much singer and entrepreneur Rihanna is now worth, making her the richest female musician in the world 🤑🎤. RiRi's entrance to the billionaire's club is mostly attributable to her super successful beauty label, Fenty.
 23  women are running Global 500 businesses. Fortune's annual list of the biggest companies in the world showed a record number (albeit a sad record, given the low number) of female CEOs among them, including six women of color.
 $0.63  is the amount Black women earn, on average, to a white man's $1. Tuesday was Black Women's Equal Pay Day, marking the day Black women had to work into this year (214 days) to make what white men did in 2020.
---
And, in closing, a quote to think on
"I'm going to double down on that mission to hire more female creators from all walks of life and showcase their experiences … This is a meaningful move in the world because it really means that women's stories matter."